Vidnami, formerly Content Samurai, is an online video maker. But is it any good? In this Vidnami review, we'll highlight all of the things you need to know before considering signing up—and you don't want to miss some of these facts.
It could save you a lot of money, time, and frustration! In fact, at the end of this article, I'll reveal the #1 mistake people make when signing up for Vidnami, which could make all the difference in whether you want to use it or not!
Also, I've written a separate article explaining the Vidnami, Content Samurai rebrand for anyone who is interested to learn the reasons behind the name change.
Video: Vidnami Review [2020]
Vidnami Bonus Deal: Free Logo Intro Video Offer
Have you ever seen those really cool intros to videos where there's a swooshing light flying around then the company logo gets revealed? Want one of those made for you, completely for free? There is an awesome bonus deal for people who sign up through the link below:
What Does The Bonus Include?
14-Day Free Trial
25% Off Discount
Video Marketing eBook Library (9 Books in Total!)
A free "logo reveal" intro video to use in the beginning of all of your videos!
To claim that bonus deal, just click this button below and follow the instructions. I don't know how long it will be available, so you should probably get it sooner than later!
Vidnami Review Summary
Vidnami is a rapid video creation platform that can handle most tasks. It can create videos for social media, advertising, and sales videos for landing pages. It also does a great job of creating content style videos for YouTube and allows you to easily convert blog articles into videos.
Who Is Vidnami For?
Vidnami is for anyone who wants to create videos quickly and easily. It's perfect for small business owners because of how easy it is to use, it's perfect for marketers who want to create videos for clients quickly, and it's great for content creators who don't have time to learn complicated tools like Adobe After Effects and Adobe Premiere.
Who Is Vidnami Not For?
Vidnami is not for people who want complicated animation sequences, or don't really care about saving time. The tool offers a fair amount of customization, but at its heart, it is a tool built for speed and ease-of-use.
If you are not willing to give up a little control over how the videos look, for additional speed and ease-of-use, then Vidnami is not the right tool for you. Read my Vidnami vs InVideo article if you want to learn about a tool that gives you much more control over how your videos look.
How Can I Get Started?
If you've read enough and want to get started, then I highly suggest you claim the Vidnami bonus deal (you get a free, custom intro video!) using the button below:
If you want to learn even more before making your choice, then read the full review below:
Why This Vidnami Review Is Trustworthy
I've been using Vidnami for over 2 years (back when it was called Content Samurai)! I'm actually a customer of this application. Make sure, when reading reviews, that you're actually learning from real customers who actually pay to use the software. That's why you can trust what I'm about to say in this review.
What Is Vidnami?
Earlier, I said Vidnami is an "online video maker," but what kind of videos does it make? In this section, we'll talk about all of the different types of videos Vidnami can make and how it can help your marketing or business.
Slideshow Videos
From the very beginning, Vidnami has been a masterful tool for making slideshow style videos. What is a slideshow video? It's a simple video filled with pictures, that often include narration or a text overlay over the images.
Think of those times where you flip through the photos of a vacation and explain each image to someone as you go. Slideshow videos are very popular on YouTube and are great at providing information, as well as being visually interesting.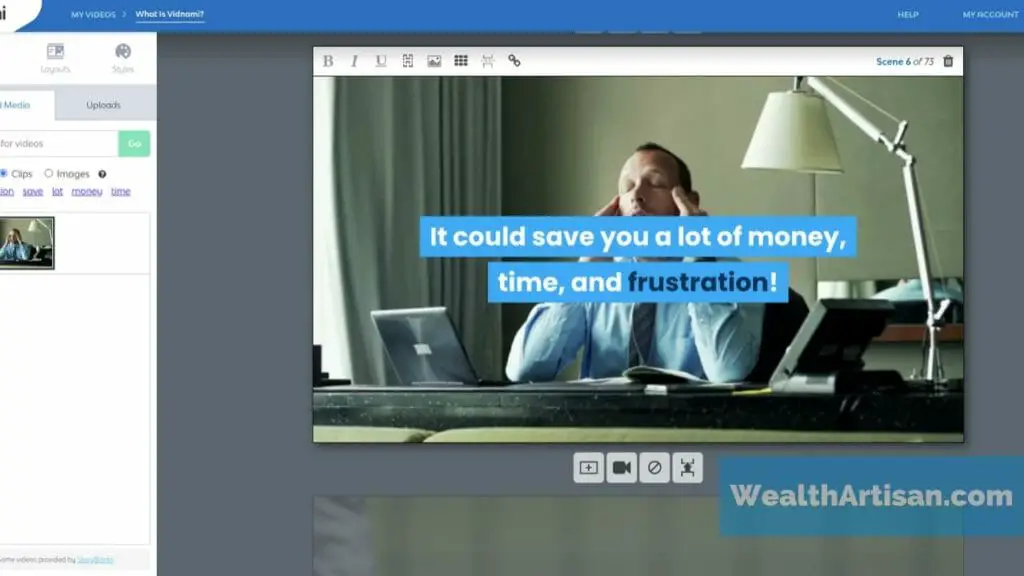 Social Media Video Maker
Vidnami also makes social media videos. These are videos that are simple to share on your favorite social media sites. This includes square videos that work well on Instagram and Facebook, as well as widescreen (16:9) style videos that work well on Twitter and YouTube!
Facebook Video Ad Maker
Can you make Facebook Ads with Vidnami? Indeed. Just about a year or two ago, the team at Vidnami took a lot of effort in making it extremely easy to make ads for Facebook and other social networks. In fact, when you log in to create a video, there's an entire section dedicated to make ads very quickly.
They even come with premade scripts and pre-selected video clips to make it all the easier. You can actually turn out a full ad in about 3 minutes with minimal editing! That section is called "Instant Ads" and I even made a video walk-through of me making one. You won't believe how simple this is:
YouTube Ad Video Maker
In addition to Facebook, you can also make video ads for YouTube inside of Vidnami. The video ads fit the standard 16:9 widescreen format that everyone is so used to. With a giant library of video clips and music, you're sure to find everything you need to create standout YouTube video ads.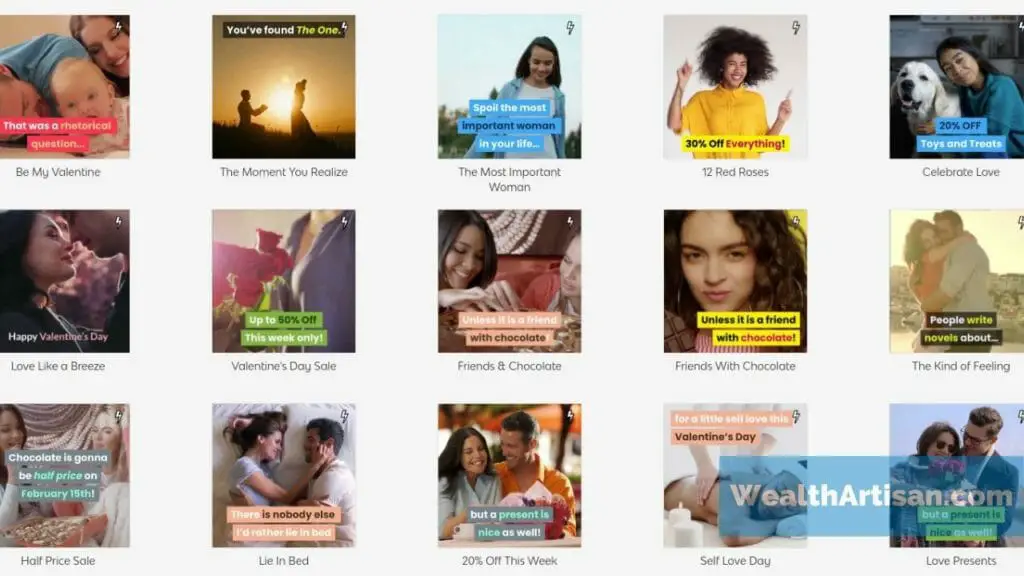 Article to Video Creator
This last one is actually genius, and quite amazing. If you're a blogger or writer of any kind, did you know that you're sitting on a treasure trove of video content? How? Vidnami makes it so simple to turn your articles into videos!
All you have to do is select a template, paste in your article, pick the images and video clips, record a voiceover (optional), and choose a song. In just a few minutes (depending on how long the article is) you'll have converted a regular, blog article into an engaging video that your visitors will love watching!
Put the videos at the top of your articles and see how well they do. When you see the results, you'll be unlikely to ever go back to the old way of doing things!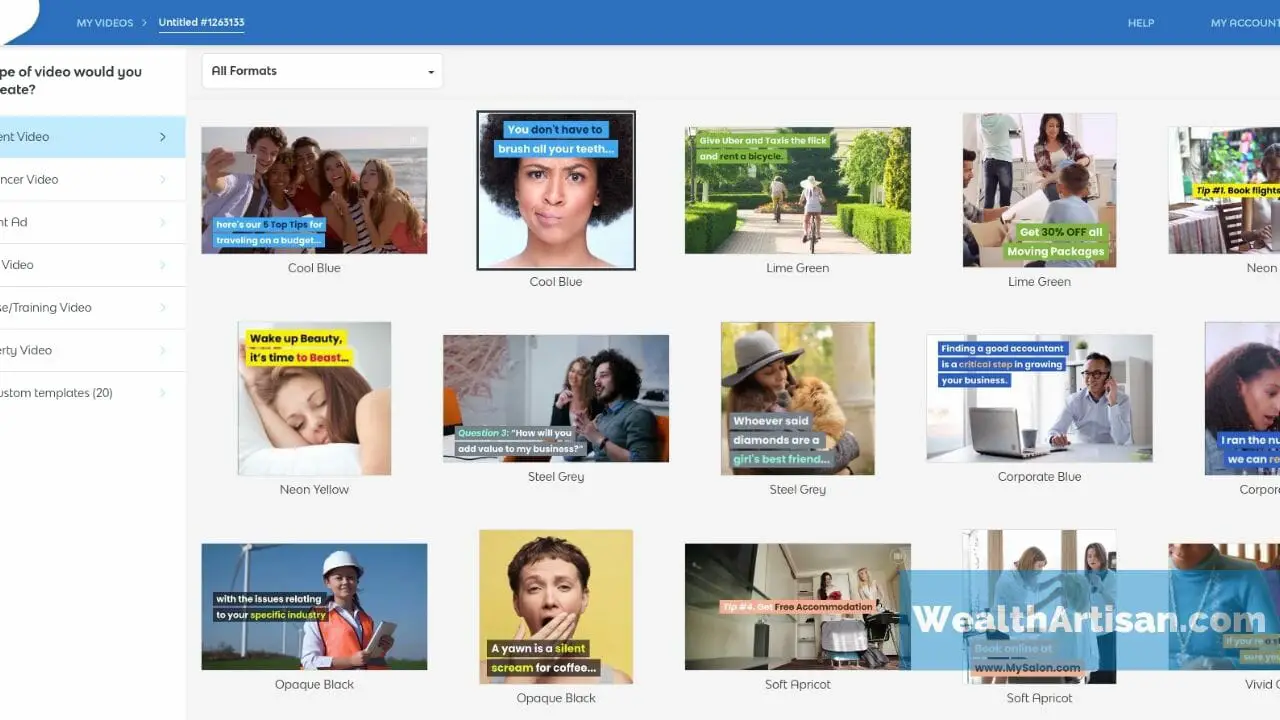 AI-Powered Text-to-Video Maker
Earlier, I mentioned that you can easily turn any body of text into a video using Vidnami. What I failed to mention is the artificial intelligence that happens behind the scenes. When you paste in your text and tell Vidnami to generate the slides for you, it doesn't just make empty slides…
No!
It actually tries to understand what each slide is talking about and select a video or image clip that best represents the idea you're trying to convey. It's possible that Vidnami can literally generate an entire video for you just using its AI. Now, I do want to be realistic here. It isn't perfect, but no AI is. It does get confused on some words, but overall it's a massive time saver!
Your Influencer Video Creator
What is an influencer video? An influencer video are those videos that popular online personalities use. Typically, it's a video of them talking into the camera and some text above the video and the audio captions below the video. Think of Gary Vaynerchuk (GaryVee) style videos that you see all over Facebook.
Well, Vidnami makes it amazingly simple to create these style videos. All you have to do is record your video and upload it to Vidnami. From there, you have two options: you can paste in the exact script you recorded, or you can have Vidnami works its magic by actually transcribing the video for you automatically.
It will then generate all the slides for you and put your captions below the video for you automatically. I can't stress how much of a time saver this is! If you want to make gorgeous influencer style videos with minimal effort, then you're going to love this part of Vidnami!
Your Video Article Maker
As said earlier, Vidnami lets you turn your blog articles, social media posts, any text you have, into a beautiful video. There's literally no tool that I know that does it as well as Vidnami does. You just paste in your article and Vidnami basically does the rest.
You can easily record your narration inside of Vidnami line-by-line, you can upload a pre-recorded narration which Vidnami will then automatically sync up for you, or you can use an AI-powered computer voice. The computer-generated voices are actually pretty decent, but they aren't my favorite way of narrating. For anyone who is voice-shy though, they are a life-saver! Here's a demo of all of the voices for you to hear:
Video: Vidnami Auto Voice Review
I don't think there is an easier way for someone to easily turn an article into a video, and especially so quickly.
Does Vidnami Now Support 1080P Video Creation?
I am happy to say that Vidnami now supports 1080P video creation. This was probably one of the more common complaints that I would see on the Vidnami Facebook group.
Vidnami Pricing
When Vidnami first came out (and it was called "Content Samurai") it actually cost $97/month, but the price has come down drastically over the years. Currently, Vidnami costs just $47/month. Now, there is a bonus offer that gives you the 14-day free trial, 25% off discount, the Video Marketing eBook Library, and a custom intro bonus video. Those details are below.
The #1 Mistake People Make When Signing Up For Vidnami
Do you want to know what the number one mistake people make when signing up for Vidnami? They don't take advantage of a massive bonus offer.. Here's what I want to do for you. Click the button below, and you'll receive a 14-day free trial to Vidnami, 25% off for life, the Video Marketing eBook Library, and a custom logo-reveal intro video. You get to test out all of the features and see how easy it really is to use.
Don't take my word for it, try it out yourself. Click the button below and see what I'm talking about!
Claim the Vidnami Bonus with Trial AND Discount!:
Vidnami Review Wrap-Up
I hope you found this review on Vidnami helpful. I've been using (and paying for) it for a long time. It's been over 2-years since I first started, and I haven't canceled my billing yet. Despite the fact that I don't use it daily, I continue paying for it because the tool is that good. Anytime I use it, it literally saves me hours.
Please, do yourself a favor and grab the free trial. If it doesn't literally save you hours, and probably hundreds of dollars when you consider how much music and video clips can cost, then you literally lose nothing. Click the link below, grab the bonus and see for yourself.