According to Dun & Bradstreet First Research, the US is one of the biggest markets for consulting services, generating around $490 billion annually in revenue. The industry includes around 175,000 establishments in the US alone, with an income of $251 billion since 2015.
As a consultant, you can provide a wide scope of services—from business strategy, management, financial advisory, human resource to IT. You may also specialize in one or two areas to create a niche for your consultancy business.
However, as consultant need is increasing and the industry is getting more saturated, it's become a challenge to get clients nowadays. The competition, may it be people or technology, rises as each day goes by. But, don't let the competition hinder you from succeeding. We will help you achieve and develop that competitive advantage over your competitors with this article.
Characteristics Clients Want in a Consultant
Aside from having knowledge and skills, it's also important to possess the qualities of a great and effective consultant. These characteristics may be innate, but most of them are learned and developed through time and experience. Here are some qualities and characteristics clients look for in a consultant:
Reliable and Trustworthy 
This is a characteristic every consultant must have. We need to let our clients feel that we're reliable and trustworthy, as they share confidential and personal information during the consultancy process. Their hesitance to share important details, whether it's big or small, will get in your way when it comes to delivering your consulting services.
Good Listener and Attentive to Details  
Allow your clients to share their stories with you. Be an active listener, and make them feel your concern, and that you're eager to help them. This will help you drill the necessary details that needed to be addressed.
Good Communication Skills 
You need not only be a good listener but also be a good communicator. As a consultant, it's important to convey your message and opinions effectively to your clients. Good communication with them also allows you to have a smooth sailing journey.
Fair and Unbiased Judgment
In every consulting process, there's a problem you need to address and solve. Before jumping into conclusions or making the necessary actions to solve the problem, consultants gather information and facts and immerse themselves in the situation using their fair and unbiased judgment. They rationalize things first, and see every perspective before coming up with a solution.
Infinitely Curious 
This characteristic is in relation to being a good listener and attentive to details. Being curious or somewhat skeptical as a consultant isn't a negative trait. Exhibiting this would mean that you're eager to address the problem or situation. You're challenging the norm or status quo with your desire to know more.
Where and How to Find Clients as a Consultant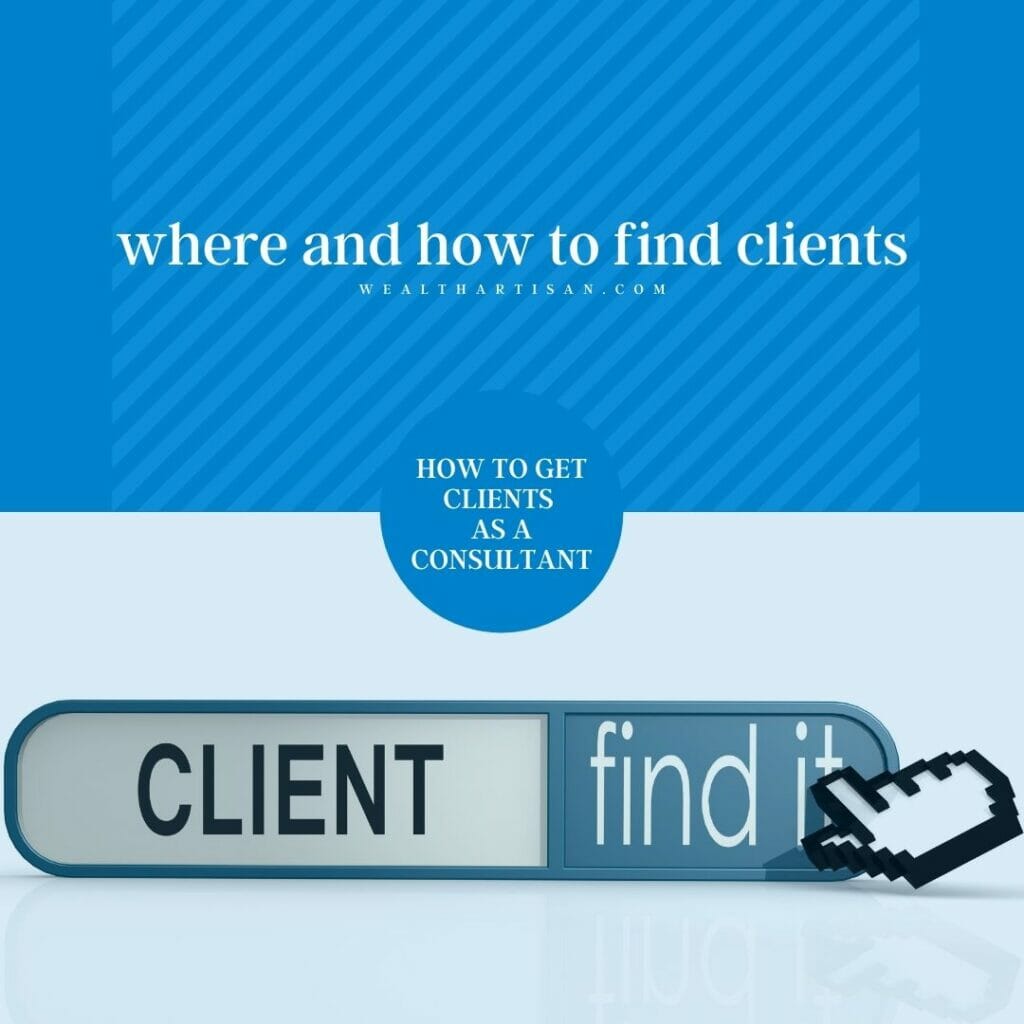 As the industry grows bigger and bigger, it may be hard for us, consultants, to land a job or find the clients who will work collaboratively with us. But, do not fret, as there are a lot of ways and means to find clients.
This section aims to give you tips on how you can successfully land a client, and what possible platforms you may use to look for your clients. 
Know Your Ideal Client
If a client is looking for an ideal consultant with specific characteristics, then the same way goes for you as a consultant. 
Who is your ideal client? What are the characteristics they must possess? Where are they located? Do your previous clients have a common denominator, making it part of your ideal client's characteristics?
Answering these questions may lead you to an approach on how you will communicate with your client, and strategize how to catch their attention. This will also help you know how to inject the consulting process itself through your conversation.
Connect with Companies
There are several companies offering job vacancies to be part of their organization. But, did you know that these vacancies are also applicable to you as a consultant? It would not only be beneficial to you, but also to the company, as they can save costs from employee benefits.
Think of it this way, the company is preparing for a new approach to one of its business processes that's why they're looking for a business planning manager. Why not pitch your consulting services by sending them a proposal on how to address the business planning strategy, and let them implement it. Emphasize as well that it's a win-win situation for both parties, as it is more efficient and cost-saving.
Look at Job Listing Sites
If you're aiming to become an independent, yet flexible consultant, you may check out various job listing sites to find your first clients. Here are some job websites you may go to when looking for that perfect gig:
Upwork 
Upwork is a job board site that gives you the freedom to choose a job from the wide variety it offers. Who knows? You may find your ideal-slash-dream job or gig here in Upwork. 
This platform has a lot to offer, and it's very convenient on both ends, may it be a consultant or a client/employer. 
Microsoft, General Electric, Airbnb, and Bissell are some of the few well-known companies, which trust and use Upwork as their job-hiring platform. Check out these business consulting jobs, which may be the right fit for you as a freelance consultant.
Mindbench 
Mindbench is the leading management consultancy recruitment firm, which offers various consultancy gigs, such as strategy, operational improvement, IT consulting, and many more.
The top four audit firms—Ernst & Young, Deloitte, KPMG, and PwC—use this particular platform. Similar to how Upwork functions, you're going to send your proposals and contract to a job vacancy. Moreover, they offer short-term and long-term projects.
ConsultingMag 
ConsultingMag is not just a magazine for aspiring consultants. It also features the latest news about the leading consulting firms, their company profiles, and available job offers. In addition, they offer free webinars for you to hone your consulting skills. How cool is that?
Flexyforce  
Drive your career growth, and discover career breakthroughs through Flexy. Just like their name, it's perfect for consultants looking for flexibility when it comes to their gigs or jobs. 
Be part of a company looking for their dream team to achieve their business' goals and objectives.  
Indeed  
Indeed is a job board site helping the companies improve their recruitment process in order to hire the best of the best candidates. It also features an assessment section for the candidates, wherein it allows employers to assess if the candidates possess their desired skills and qualities fit for the job posted. 
With this, it gives more time savings for the employer in checking out the candidate's credentials.
AngelList  
Find the job you love through the number one startup hiring platform, AngelList. They promote start-up companies that will make up their team to continually grow and excel in their respective fields. 
To know more about the participating companies in AngelList, check out its breakout list for companies you may consider applying to.
Referrals and Network Buildup
Referrals and testimonies are living proofs of your consulting services. It definitely wouldn't be a bother to ask for one from your previous and satisfied clients. You can also ask for their consent if these can be published online on your website and/or business profiles. 
Aside from that, you may ask if they know someone, another organization, or company seeking consulting services. Doing so may lead to network buildup and expansion. You may also leave them your business card, and suggest sharing your services to their network or contacts.
This can be done during the post-processing or offboarding stage when the services are rendered already. Some consultants give thanks and appreciation to the successful partnership with the client, accompanied by several highlight points during their consulting process, and ask for their feedback. 
Create a Business Website
Creating your own business website to promote your services through informational, yet meaningful posts will attract clients on your way. It's indirectly showing off your business portfolio to your readers. With this, potential clients will get to know you more, what you do, and your expertise. If they're impressed enough, they won't think twice to hire you.
You may publish blog posts of what you do, frequently asked questions, and be creative as possible. Aside from this, you may consider using SEO to optimize your way to the top rank whenever potential clients search the word "consultant" on Google and other search engines.
How to Get Clients as a Consultant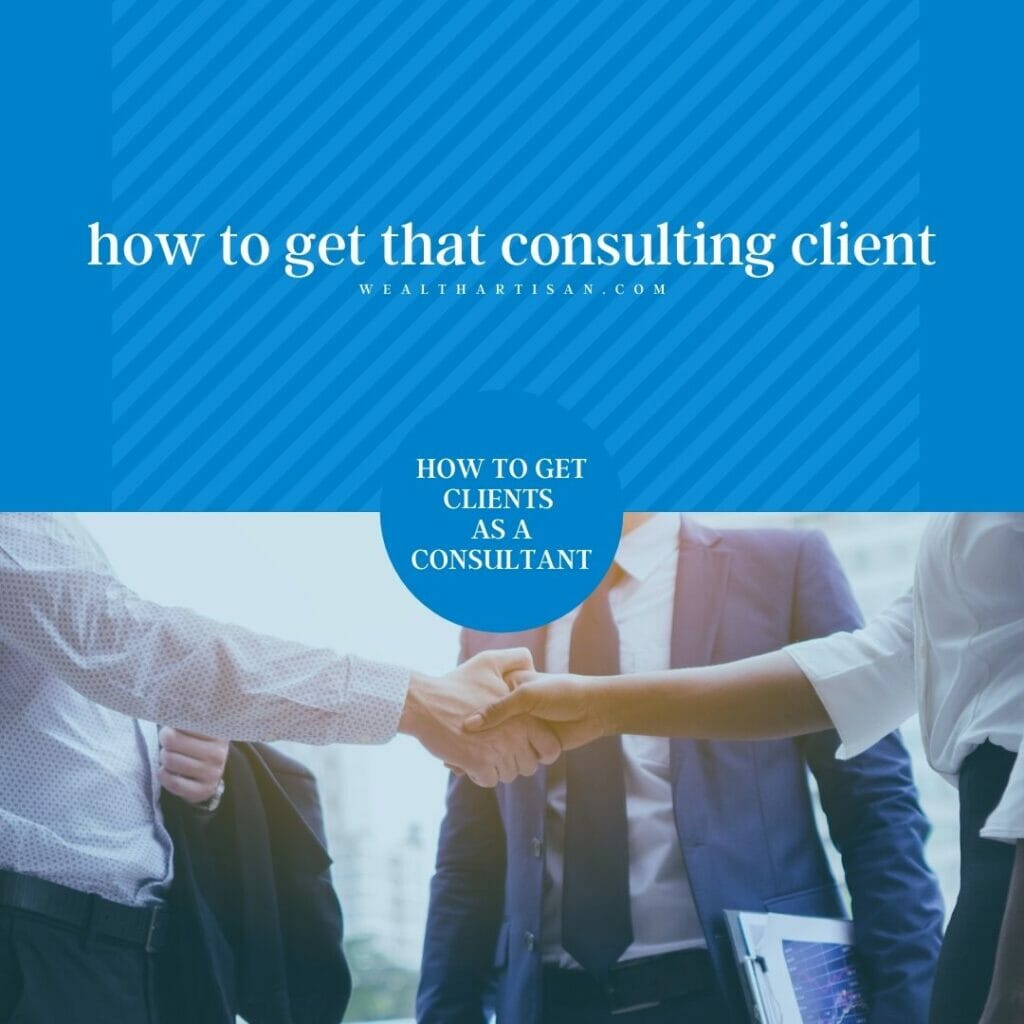 Looking for clients is one thing, while getting and closing a contract is another. Here are some ways and tips on how you can get clients as a consultant.
Promote Yourself as a Consultant
There are a lot of ways you can promote yourself as a consultant. First thing you can do is to attend social events to strengthen and expand your network and partnerships to get more leads and clients. Moreover, highlighting your output and successfully rendered service is a promotion in itself already. This can be further elaborated through blog posts, referrals, and testimonies from your previous clients.
Another thing you can do is to make use of digital marketing. It's one of the effective, yet convenient ways of promoting yourself as a consultant. Create a business profile on social media platforms, such as LinkedIn, Facebook, Twitter, and Instagram. Make sure that your profile is professional and presentable enough to serve as your online portfolio. Also, build engagements with your prospective clients to sway and win them over.
Having a professional consulting account is not enough. Just as we've mentioned previously, create valuable and meaningful posts that will make your clients more curious about you, your business, and what you do. You may also post something that you love—a hobby, sport, or family-related activities—so long as you can back it up and inject your consulting business at the end. Please be guided that the posts are just an invitation for your followers and prospective clients to contact you. This entails you to be as responsive and engaging as possible. 
You may be as creative and artsy by posting a short video, focusing on FAQs via Facebook, Instagram, and YouTube. Being active on social media, and being eager to build rapport with your followers will attract more inquiries, which may lead to your future clients.
Track and Follow Up on Your Leads
It's essential to have a database of your leads or prospective clients. In this manner, it will be easier for you to track and follow up on them. There may be several types of leads: the undecided, affirmative, and "maybe-next-time".
For those who are in the Affirmative category, meaning they are one step closer before closing a deal, it's still important to check up on them and ask if there are any concerns and clarifications before signing the contract and beginning your consulting services. The same goes for those who are undecided to avail of your services. Converse with them as to where their apprehensions and hesitations lie and negotiate to meet them halfway through your consulting.
On the other hand, there are the "maybe-next-time" leads. These are the prospects who are not ready or don't need a consulting service at the moment. It may not be the perfect timing for you to work with each other, but that doesn't mean that it's a dead-end already. You may approach them and reach out again when you're looking for new leads. Ask them how they are and how their business is going, share some of your success stories as a consultant, and keep the conversation going until the lead is now open to hire you as their consultant.
Cold Pitching
If you're looking for clients ASAP, why not give cold pitching a try? There may be cons when using this strategy. One of which is the possibility of being ignored and rejected. But, all you need to remember is to make your pitch personal and tailor-fitted to the recipient, as if it's a blessing sent from above from the client's perspective.
In addition, identify your prospective client's problem, and include in your pitch how you can address that certain issue. This is made possible if you did thorough research. This is also a big check on being personal, but at the same time nailing the killer pitch! This way, you're earning your client's trust by giving them a solution to resolve their problem (for free)!
Don't forget to include your details, such as your name, website, or business profiles, and state that you're very much open to talk with them soon.
You may follow-up after a week if they haven't responded, but don't be too pushy. If they don't respond since your first email, then it's time to move on to the next prospect.
If you're out of ideas where you can scout for cold pitch clients, you may want to check out your local newspaper's classified ads and online listings.
Conclusion
Before sending or pitching those proposals, always do your due diligence, as clients' personalities and needs vary from one to another. Also, keep in mind and highlight the underrated characteristics, which clients look for in a consultant, to grow as a person and in your career. Let your clients feel confident and safe in your hands and, at the same time, be keen and curious to every detail in order for your journey to be smooth sailing.
We can't wait for your consulting career to bring you to greater heights, as you soar high and help more clients address every problem they have. The journey may be tough at first, but with perseverance, dedication, and hard work, it will all be worth it in the end. 
We hope that this article taught and motivated you to attract more consulting clients!