Ready to start blogging, and make money out of it? You're in the perfect place! I've personally operated successful blogs (this one included) for over 10 years! It's now my primary income.
You don't have to be a journalist or a programmer to blog. Whether you're a stay-at-home mom, a college student, a local business owner, or a corporate worker, you can blog if you want to do something on the side.
Blogging comes with many benefits and possibilities. It gives you the needed identity on the internet, offers you an opportunity to earn extra money, and helps in improving your marketing and writing skills.
It also gives you greater opportunity to reach many people, helps you in building a network with the right people, gives you an online portfolio, and you can also support a cause via blogging.
This article will start by explaining the exact steps to follow to get a website online. These steps will cover how to find and purchase web hosting, get a blogging platform installed, and ready for writing.
Afterward, I will provide many tips for operating your blog so it has the best chance of success. I hope you're excited because I sure am!
How to Start a Blog (In 5 Simple Steps)
Having gone through the whole procedure, here is a step-by-step of how to start a blog on HostGator.
To follow along, click this button (opens HostGator in a new window):
Choose Your HostGator Plan
WordPress Hosting
Starting a blog can be difficult, but starting it on HostGator is very easy; especially when you use WordPress Hosting. I advise all people who aren't "tech-savvy" to go with WordPress hosting. WordPress powers over 30% of websites online, including some of the largest sites. That's partly because it is super-easy to use! These are the HostGator WordPress Hosting plans: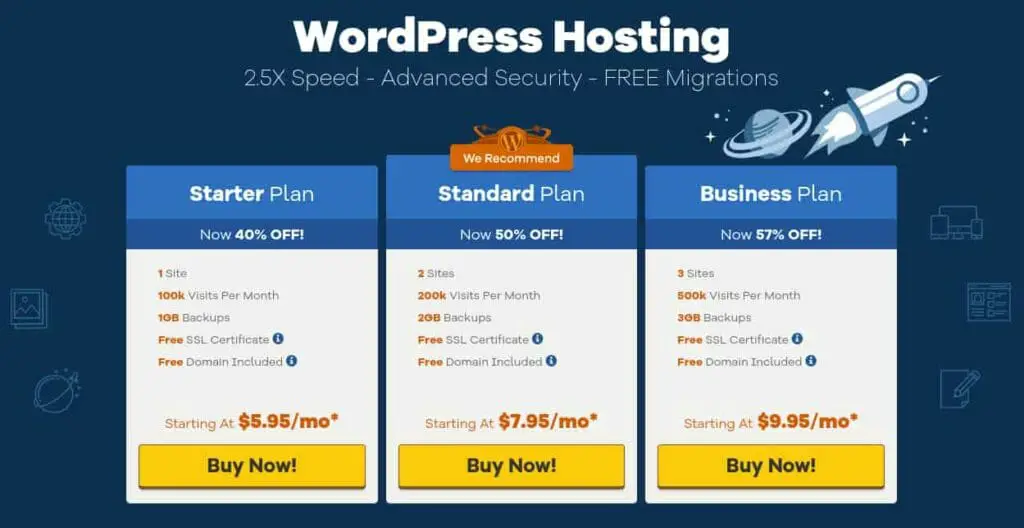 The beauty of WordPress hosting is that it is optimized to make your site as fast as possible, and even better: WordPress is automatically installed for you! No fiddling with databases, zip files, and FTP uploads. If you don't know what any of those mean, then WordPress Hosting is probably perfect for you.
Shared Web Hosting
Shared Hosting is more of a DIY solution. You'll save a little money each month, but you will be responsible for installing WordPress and trying to optimize the hosting for speed.
Plans that start as low as $2.75/month at the time of this writing. There are three hosting plans, namely, the Hatchling Plan, the Baby Plan, and the Business Plan. After choosing the plan of your choice, you then can sign up.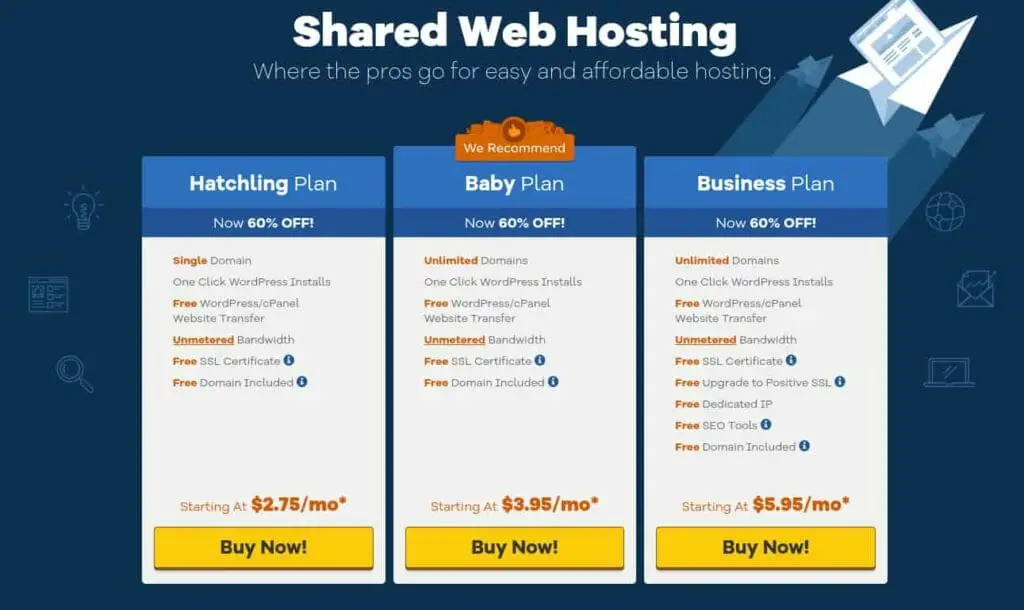 Step 1: Choose your Domain Name
Once you choose which plan works best for you, you then need to find your perfect domain name. You can check the availability of your domain by typing the domain name you want into the search option of the HostGator Order Wizard page. If you need some help, then make sure you read: how to think of a blog name.
At the time of this writing, they're running a promotion where your first year of domain registration is free! Generally, registering a domain name costs around $12.95 to $17.99 per year depending on the TLD and other addons you might purchase.

Step 2: Complete the HostGator Order Registration
After choosing your domain name, you can then finish the registration and activation of your domain name. Fill in your billing information, and complete the setup.
Select the hosting plan and the billing cycle:

Enter the billing information: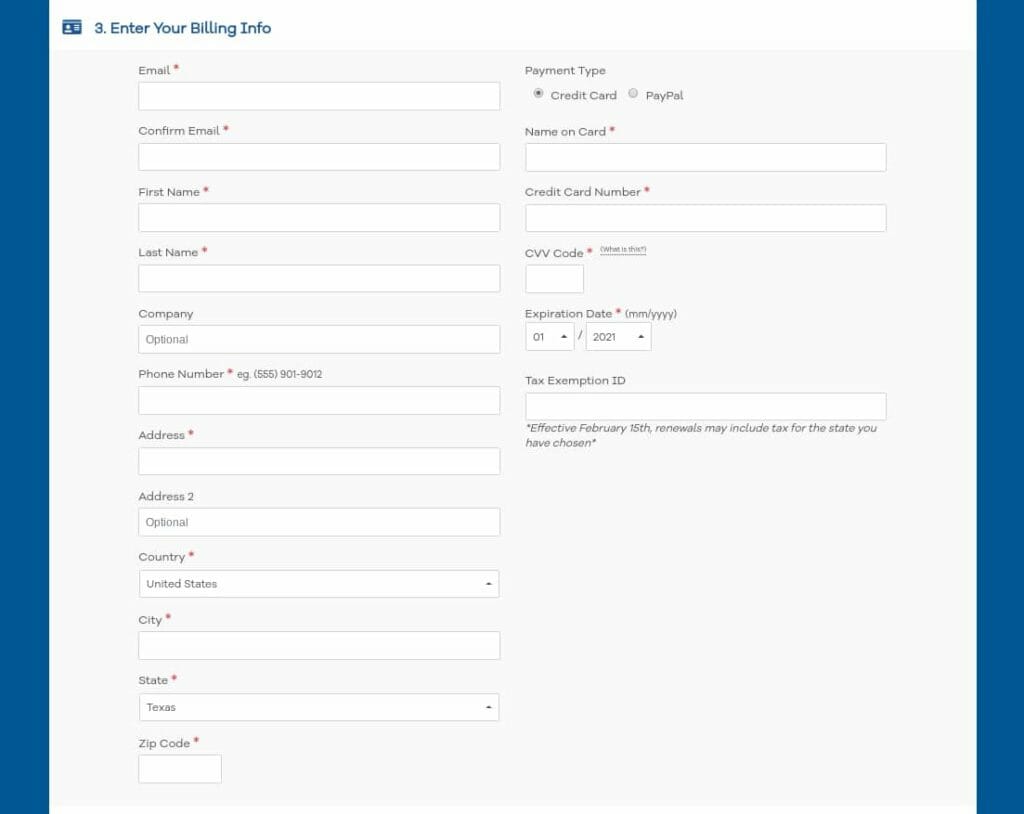 Select any additional services you might want:
Enter in a coupon code if a better one isn't already in there:

Wealth Artisan readers can save up to 60% using this coupon code:
WASAVINGS
Review the order details, and click the "Checkout Now!" button: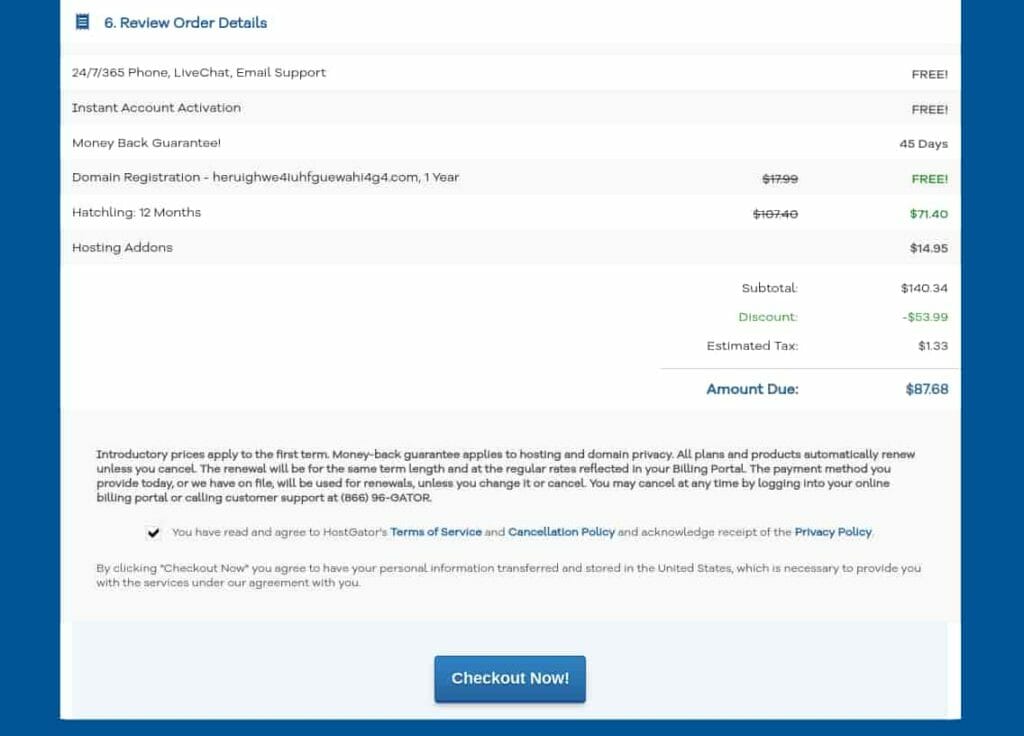 Step 3: Install WordPress
If you chose a "WordPress Hosting" package, then you can skip this step. If you chose a "Shared Hosting" package, then you'll likely need to install WordPress from the Softaculous application. Here's a video explaining it:
Step 4: Choose your Theme
Now that you have WordPress installed, you just need to install a beautiful theme. I highly suggest StudioPress' Genesis theme framework, but that's just me. I use StudioPress themes on almost all of my websites (including this one), and websites that I've made for clients. It's a great platform, with beautiful looking themes. It is a premium theme so it costs money.
There are plenty of free, beautiful themes too, and here's a video explaining how to install a new theme:
Step 5: Begin Writing
Once your site looks the way you want it, it's now time to begin writing and reaching your audience. Congratulations, you're now a blogger!
What to Consider When Starting a Blog
You don't just start building a house without having a plan. You first have to map out the structure and design, then lay the foundation. Overlooking these steps would result in a problem
The same thing is applied when starting a blog. There are considerations you must follow if you want your blog to be a success.
What is Your Niche
Your niche plays an essential role in your blog's success. Establishing the niche of your blog would help in knowing your target audience, your blog content, and the product to focus on. This would also be beneficial in planning your editorial schedule and business marketing strategy.
So, why does your blog need a niche, and how would you choose the right one for you?
Let's start by defining what a niche is. A niche relates to products, services, or interests that appeal to a small, specialized section of the population.
Now, why would you need to choose a niche to focus on?
Well, it would be hard to see increased traffic, search engine rankings, affiliate sales, and product sales when you target a broad audience. Different sites may also be doing that, and you're not going to be able to compete with them as a new blogger. So, having a niche would help you focus on a specific audience.
Even something as simple as figuring out the name for your blog can be influenced by the niche. For example, a name for a lifestyle blog will probably be very different than a name for a technology blog.
Having your own small niche would make it easier for you to identify what your target audience is looking for, and would thus help prevent you from publishing articles that won't receive traffic; it all points to product creation.
Knowing the problem your niche members are facing would aid in finding a solution for them and create more traffic. Here are a few niches—and their sub-niches—you might be interested in for your blog.
1. News Niche
Politics
Business
Technology
Science
Celebrity
Crime
Health
Entertainment
Education
2. Entertainment Niche
TV Shows
Movies
Music
Talent Hunts
Sports
Comedy
Games
Magic
3. Lifestyle Niche
Health
Nutrition
Fashion
Professional Development
Religion
Culture
Relationship Advice
Travel
Beauty
Parenting
Fitness
Personal Development
4. Business & Finance Niche
Investing
Entrepreneurship
Frugal Living
Marketing
Human Resources
Sales
Business Tips
There are many more niches, but those listed above are among the most popular ones. Once you make your choice, you could start developing content for it.
What is Your Blog Name?
You need to choose a name, which represents your blog's identity and what it will mostly talk about, for better engagement with your target audience. Let's say you intend to blog about dogs; you can choose a name like doglife, dogsarefriends, allaboutdogs, etc.
When choosing a domain name, you'll learn about the various "top-level domains" or TLDs. Don't worry, this isn't complicated. You already know about the usual ones: we have .com, .net, org, and a whole lot more!
.Com
This was intended for commercial, for-profit websites. It is also considered the king of TLDs. Getting a .com is ideal if possible.
.Net
This TLD was intended for networking technology-related companies. Of course, those companies generally use .com because it's the king of TLDs. Generally, people choose .net when they can't get the .com they want.
.Org
This TLD was intended for use by non-profit organizations. It has probably been the most successful TLD in terms of being used what it was intended for. There are many for-profit organizations that use the .org TLD.
If you're a non-profit, then this is a great choice. For-profit organizations may choose .org when .com and .net domains are taken. Many people also consider .org domains to give an air of legitimacy and may choose it for that reason.
There are tons of other TLDs, and it is up to you to choose what is best for your website. The above 3 are the most recognizable and are a great place to start.
Domain Wrap-up
Although we have a lot of options for a top-level domain, most people who have blogs tend to stick with a .com domain to look more professional and legitimate.
When choosing your blog name and domain name, make it short and easy to remember. Surely, yourname.com would be easier to remember than yournameisveryorganic.com. Use a name that your target audience would be able to get used to and remember.
I also advise people to avoid hyphens (-). When you see a domain like this:
Jane-Does-Health-Blog.com
It doesn't look good. Please note, hyphens are completely functional in a domain name, they are just not looked well upon generally speaking. The only time that I would consider using a hyphen is if I have a two-word domain name, and I put the hyphen between the words. Of course, I would only do this if the unhyphenated name were unavailable.
How Much is Your Budget
You do need a budget, but it doesn't have to be large. You can estimate some of the costs as such:
Domain name: ~$15/year (Often free the first year with most web hosts)
Hosting: ~$30-$100/year (depending on how many years you commit to)
Those are your base costs. You can voluntarily accrue other costs like premium themes, premium website plugins, and more, but those are not required to get your blog started.
Although there are free hosting options, they are very limited in terms of features and flexibility. Additionally, they often get covered in advertising for which you will receive no compensation. That advertising goes to pay for the "free" hosting. We don't encourage you to use them.
Here is a more detailed breakdown of the expenses you might encounter.
Website Design
Platforms like WordPress have fantastic looking, free themes. So often, website design is not needed at all. If you prefer to not use WordPress, Hostgator already has an easy-to-use website builder that allows you to design your blog according to your taste.
There are varying prices, as low as $46 per year, depending on the website builder plan you want to choose—whether you're starting a personal blog or an e-commerce blog.
If you can't do it by yourself, there are various companies or freelancers online that offer website design services at an excellent price. It will often cost around a minimum of $250, depending on the type of website.
Domain Registration
Hostgator allows you to buy your own domain name. Usually, if you subscribe to their plans, you can get 12 months of free domain registration. However, if you want to opt-out on the website builder plans, the cost for domain registration is usually around $12.95 per year to $17.99 for yearly renewals depending on the TLD.
Web Hosting
Compared to its competitors, Hostgator has some of the lowest rates for web hosting there is. To start up your blog—and continue it for a year—you should have around $60 to $70 on your budget. It's important to remember that the more months you pay upfront for, the lower the rate will be.
I started this website on HostGator in 2010, so I know first-hand that they are a leader in the web hosting industry.
Web Hosting: Which Hosting Plan Should I Choose?
Earlier, we discussed budgets and website builder plans, And, we've also briefly touched on hosting plans available on Hostgator.
To give you a more thorough review, here are the three "Shared" hosting plans HostGator offers. All prices are current at the time of writing.
Hatchling Plan
This the starter kit for their plan. It costs around $2.75 for the first month and renews at $6.95 monthly.
As this plan is recommended for beginners, it comes with a single domain after signing up, which means you would only be able to have one website. It also comes with one-click WordPress installs, a free WordPress/cPanel, unmetered bandwidth, and a free SSL Certificate.
Moreover, it offers website transfer and, of course, a free domain. If your blog is meant to be for fun or personal use, then this plan may be best for you.
Baby Plan
The Baby Plan has all the features the Hatchling Plan has, except for two major upgrades. It starts at $3.95 and renews at $9.95 per month.
The major upgrades are the inclusion of unlimited domains (meaning you can host multiple websites without increasing your hosting costs) and the ability to purchase a dedicated IP address at $4 per month. If you intend having multiple websites, then the Baby Plan is suitable for you.
Business Plan
The Business Plan is Hostgator's premium plan. Subscription starts at $5.95 and renews at $14.95 per month. It comes with a free dedicated IP address, unlike in the Baby Plan where you would have to make an extra purchase.
This plan is the best for you if you are running an online business, as it has much room to grow. It also comes with free search engine optimization (SEO) tools.
Monetization: How Do I Make Money With A Blog?
Starting a blog is fun, but many people may also wonder how they can make money from it. Lucky for you, there are tons of ways to make money blogging. Here are the most popular ways:
Affiliate Marketing
Affiliate marketing is one of the most popular and powerful methods of making money through your blog. It entails marketing a product for another company, and, in turn, you are paid a percentage of each sale. This doesn't cost your readers any extra money, and you help connect your readers with brands they can trust. Learn how to get into affiliate marketing for free!
To successfully do this, you must pick a product or brand related to the niche you are blogging about, and develop content that lets you introduce and market the product to your audience. In fact, in this article, you'll see that I have links to HostGator. If you choose to sign up with them, HostGator will pay me a small commission for referring business to them.
The win-win in all of this is that I've connected you with a web host that serves over 8 million websites, and has the most affordable prices in the industry. I started this website on HostGator in 2010, so I know successful websites can be started on their platform.
That's one of the best parts of affiliate marketing. I refer people to products I have experience with, which helps set me apart from many other affiliates. I think people can see the difference between someone who knows something first-hand, and someone who is just guessing.
Selling Ebooks
Another superb way to make money out of your blog is through e-book selling. First, you would need to create e-books related to your blog content.
Your e-book content should have exclusive or upgraded material, however. Make sure that your e-books are something your audience would be willing to pay for.
Ebooks are a fantastic way to showcase your expertise and reward your most devoted readers with deeper insights than you can provide in a single blog article.
Advertisements
Advertisements are very important and helpful to starter websites, especially if you are still starting to blog and yet to have many visitors. They can give you the very first inflows of income from your hard work. You can even use your own content as the enticement to earn money using tactics like CPA content locking.
Advertisements, generally, will not earn you large sums of money. They are simply the easiest way to start earning money from your blog. If your website is drawing in large volumes of traffic, then I highly suggest using a service like Ezoic to serve ads on your website. They use artificial intelligence and machine learning to serve the best ads in the optimal positions on your website for your readers.
If you want to earn a lot more money from advertising, then you can negotiate with the business owners directly who want to advertise on your website, agree to terms with them, and place their adverts on your blog. This is much more time-intensive, but it can also be much more rewarding.
Remember that the advertisements should be related to your niche or is appropriate for your online audience.
Sell digital products
You can also make money by selling digital products on your blog. Create something that you are sure people would be willing to pay for. As long as they're related to your blog identity, they could include videos, downloadable guides, resources, PDFs, software components, and many more.
You can even drum up some excitement around your product launch by using a viral giveaway to promote it. Read our "RafflePress Review" to learn how to do it effectively. The best part of this idea is that you're giving away a digital product, which means your costs are almost non-existent!
Ebooks are one kind of digital product, but what about worksheets? You can also create online courses, audio resources, and other upgrades to your website's content that people can purchase.
Create and sell online courses
Earlier, I mentioned online courses as a digital product, but they are so huge that they deserve their own section. You can also create online courses on topics related to your niche. These could be skills or practices, like web development, writing, marketing, and so many more.
You don't need a lot of visits to your blog for this to sell; all you need to do is to understand what your visitors need, develop a course around it, and start selling. You could also upload your online courses on sites like Skillshare or Udemy to gain more students and a blog audience.
---
Laying the Foundation: Things You Need to Start a Blog
To start a successful blogging career, you need to invest in the right tools. For blogging, you need the following:
Computer and High-speed Internet
This should go without saying, but for the sake of completeness, I'm mentioning it. You need a computer and internet. If you don't have those, then how are you reading this?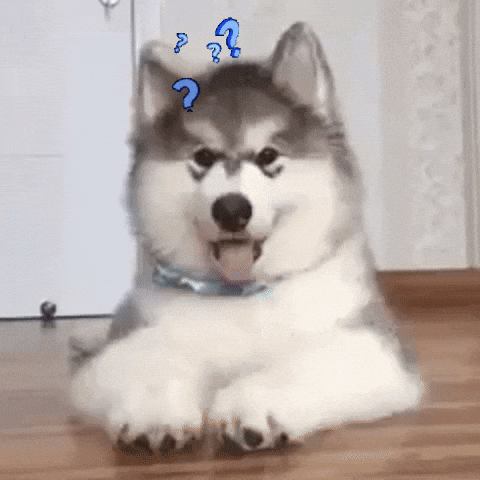 Depending on the kind of content you want to publish on your blog, you likely want a computer with excellent processor speed and battery life, which you can carry anywhere.
Of course, you need a high-speed internet connection. This is especially useful for data-intensive things like uploading video, audio, and images to your website.
This is all especially applicable to our international readers who might have lower-quality internet infrastructure or need to travel often to places with better internet connectivity.
Blogging Platform
Another thing that you need is a blogging platform, and the platform of choice tends to be WordPress. There are other platforms out there such as Blogger, Joomla, and Drupal, but WordPress has the largest community, the most free plugins and themes, and it is the dominant force in free blogging platforms.
WordPress.com vs WordPress.org
I'll be brief here. There are two versions of WordPress: WordPress.com and WordPress.org. WordPress.com is hosted on WordPress' servers. This is likely not the version you want. You can't make money out of your blog with the free version of it, and you have to pay a relatively large amount of money to run a for-profit site on it if you want a real domain name (and no ads that you won't make money from).
What we're talking about in this article is WordPress.org. WordPress.org is the "self-hosted" version of WordPress. This might sound complicated, but it's really not. Once you create your HostGator account, they have a quick installer that makes setting up WordPress super simple! After that, you make the rules. If you put ads on your website, you get paid, not WordPress. Very important!
Blogging Strategy
Your blogging strategy entails the things you want to achieve. What is your goal? Are you trying to build your reputation? Are you trying to increase sales for your business? Are you trying to promote a cause that you care about? Understanding what your goal is will help you craft the strategy behind your blog.
Before starting your blog you must have in mind the kind of audience you want to engage and your posting frequency. Who are you trying to reach, and where do they typically hang out online? For example, if you're starting a cooking blog, then your audience is likely on Pinterest. So, you'll need to share stuff to Pinterest to reach them.
If your blog is a fitness or beauty blog, then your audience is likely on both Pinterest and Instagram. This is important to understand because, in the beginning of your blog, you need to go find people and get them to your website. It isn't as simple as just putting a website online.
Your blogging strategy should also include the type of content you intend to create, and how to engage your audience. Basically, it is a guideline that helps you on your blogging approach.
Content Schedule
Your content schedule entails having a schedule for writing new content, editing them, and when to publish them. Don't just wake up in the morning and start writing and publishing. Have a schedule. Your audience will eventually know your schedule and expect content to be published.
This is assuming you take an audience approach. I don't spend as much time trying to cultivate an audience as I do trying to just solve problems with my content. Most of my readers only come by once, but I'm OK with that because I'm helping people solve problems. That's why I don't hold a blogging schedule. I would simply be remiss to not mention it. The most successful bloggers follow schedules.
Blog Content
You can't have a content schedule without having content. Before making your blog live, make sure you already have written content up in your blog, plus additional scheduled content for at least your first month. This way, you won't run out of content. There's nothing worse than looking at a blank screen!
Promotional plan
As a new blogger, you might find it difficult to establish yourself. To achieve this, you can team up with influencers, and make sure to be highly active on social media; Twitter, Pinterest and Instagram are great tools in doing this. You could also guest post on other relevant blogs to build your audience.
Conclusion
Setting up your blog can be both daunting and exciting. But, if you're still wondering how to find your footing, just remember: all you need is to focus, understand your niche, write high-quality, valuable content, and, most importantly, always engage your audience. You can do this, but you have to take that first step.