If you have a WordPress site, and you've been pondering the idea of running a contest or giveaway, you may have come across a couple of different plugins for doing so. There are plenty out there, but today we're talking about RafflePress. We'll take a look at its features and benefits, and help you determine if it's the right giveaway plugin for your business or website.
Really solid and fully featured giveaway plugins for WordPress have been scarce until recently. The popular ones of years past have gotten extraordinarily expensive! Most plugins out there are slow, difficult to use, and lack quality support. Seeing this as an opportunity, the folks at RafflePress set out to create a viral, giveaway WordPress plugin that's powerful and easy to use.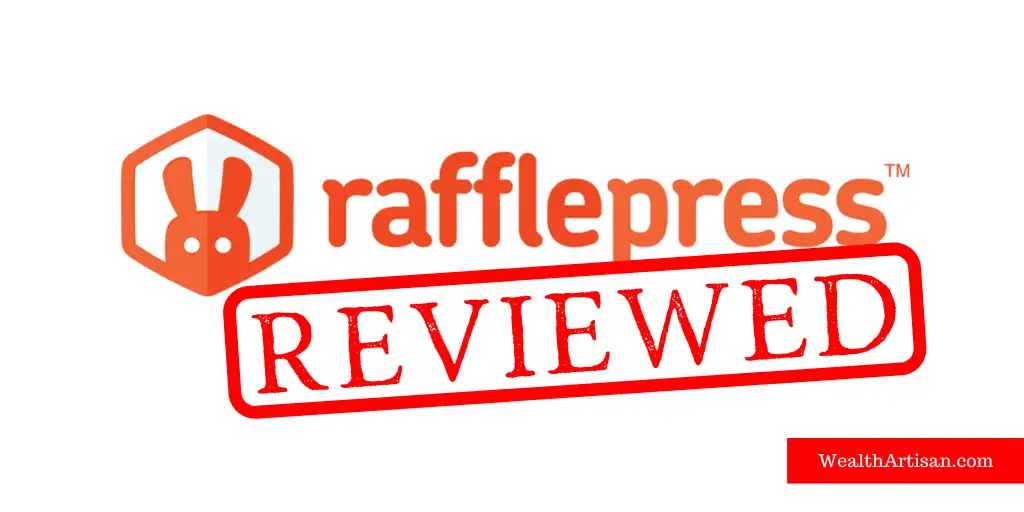 But, let's back up a bit. Perhaps you're wondering why you'd want to have a giveaway to begin with. Well, there are a number of benefits you can reap for your business by doing so.  For starters, it is an excellent way to drive traffic to your website, and RafflePress can help with this. There are features in the plugin that reward users with extra entries when they refer friends to your contest or share it on social media.
Another benefit of running contests is the significant boost of your social media following and presence. With RafflePress, you can set it up to where your followers can earn extra entries for following you on any and all of your various social media platforms. 
There are, of course, many other benefits to running a giveaway. We'll get into some more of those later in this RafflePress review. 
RafflePress Review: Is It Worth The Cost?
RafflePress makes a lot of things possible that would otherwise be really difficult or take stunning amounts of time. Its biggest benefit is that it will help you drive more traffic to your site. It's extremely easy to use and runs amazingly well. We'll talk about these benefits further, but quickly, here's a little image I made that shows many of the benefits of using RafflePress: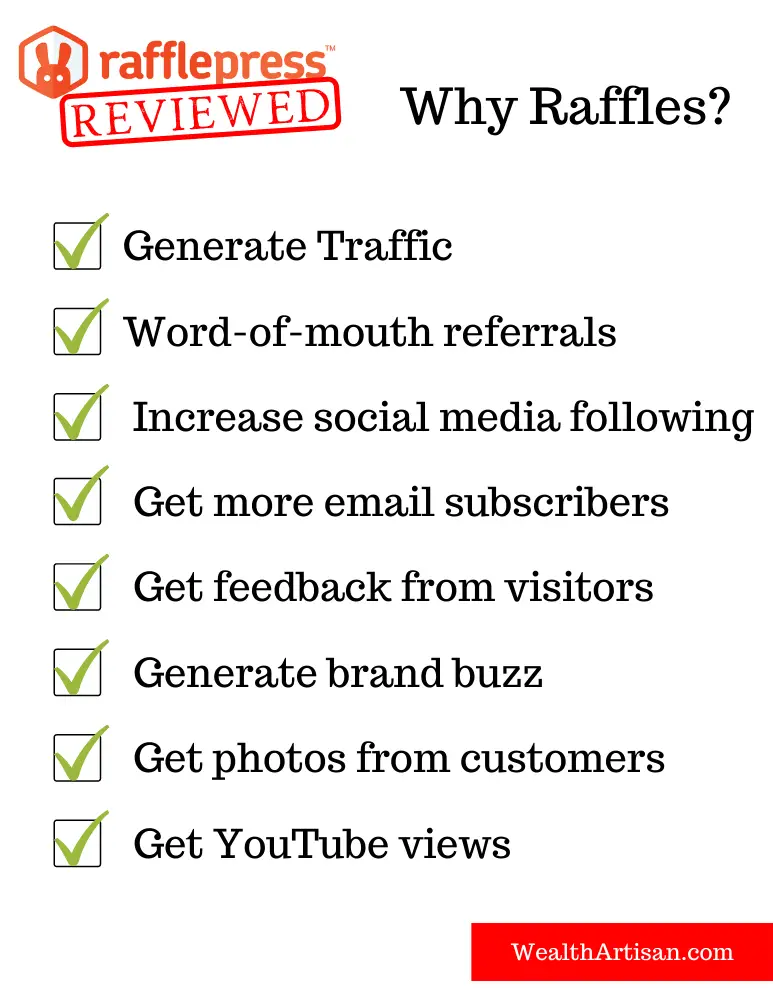 Maximizing Traffic Through Viral Giveaways
RafflePress comes with templates that are designed with specific goals in mind. These templates help you accomplish goals, such as growing your social media presence, getting users for your email list, and creating viral campaigns with friend referrals.
In addition to the goal-specific templates, it's also equipped with actions that fall under the goals you have set, like subscribers to your email list, followers on social media, and viral content. 
The actions vary according to the goals. For example, you can find actions, like joining your email newsletter or following your Instagram, under the goal of getting subscribers. The marketing possibilities alone make RafflePress a fantastic giveaway plugin.
Ease of Use and Performance
RafflePress is extremely easy to install, setup, and use. The plugin installation is straightforward, the setup is quick and easy, and it has a great visual block system for customization. With it, you can customize a giveaway to match the rest of the user experience and branding on your site. 
Moreover, the plugin has a native integration in the WordPress menu, so you won't have to learn anything new. You can, quite literally, create a giveaway from start to finish in less than a couple of hours.
In addition to this ease of use, the plugin was designed with speed in mind. Pages you create for your giveaways load quickly. When users interact with your giveaway, there are no delays—everything is quick and zippy. And the best part? Everything has been designed with responsiveness in mind, so regardless of the device your customers are using, they're going to get a seamless and attractive experience.
Follow Along With This Review!
This review has a lot of step-by-step tips. Why not follow along? Click the yellow button below to get your copy of RafflePress and follow all of the steps and tips in this review!
Ways to Reach More People Using RafflePress
As we touched on briefly above, giveaways and RafflePress can be a great way to improve your business and gain exposure. With this plugin's template and goal features, it's immensely easy to start pushing traffic to your site and social media, and growing your email list.
The whole point of RafflePress is to grab the attention of your visitors with alluring giveaways. At which point, the users will engage, and then the following happens:
The user gives you their email address, resulting to the growth of your mailing list.
The giveaway would create incentives for the user to share it on their social media for extra entries.
The incentive creates an organic sharing on social media, resulting in loads of traffic to your site.
Essentially, through the use of social media sharing incentives, you're creating ambassadors out of your contestants for your brand. It's literally a win-win for everyone.
RafflePress Pricing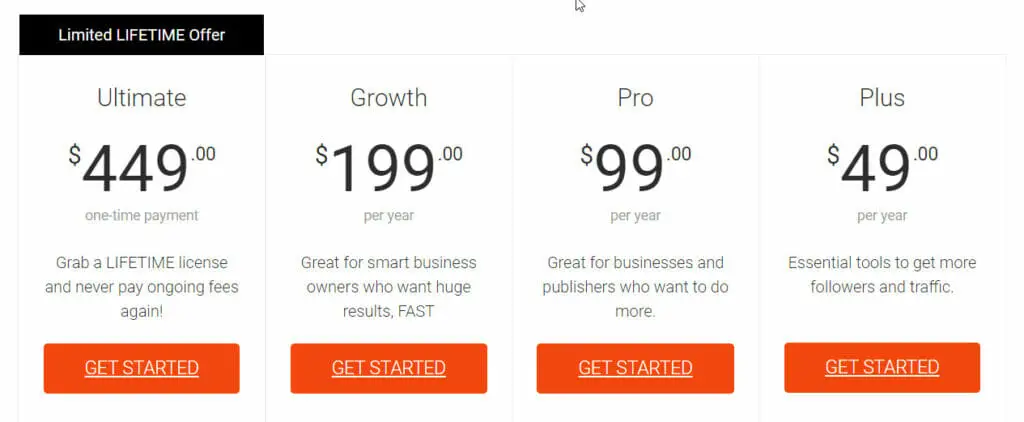 RafflePress has four pricing tiers. The Plus plan starts at $49 per year and comes with the essential tools you would need to run a successful giveaway and grow your business. With this plan, you'll be able to use the plugin and run giveaways for one website. You'll have access to multiple prizes, verification emails, notifications, time control, and more.
The Pro plan would cost you $99 per year, and it would give you access to install on three websites. This plan comes with all the features you get with Plus, along with polls, surveys, required actions, image submission, and email integration, among others.
The Growth Plan costs $199 per year, and it's best for larger businesses that want quick results from their campaigns. You'll get plugin access for 20 websites, all the features from Pro and Plus, along with friend referrals for viral sharing, social plugins, and landing pages for your giveaways.
Last, but not least, is the Ultimate plan. This is a single, lifetime fee of $449, and gives you all the features for an unlimited number of websites.
RafflePress Discounts and Coupon Codes?
From time-to-time RafflePress does run discounts and promotions. You can click the link below to check for any current discounts or sales promotions they might be running. If their pricing on the link below is different from what you see in the "pricing picture" above, then they are running a sale!
Are You Ready to Start Getting More Website Traffic Using Giveaways?
If so, then click the blue button below to grab your copy of RafflePress.
How to Install the RafflePress WordPress Plugin
Before you even begin to think about creating a giveaway, you'll need to install the plugin. If you've ever manually added a plugin to WordPress before, installing RafflePress should be relatively easy for you.
Step 1: Download the RafflePress install package
The first step is to download the plugin from the RafflePress website. The plugin would be in a zip file. Save it somewhere easy to locate. Follow the steps in the image below to locate the download button (Figure 3) and the License Key (Figure 4).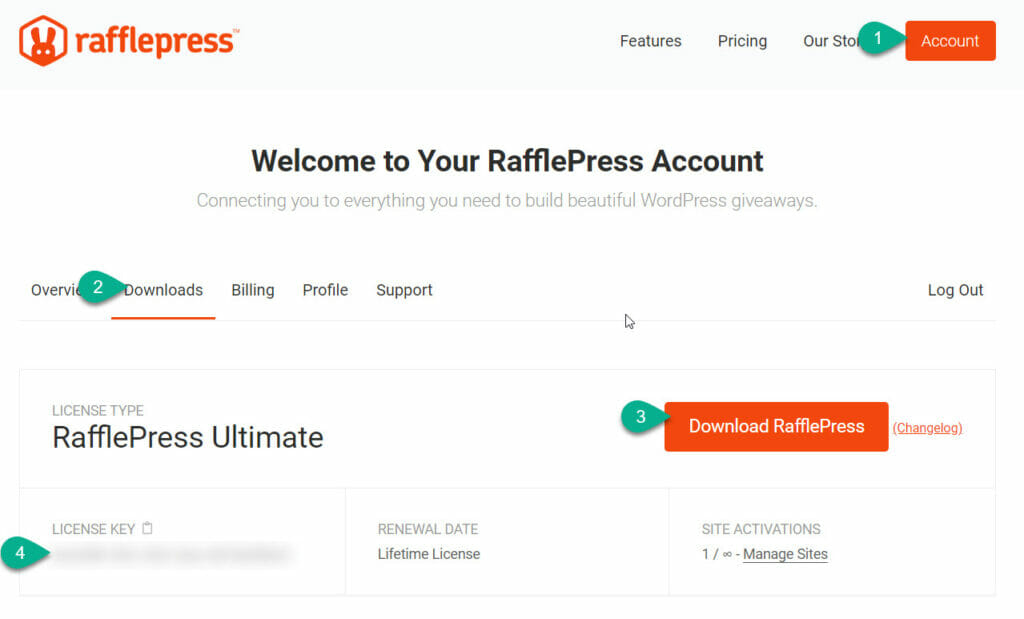 Step 2: Upload, Install, and Activate the RafflePress plugin
Next, log in to your WordPress site, and click on 'Plugins' and then 'Add New'. From here, click the 'Upload Plugin' button, select the zip file you saved, and upload RafflePress. You can follow the steps in this image below once you're logged into WordPress.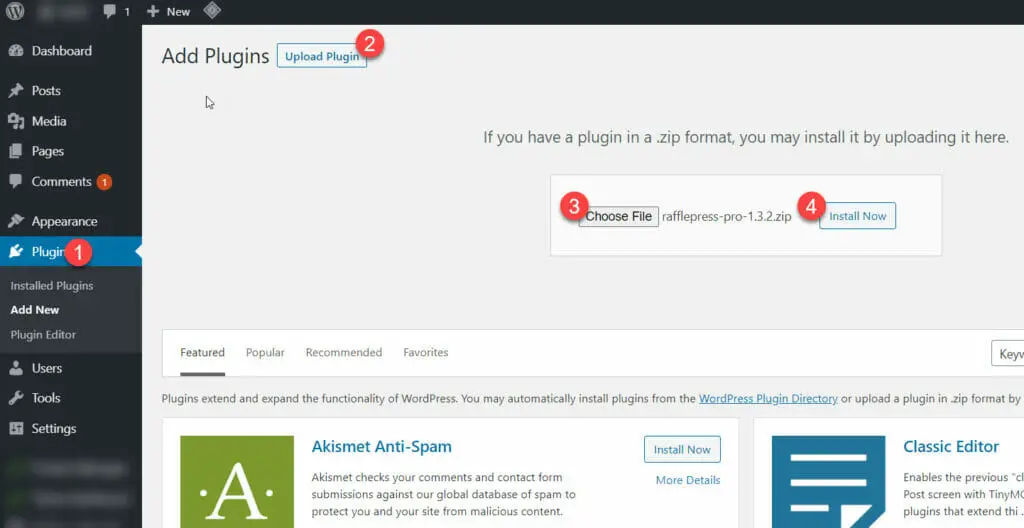 Step 3: Activate Your RafflePress License Key
Once installed and activated, you'll be brought to the screen where you enter your license key from Step 1 above. Enter your license key, and click "Verify Key." You should see a little notification popup that lets you know it is activated. It should look something like this:
Once activated, that same page will have a bunch of useful information, including this video:
Here is a screenshot of what the whole activation page looks like:

If you haven't already, then what are you waiting for. Get started with RafflePress today so you can follow along!
Using the RafflePress Plugin
Using RafflePress is a pretty straightforward process. To get started on a new raffle, click on the RafflePress link in your WordPress admin area, and click the 'Add New' link. Then, you can enter the details of your campaign, such as the name, description, and image. You can also choose a template that would reflect the particular goal you have with this giveaway.
Next, choose your giveaway prize. You can enter a name and description for your prize, and upload a photo.
The next step is to choose actions for your giveaway that coincide with your marketing goals. For example, if you want to get more followers on Facebook, you can choose that action.
You can, of course, add as many actions as you want, each with its own basic settings. You can add names, make an action required for entry, and so on.
Now that you have created your giveaway, and generated the actions for your users to take, you can customize your giveaway's appearance to make it in line with your brand's aesthetic. On the 'Design' tab, you can modify the image and background color for your campaign's landing page. There's also a live preview, so you could tweak the settings until it suits how you like it.
Finally, the last thing you'd want to look at before going live with your giveaway is the set of rules. RafflePress has a handy generator that would help you in creating the rules for your giveaway. Simply navigate to the 'Giveaway Rules' tab, and click the button to generate. You'd need to fill out your company details, of course, to have a general set of rules for your campaign.
And that's all there is to it! While the plugin has many more options, this is the minimum you would need to get a giveaway up and running.
Conclusion
In this review, we've taken a look at the basics of the Rafflepress plugin. We've covered its ease when it comes to installing and configuring it, the benefits it offers your business, how it pushes traffic to your site, and more. Hopefully, by now you have a good understanding of this plugin and the benefits of giveaways.
RafflePress dubs itself as the best WordPress plugin to run a giveaway. Do we think this is accurate? Absolutely. Its ease of use, performance, and reliability alone put it far ahead of most of its competitors. But, where RafflePress really shines (as we've mentioned over and over) is its focus on reaching your website marketing goals. 
Hosting a giveaway really is a great way to get traffic to your site or grow your email list. This plugin makes the whole process easier and more accessible. If your goal is to create and run a successful giveaway, which performs well and is easy to maintain, we highly recommend RafflePress.