Over the past few years we can see more and more lifestyle bloggers online. They all have their own reasons for doing so, such as sharing their hobby, personal goal, or earning extra income. Whatever their reasons are, we can't help but give them a pat on the back for their amazing feed and blog. 
So what really is a lifestyle blog? Is it just a blogging version of an Instagram feed or a website? Getting its definition from the Collins Dictionary gives us this:
"A lifestyle blog is an online platform website wherein someone regularly records their thoughts or experiences, or talks about aspects of their daily lives."
With the definition itself, lifestyle blogging is sharing your key moments, ideas, or thoughts through a website. You can share anything you like, such as writing, food, travel, or business. There are so many topics you can freely pick, making it a bit difficult to focus on one. But, if you truly want your blog to gain organic reach and audience, you have to stick to one niche. 
By picking one niche, you can know who your target audience will be. It can be a mess if you try to cater to so many niches since it can confuse your audience. You might even lose an audience if they see that you're not focusing on the niche they truly want. For example, if your content focuses on food, your audience will be shocked if they see business or tech contents on your website. 
After picking out your niche, your next step is picking out a name for your lifestyle blog. Picking a name for a new blog is tricky, especially if you're in the lifestyle category. You need a brandable name that's chic and in style, but also fits an available domain name. It seems like an impossible task to accomplish, but it doesn't have to be. 
In this article, we're going to show you how you can come up with the perfect lifestyle blog name (without wasted time and frustration).
What is Your Lifestyle Niche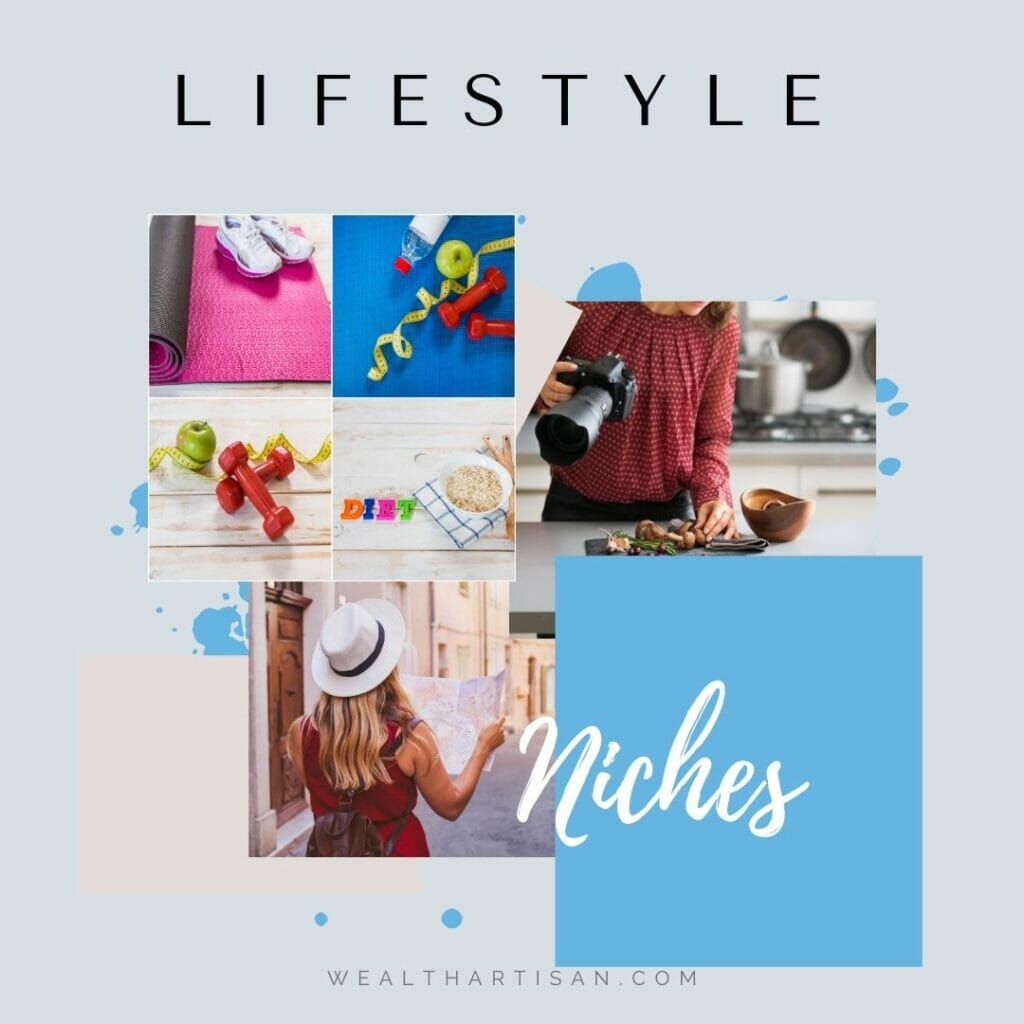 Picking your lifestyle niche can be a bit daunting, especially if you have so many ideas for your blog. Blog naming is an art and a skill, no matter what type of blog you're starting. You need to choose a name, which showcases your personality, suits your taste, makes your topic clear, and can grow with your business. In addition, the name needs to be easily identifiable on social media and in search engine results.
Since uniqueness is vital with lifestyle blog names, your first step is to do some research on the name ideas you have. Researching lifestyle blogs, which suit your taste, will be your first item on the planning process.
To help you pick out different lifestyle niches you may want to try out, we've listed seven top lifestyle niches below: 
Food Niche
Food blogging shows a complex structure of "foodie" blog and the epicure interest in cooking with those who are fond of both blog writing and photography. Majority of these blogs use pictures taken by the bloggers themselves, and some of them focus specifically on food photography. 
One of the top lifestyle blogs on the food niche is Cookin with Mima. In this blog, Mima shares her family-friendly recipes on different appetizers and desserts you can recreate. Her blog name is actually pretty straightforward in hinting that the blog is about recipes she created. 
Coming up with an ideal food blog name can be a challenge because it should be descriptive, memorable, and easy to type. Your blog name will ultimately become a part of your unique brand, so brainstorm words or phrases that describe you, your cooking style, the types of recipes you'll be posting, your food blog's theme, and more.
Most food bloggers today have other platforms, such as Youtube, or launch their own site by showing their dishes. The Fat Kid Inside, owned by a social entrepreneur and a home cook based in the Philippines, is an example of a food blog that expanded into different platforms. 
Travel Niche
The travel niche is one of the most popular lifestyle niches. It details the life of a person as they backpack from one country to another. You often see in their website different locations, travelling tips and tricks, DIY tour packages, and budget-friendly hotels to check-in. Most people start a travel blog to share their travels to family and friends, while others want to monetize their travel blog in the future.
Fashion Niche
Fashion blogs have been around since early 2000's, but it has become a whole new game upon the introduction of social media. Bloggers now use Instagram, a platform of more than a million users, as a tool to redirect audiences to their blogs. Bloggers with an aesthetic feed get to have more likes and followers. These followers are then encouraged to check their website where they can gain traffic. 
Choosing the fashion niche is easy when you love everything about clothing and the latest fashion trends. Fashion is a broad topic, so you can narrow it down to its sub-niches, such as haute couture, street style, and many others. Some of the content you can put up on your blog are lookbooks, tutorials on upcycling old clothes, hauls, reviews, and many more.
Beauty Niche
Like the fashion niche, the beauty niche is one of the most popular niches when it comes to lifestyle blogging. It's estimated that the beauty industry is worth around $532 billion, which means the industry is continuously growing. Moreover, its size is anticipated to reach $716.6 billion by 2025. 
If you love everything about beauty, such as makeup and skincare, then it's best to choose this niche. Turn your passion for beauty into helpful content, which can encourage your readers to try something new and discover their own love for beauty.
You can focus on topics, such as: 
Nails
Skincare
Simple beauty lessons for beginners
Makeup
Affordable makeup and skincare brands
Eco-friendly products
Cruelty-free products
High-end beauty
One of the top beauty blogs-turned-beauty-company is Huda Beauty. Huda Kattan started her blog back in 2010 where she shared different beauty hacks and DIYs. For her, "beauty can change the way a woman feels." So, her blog consisted of beauty tips, beauty products, advice on makeup and skincare, and beauty reviews. Due to the increase in popularity, she was able to found the cosmetic brand Huda Beauty. 
Health and Fitness Niche
A fitness blog is a website where you share your advice, and expertise on fitness and health. The topics discussed in this niche are usually nutrition tips, workout and training advice, and healthy diet. Most of the blogs in this niche are run by fitness trainers or fitness enthusiasts. However, there are also those who live a healthy lifestyle who share content about this niche. 
One famous blog is RossTraining.com. If you look at his blog name, it's uncomplicated, and you instantly have an idea that it's about a guy sharing his training journey.  
Ross Enamait shares his knowledge on high performance conditioning and strength training. Since he was a trainer and a boxing coach, he shares tips and lessons on athletic development for a successful fitness journey. Most of the things he teaches are an application of his daily routine. 
Parenting Niche
The parenting niche is perfect for moms and dads who want to share their daily life as a parent. Some of the topics you can discuss under this niche are raising a toddler, fun games you can play during the weekend, advising teenagers, and raising a child with special needs. You can discuss everything about your day, and share tips on how to handle challenges as a parent. 
One of the famous parenting blogs is Love Taza. The blog name is Love Taza since Naomi, the writer, is also known as Taza. She shares her life as a mother living in New York City. Her blog started in 2007 where she used it to share her experience to friends and family. Over the years, her audience grew until Forbes listed her among the Top 10 blogs.  
Art and Design Niche
The art and design niche is perfect for those who make art for a living, or those who are passionate about art and design. It can range from sharing daily art to DIYs. This niche also includes interior design where bloggers share their experience of remaking their rooms or homes. It can also include a professional interior designer sharing her experience with her different clients, and lessons on how to create a lively space on your own. 
One of the famous blogs in this niche is Design*Sponge. The name is a mix between the word design and sponge since we can think of sponge as a tool for painting. Grace Bonney started the blog in 2004 to share beautiful interiors and designs. Today, it has around 2 million readers per month, and has built a creative community that shares everything about art, culture, and design. 
Tips on How to Name Your Lifestyle Blog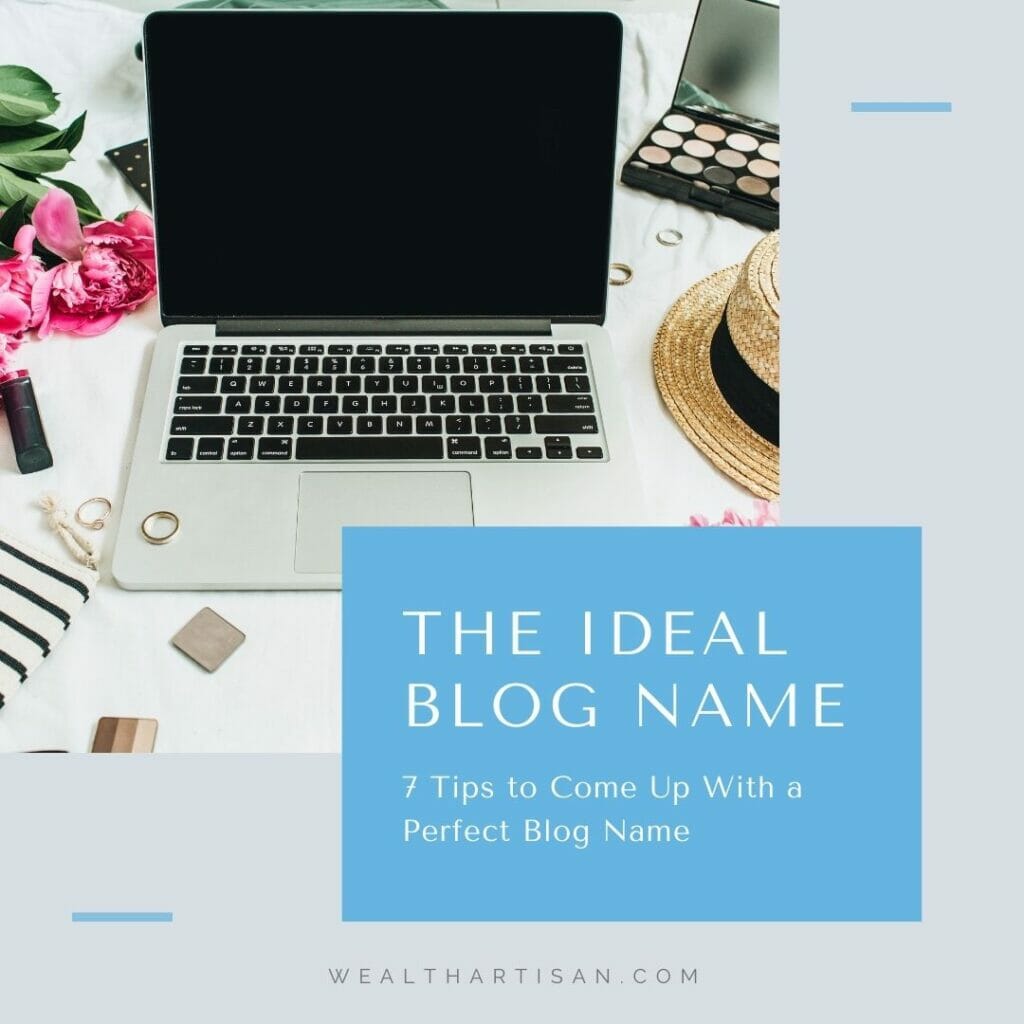 Alright, now that you've figured out your lifestyle niche, it's time to create a captivating lifestyle blog name! Creating a name for your lifestyle blog may take up most of your time. That's why we have created these tips and tricks on how to name your own lifestyle blog. 
Stick to the Topic You Want to Write About
When you're creating the name for your lifestyle blog, you need to focus on a certain topic. If it's about traveling, then stick to words about traveling. If it's about food, then think about different food names. It's not helpful to your audience if your name doesn't match with your niche. 
Also, when you create the name for your lifestyle blog, you need to think of a name close to your heart, but would also captivate your audience. It should capture your niche and everything about your blog. For example, your blog is about traveling, and most of the content will be about you and your partner backpacking in different countries. You can name it the Honeymoon Backpackers.
It will be helpful if you flip through your thesaurus to get a name. Or, you may want to sneak a peek at your competitor's name. Just don't copy it! You'll only need it for inspiration.
Make it Easy to Spell
When you're creating your blog name, make sure it is spelled correctly. When people start searching for your blog, they may have a hard time typing in the word you created. Also, it's easy to memorize if it's correctly spelled. So, when you create your blog name, don't drop any letters from a word because you might experience the same situation as Flickr.
You see, Flickr had to pay $600,000 to buy Flicker.com since many people mistake it for Flickr's website. Among some other things that you shouldn't do is to intentionally misspell the word, and repeat the letters between two words. It's quite hard to search and read a blog called travellinggranger.com, so do come up with other words for your blog. 
Use Keywords
Mixing and matching words is not a new idea when it comes to naming a blog. In fact, there are a lot of bloggers who have already done that! However, if you want your lifestyle blog to have an impressionable name, you have to be wise with what words to pick. 
Take for example The Blonde Abroad. The blog details Kiersten's travels to over 50 countries. It's also good to mention that she's blonde, so her blog name is pretty fitting. 
From just the name, you can tell that it's a travel blog run by a blonde. And, if you look at how she named her blog, you'll see how she mixed and matched her description with one of her keywords. She used her physical feature—her hair—with one of the keywords used for travelling.  
Use Alliterations
Alliterations and rhyming words tend to be easier to remember. When you create a blog name, you want it to stick to your audience, so they'll be curious enough to check your blog.
This style has actually been used by other successful blogs, such as Side Street Style and Treasures & Travels. Popular brands, such as Kit Kat and Coca Cola, also use this tip. 
Avoid Hyphens and Numbers
When you come up with a blog name, keep it cheeky but also professional. Your blog name tells something about your blog, and it will leave a lasting impression on your audience.
You may use numbers to put some creativity and uniqueness to your blog, but only when you need it or it makes sense. A good example is 3M.com, while a bad example is Together4Ever.com. 
Get Inspiration from a Book
Who said you need to follow normal rules when creating your blog post? Why not take inspiration from your favorite novels, and use it for your blog? You can get some magic spells from Harry Potter or a Greek name from Percy Jackson to use in your blog. 
With thousands of novels you can think of and search for, it won't take long before you pick a name or a word that will inspire you. We do know it will be unique and a great name for your blog!
Use Your Own Name
Yes, you can use your own name for your blog. Many successful bloggers have used their own names for their blogs. They not only speak about yourself, but your audience can attribute your name to a certain topic. Think about Neil Patel! When we think about him, our thoughts would instantly go to digital marketing or business.  
Another example is Huda Beauty wherein Huda used her name for her blog, and added the word beauty to clearly signify her niche. So if you want to create a unique blog name, you can use your own name as is or add a keyword to make it more inviting.
Conclusion
Starting a blog is very challenging, but it's a very satisfying and fulfilling experience once your blog starts becoming popular. It teaches you a lot about how to work hard, manage your priorities and time, and how to achieve goals you set for yourself and for others.
This niche encompasses a broad spectrum of high-interest topics, like health and fitness, beauty, fashion, food, arts and entertainment, travel, study habits, photography, and more. Have genuine interest in making your blog, and the audience you want to engage in your content will follow.