Update for 2020
Don't ask me why, but IncFile dropped the price on their Silver Package to $0 + state filing fees. It's not a mistake; they sent me an email about it. But I had to let my readers know about this! This means that IncFile will create an LLC for you without charging you a fee other than the state fees.
I have no idea how they plan to make money with this, but if you're looking to start an LLC, I say that you should jump on this now. Maybe they're experimenting with the pricing, maybe someone hit their head, but this pricing is insane!

Does your business need to be an LLC or Corporation? I used IncFile.com to form an LLC for one of my businesses, and this is my review of the experience!
In this review, I'll discuss IncFile's services, which package I selected, and how everything turned out. Keep reading if you want to know if IncFile is the right service for you.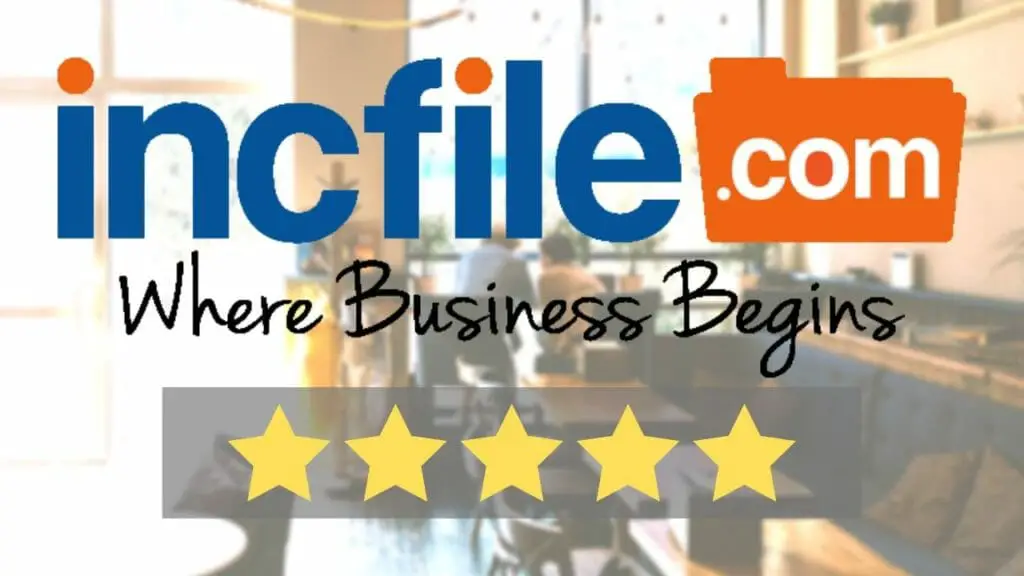 Introduction
You need a company created, but you're not sure how to do it. I was in that same situation!
You could create an LLC yourself, but if you do something incorrectly, you could lose all of your protection! I'm not even kidding, it's called piercing the corporate veil.
There are tons of companies that create business entities, but how do you know which to choose?
For one reason or another, you've found the company IncFile, and you're wondering "is IncFile legitimate?" or possibly "is IncFile a scam?"

IncFile Overview
What is IncFile?
IncFile is a business formation service. IncFile helps you form LLCs, S-Corps, C-Corps, and Nonprofit organizations. They also offer many value-adds to take the headache out of running your business year-to-year. IncFile was founded in 2004, and is they have a headquarters in Houston, Texas. They've helped form more than 250,000 businesses, including one of mine!
IncFile can help you with the following tasks:
Form an LLC, S-Corp, C-Corp, or Nonprofit Organization.
Provide Registered Agent Services
Fictitious Business Names
Amendments to Business Filings
Annual Report Filings
Get an EIN
File S-Corp Tax Elections
Foreign Qualifications
IncFile's goal is to make business formation as easy as possible for small business owners.

IncFile Service Pricing

IncFile Features
IncFile's primary service is legal entity formation (LLC, S-Corps, C-Corps, etc), but they have a number of other services too, including registered agent service. They can also file your annual report for you, amend your corporate filings, and DBA (Doing Business As) filings.
If that isn't enough, they also offer a service to determine what business licenses you need to operate your business and they'll do all of the paperwork for you!
IncFile Customer Support
In addition to support over email, and through your dashboard, they offer phone support Monday through Friday, during business hours. It seems like phone support is getting more and more scarce, so it's quite nice calling someone up if I'm having a problem, rather than waiting and watching for an email response.
A Quick Summary of my IncFile.com Experience
If you don't want to read a long in-depth review, then here's the short version: I used IncFile to set up an LLC. I purchased their "Platinum Package" at full price and I'm happy I did. It made setting up my business bank account a breeze, and I love the corporate kit they sent me.
I talked with a low-pressure representative from an accounting firm who answered any questions I had about LLC taxation. I would highly recommend using IncFile. Oh, and they recently dropped the price on their "Silver Package" to $0 + state filing fee. This means that IncFile charges nothing for setting up the LLC but the fees your state charges.
Now, if you're looking for a much more in-depth review of how the whole experience went, and all of the goodies that came with the Platinum package, then keep on reading!
A Detailed Review of My IncFile.com LLC Setup Experience
Before I dive into all of the details, let me be completely honest with you: a lot of the reviews you read online are written by people who have no experience with the product or company they are actually reviewing! So, how is this review different from all the others? I actually used IncFile to create an LLC for me.
Not kidding at all. I paid full price, and had them setup a company for me.
When you read this review, you'll know it's written by someone who actually went through the entire process.
I can tell you that I now have an LLC, it's official. But, what was the process like?
They Slammed the Brakes on the Whole Process!
Wait! It was for a good reason. The business I was setting up has an intentional misspelling in the name. Their system actually caught it, then had me confirm that the misspelling was intentional. It was an impressive system and very easy to do. I just think it's really cool that they go through the effort to make sure you don't make a mistake. Great job IncFile!
Registered Agent Service
I went through a lot of effort to keep my home address off of the corporate filings. Unless you have an office address, which I don't, then you either need to put your home address down as the registered agent, or use a registered agent service. My package comes with the first year of registered agent service free, then it's only $119/year after. I'm perfectly happy with that deal!
Business Bank Account Setup
When choosing which bank to go with, I was mixed between Chase and Bank of America. I was leaning towards Bank of America because they had more allowances for the number of transactions. IncFile has an affiliation with Bank of America, which helped me make the decision to use them. The process was amazing.
IncFile gave Bank of America basically everything they needed to open my account. I only had to fill out two short documents, which were already partially filled out. Bank of America had all of my corporate filings, and contact info. It made the whole process significantly easier than if I had tried to go it alone.
Lifetime Company Alerts
I try hard to be a responsible person. I have a personal Google Calendar, as well as a business Google Calendar, with all types of reminders and task lists. Unfortunately, that amount of detail can make it easy for things to get lost in the shuffle. Luckily, IncFile has lifetime company alerts to remind me of those things like Annual Report Filings. Those happen once a year, how easy is that to forget? Now, I don't have to worry about it.
Online Order Status Tracking
This might seem like a fundamental thing, but IncFile really nailed it. Their tracking was very clear. Also, I'm kind of a corporate records nerd, so I was scouring the state's corporate records search daily, and IncFile's system was pretty up-to-date. I was truly impressed with how well it tracked the whole setup process!
Business Tax Consultation with Mazuma
I'll admit, when I saw some of IncFile's added services, like the business bank account setup and a consultation with an accounting service, I thought these were sales pitches disguised as benefits. Don't get me wrong. I'm sure IncFile gets a cut from some of these referrals, but I was honestly impressed with both offerings.
Mazuma USA is the accounting company that provides consultation. The representative that I spoke with was very nice and patient. He didn't try to sell me on their services, he simply informed me of their offerings and pricing. At no point did he try one of those slick sales tactics like "which package is right for you?" or "what's the best day to start your plan?" It was a genuinely helpful conversation, and I know I have an option to hire an affordable accounting service if I choose to.
EIN Number Service
As part of my package, IncFile got my EIN for me. EIN stands for "Employer Identification Number." It's a tax ID for your business. Just like you might have a social security number, your business gets an EIN.
Now, EINs can be obtained free and quickly from the IRS, but it was just a nice extra value for me that I didn't have to do it myself.
Turnaround Time
While this isn't necessarily a "feature", I really appreciated how quickly they got my order started, and kept things moving. It felt like a quick and seamless process. Obviously, I had to wait on the state to do their part, but no service can fix that.
Online Access to Incorporation Documents
Accessing my corporate documents online is really convenient. You might think, "Can't you just look up your corporate documents on the state website?" For the documents filed with the state, yes. But there are corporate documents, such as banking resolutions, operating agreements, and meeting minutes, that are not filed with the state. Accessing and printing those documents, rather than get them from my corporate kit when it was at home, is really helpful.
Free Business Website
I did not take advantage of this offer because I deploy all of my own websites, but IncFile offers a free website through SnapWeb's Assisted Website Design service. Deploying a quality, good-looking website is no small feat. This is an extremely valuable service for most people, and I imagine that most people reading this review would take advantage of this.
I do want to point out that while the initial site will be free, I imagine there will be some upgrade options. Additionally, IncFile states on their website that SnapWeb charges $20/month for hosting the site. While $20/month is a little pricey for entry level hosting, the fact that you get a website built makes that price a lot more reasonable.
I think this is a very valuable addon if you're not at all comfortable with creating your own website.
Operating Agreement
The prepared operating agreement was short, to-the-point, and made it very easy to include in my corporate documents. Otherwise, I would've needed to purchase one online, or consult with an attorney to have one drafted. Ouch!
Banking Resolution
Just like with the operating agreement, it made formalizing the selection of my business bank very simple. I filled out a few lines, signed it, memorialized it in the meeting minutes, and used my corporate seal (from the Platinum package) to make things extra official.
Business Contract Templates
I didn't purchase the Platinum package for the additional business contract templates. However, once I saw the library of contracts they provided, I was amazed at the value they gave. Twenty-seven contracts in total! You can spend a small fortune buying these types of contracts and an even bigger fortune having an attorney draft them for you. They have lots of very useful contracts for running a business.
Which contracts does IncFile Include with their Platinum Package?
This is the list of contracts I received in the Platinum Package:
Operating Agreement
Non-Compete Agreement
Non-disclosure Agreement (NDA)
Independent Contractor Agreement
Employment Agreement
Employment Offer Letter
Intellectual Property Assignment Agreement
Release of Liability
83(B) Election Form
Terms of Service
Privacy Policy
Sales Agreement
General Corporate Resolution
Demand Letter
Letter of Intent for a Business Venture
Joint Venture Agreement
Memorandum of Understanding (MoU)
Consulting Agreement
Organization Meeting Minutes
Partnership Agreement
Cease and Desist Letter (Trademark Infringement)
Founder Agreement
Service Agreement
Employee Termination Letter
Website Linking Agreement
Bill of Sale
Collaboration Agreement
The Platinum Business Kit
As stated earlier, I opted for the "Platinum" business kit, which includes a really nice binder with the company name printed on the spine, all of your corporate documents neatly organized inside of it, along with a very nice, compact corporate embossing seal and membership certificates and a ledger.
My Overall Impression of Using IncFile.com to create an LLC
I was very impressed with IncFile through every step of the process. Everything flowed seamlessly. There was little redundancy in the paperwork which means time-savings for me! Many of the value-add services they offer can easily be done manually myself, but the time-savings is the value. I had great experiences even with their affiliate partners. 
Yes, I can get an EIN for myself for free through the IRS EIN website, but it was much nicer having someone else do it for me. It printed, and is filed away in my corporate kit while I was enjoying time with my family! I won't be taking advantage of their annual report service, but that's because those are simple to do myself in my state. For people who don't want to even think about it, it might be worth it.
One of the most valuable things they offer, in my opinion, aside from the actual LLC formation, is the lifetime alerts to things like due annual reports and business license renewals. The other service I'm happy to take advantage of is their registered agent service. It allows me to keep my home address off easily accessible public records.
Would I Suggest Using IncFile.com for Creating an LLC?
Without question, I absolutely would suggest using IncFile for creating a business entity. It was easy, fast, and hands-free. I'm a busy person. I read so many opinions about whether I should use a service to create my LLC. Many people said "save yourself the money, do it yourself!" That's nice, except I didn't want to spend weeks of my own time trying to figure this out.

What's more, I wouldn't want to mess things up. I can fix a clogged drain myself, but when it comes to protecting my private assets from a business liability, I'd rather leave that to the experts. If you value your time at all, or simply have no clue where to start, then yes! IncFile was an amazing experience for me.