Have you thought about those people who earn passive income, and what you can do to do so? Because if you do, this article is for you! Passive income is income you receive without having to give much effort to maintain it. This means you almost don't need to work to get money. How cool is that? 
Passive income is actually a great way of making money. As advised by Robert Kiyosaki in his book "Rich Dad, Poor Dad", you have to let money work for you rather than the other way around. You will receive tons of benefits that nine-to-five jobs won't give you. Some of which are the following: you get to be your own boss, you can pick how many hours you work each day, you can travel anytime you want, there are no company politics, and you won't get laid off. 
Many businessmen, investors, and property owners earn passive income. They source it through investments, renting out properties, businesses, and trading or affiliate marketing. The last being the most common and basic way of earning passive income. 
What is Affiliate Marketing
Based on revenue sharing, affiliate marketing is earning a commission by promoting a product that isn't yours, and earning a share of the profit when a sale is made. For example, you have a product, and you would like to offer financial incentive to those who will promote it using affiliate marketing. Once a sale was made, the marketer shall receive a share on the sale.
It's no wonder that affiliate marketing is continuously growing. Many people are slowly getting into it. Based on Statista, spending on affiliate marketing can rise by $8.2 billion dollars in 2022. Secondly, 81 percent of brands and 84 percent of publishers are using affiliate marketing. In fact, 16 percent of all orders online were from affiliate marketing! 
In affiliate marketing, there are three parties involved: the merchant, the affiliate marketer, and the consumer. The merchant is known as the product creator, seller or retailer. It can be a sole proprietor or a big company, like Kylie Cosmetics. The affiliate marketer is the one who promotes the products to attract customers. They can be an entire company or an individual.
The consumer is the blood of the affiliate marketing system. Without the sales from consumers, there will be no business operations. The role of the affiliate marketer is to sell the product to the consumer. The consumer won't have to pay for a higher price since the share of the marketer is already included in the retail price.
How Much Can You Earn with Affiliate Marketing
Affiliate marketing is both the easiest and hardest way to earn. It's easy because you can gain a share of the income or commission with every click or sale of a product. It's difficult because you have to build an online presence. Plus, it is a huge market, and there are tons of actions going on that it can be challenging to grab a piece.
But just like two sides of a coin, there are both gains and losses in affiliate marketing. People gain income through affiliate marketing because you can easily enroll and start without any experience. Simply sign up for a program, follow its rules, create a website or platform, and you're good to go. You'll love how easy and fluid your schedule may be, too. 
Once your website is up and running, you'll only need to spend two to three hours per day managing it. Irate customers aren't your problem, too, and you can bring in a lot of cash. 
The downside of affiliate marketing is you'll have a lot of competition, and you may lose a ton of money first when you're setting up your website and buying your domain name. There may also be instances when you will enter a good-looking affiliate program, but then turns out to be bad. Another is that you'll spend tons of money for marketing, but still not get any sales. Lastly, the market is pretty competitive.
Despite the negative side of affiliate marketing, you have to treat it like a business. If you want to succeed, you have to learn and implement the right strategies. 
Making Money Through Affiliate Marketing
Affiliate marketing is a quick and inexpensive way to earn income. It's no wonder people are getting hooked to try out different affiliate programs. 
Some of the famous affiliate marketers are Jason Stone, popular as Millionaire Mentor, Pat Flynn, and Doug Cunnington. Pat Flynn earns $8,000 to $100,000 per month from his affiliate marketing business. Tom, from Onlinemediamasters, earned $20,000 to $150,000 of annual income over two years; and Doug Cunnington made $70,000 in 2017.
Impressive, isn't it? But, how do affiliate marketers get paid? It actually depends on the program. They can be paid through various ways, such as: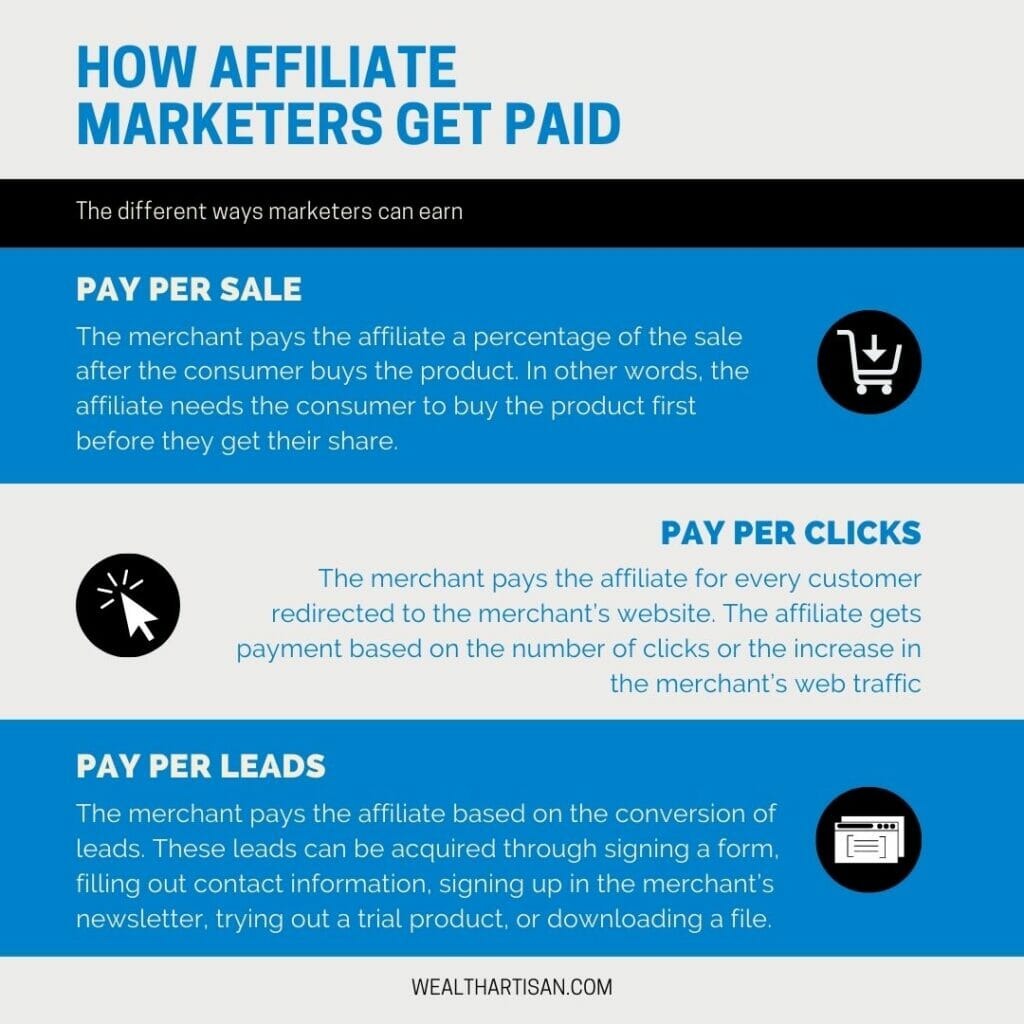 Pay per Sale
Pay per sale is the standard affiliate marketing payment. The merchant pays the affiliate a percentage of the sale after the consumer buys the product. In other words, the affiliate needs the consumer to buy the product first before they get their share. 
Pay per Clicks
Pay per clicks is paying the affiliate for every customer redirected to the merchant's website. The affiliate can get payment based on the number of clicks or the increase in the merchant's web traffic.
Pay per Leads
Pay per leads is paying the affiliate based on the conversion of leads. These leads can be acquired through signing a form, filling out contact information, signing up in the merchant's newsletter, trying out a trial product, or downloading a file. 
Now, that we have categorized the different ways affiliates can earn, how much do affiliate marketers earn?
How Much Do Affiliates Earn?
An article on Affise shared a poll conducted by STM forum on how much affiliate marketers earn. Start-ups accumulate a net loss, while beginners also don't earn as much. Low and intermediate affiliates can earn $300 to $3,000 a day. High-level affiliates and guru affiliate marketers can earn more than $10,000 a day. 
As to how long it will usually take you to earn, it depends on you. There is no exact time because it depends on your niche, the amount of hours you put into your work, how well you wrote, promotions, and affiliate programs. Some affiliate marketers earn on their first month, while others on their sixth. Below are the testimonials of affiliate marketers based on Inkwell Editorial. 
Sireesha Narumanchi of Crowdworknews.com earned $310 on her third month of blogging.
Debbie Gartner of TheFlooringGirl.com earned $100 on her first month in 2016. In 2017, she earned $1,500.
Jeff Proctor of Breakingtheonepercent.com earned up to $7,000 per month, six months after he started. He already has a website, and has been blogging for two years when he tried it. 
The commission also depends on the niche. You'll find that different niches have different commissions for their affiliates. Below are a few examples:
Travel Niche
In the travel niche, affiliates get their income by working with travel agencies, airlines, review sites, and booking aggregators. According to Affise, they can get 1 to 3 percent commission on flight affiliate programs, 3 to 12 percent commission on the total order value in hotel affiliate programs, 4 to 15 percent commission on car rental affiliate programs, and 3 to 7 percent commission on travel and tours affiliate programs.
E-Commerce Niche
On Amazon Affiliate program, you can earn 4 to 8.5 percent commission on sales. But, if you have a bigger audience, you can earn as high as $1,000. The key to earning in the e-commerce niche is hardwork and marketing. 
Dating Niche
Affiliate commissions on the dating niche can be up to $12 per lead, $5 per referral, and $500 for the first order. It will only increase if the affiliate program has a loyalty program where an increase in leads can generate a higher commission. 
Heath and Wellness Niche
The health and wellness niche is one of the most popular and talked about niches. It is continuously growing and evolving due to its importance to daily life. When you promote a fitness product, you can earn up to 15 to 40 percent commission on every sale. 
Software and Web Hosting Niche
Another one of the most profitable affiliate programs is the software and web hosting niche. It's also one of the most competitive niches. Affiliates can earn up to $30 on each sale. 
When Do Affiliates Get Paid?
Affiliate marketers usually get paid monthly. It is like having a salary. Your payment is based on your performance the past 30 or 31 days. For instance, a merchant can pay you every first of the month. In this way, it will be clear and straightforward on both parts. 
There are also those who pay daily, weekly and bi-weekly. Being paid daily and weekly is a bit rare. Weekly payments are common among affiliate programs, but monthly payments are still the most common. Merchants can pay affiliate marketers through Paypal, bank deposit, cheques, credit, or Bitcoin. 
Getting into Affiliate Marketing
To get into affiliate marketing, you'll need to join an affiliate marketing program. Some of the well-known programs are Amazon Affiliate, Barnes and Noble, eBay, and Mobidea. The steps to get into a program are pretty simple. 
Most of the time they'll ask you to fill out a form, while others manually check each blog to know if it suits their program. Hence, it is important to have an established and well-presented blog or website that produces high-quality content. You can't generate any revenue if you don't have a good blog.
To help you get started, below are the list of steps you have to take.  
Choose Your Niche
When you start affiliate marketing, you have to know what niche to focus on. You wouldn't want your customers or audience to get confused with your content. It is best if you choose one niche, which you are comfortable with, and focus on it. 
You can use the information we provided above on the commission for each niche to help you pick what kind of affiliate marketing you want to pursue. 
For instance, if you like to read books, you can create a review page or website where you feature novels each week. This will drive book lovers and authors to your page. According to Laura, owner of whatshotblog.com, she earns a minimum payment threshold of $25 using Amazon Affiliate program for book products. 
Another niche you can try are fitness or beauty niches. With the fitness niche, you can earn 15 to 40 percent commission in every sale. What you can do to hook visitors is to create a comparison guide or review between different supplements or hair straighteners, and insert the link of the product on the review. 
Dating, health and fitness, and wealth management niches are the top three niches, which are always in demand. If you want to think outside the box, you can choose niches that will give you a high payout, and become an expert on that field. 
When picking a profitable niche, you have to think if it suits your interests and is in demand. You may think that you have to pick the profitable niche, but take note that it only becomes profitable when mixed with effort, passion, and hardwork. 
Build a Blog or Website
After picking your niche, create a website and buy a domain name. Most affiliate marketers start marketing using their social media accounts, attaching the links in their posts. But, affiliate marketing through social media can only work if you're already a notable influencer with a good number of followers. Moreover, social media posts limit the characters and content you can share. 
By having a website, you can freely share your content without coming out as spammy. It will also be a home for all your affiliate marketing content. What you can do is drive traffic from your social media accounts into your website. Plus, you don't have to worry that your content would be deleted once a social media platform disappears.
Build an Email List
To strengthen your affiliate marketing strategy on your blog, you may want to consider creating an email list. Doing so will help you retain your existing audience and encourage new ones to visit your website. It will also be easy on your part to reach out to them. To collect your website visitors' email address and grow your mailing list, you can use website tools, such as Hello Bar or Mailchimp. 
Hello Bar displays a call to action announcement on the top of your page. It can be a free shipping, a free ebook, or a free review video—whatever freebies or added benefits you can think of that will get your audience to click. You may also use this tool to create an exit gate, which pops up whenever your audience hovers over the top part of your website. It will prompt them to like a page or enter their email address for newsletters.
You may also make use of your sidebar widget. Instead of crowding your sidebar widget with unnecessary data, you can offer people a product or service in exchange for their email address. It can be a free ebook, webinar, or product. 
Whether you have gathered an email list of less than 100 or more than 1,000, you have to give value to them. Use it to send newsletters or regular updates at least once a week. Every now and then, send them a call to action to buy a product from your affiliate marketing content. Once you have done this step, you may now promote your product using the email list. 
Join an Affiliate Marketing Program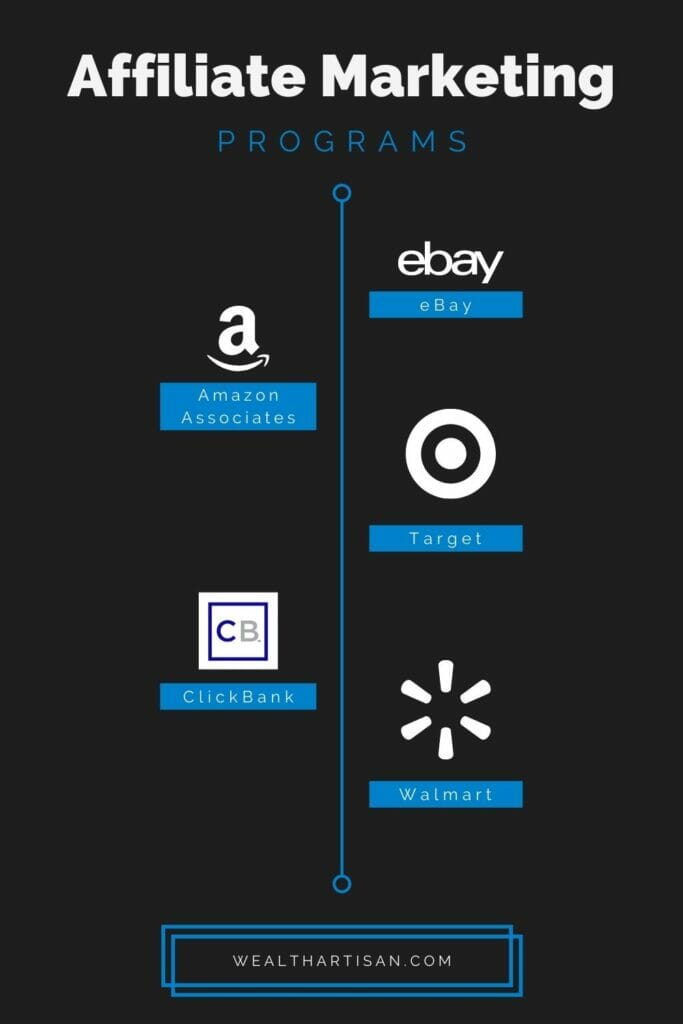 The key to choosing commissionable products is to join an affiliate program. There are so many affiliate programs you can join. Examples of which are Amazon Associates, ClickBank, and JVZoo. Do your due diligence, and find one that aligns most with your niche, brand, and personal interest.
When choosing your program, you have to make sure it is reliable and efficient. There are tons of affiliate marketing programs on the Internet. Some of them are known for high commission and high-quality merchants, while others are infamous and spam.
To join an affiliate program like Amazon, the affiliate will be asked to fill out the basic information, such as name, home address, website where you will be promoting Amazon products, and the products you wish to sell. Second, you will be asked to provide your phone number, so it is best to have your phone by your side. 
Third, agree to the terms and conditions. Lastly, fill in your Tax ID or Social Security number. Provide your bank information, too, for payments. Once you have your affiliate link set, you can now start picking your product and promoting them on your website. 
Amazon Associates, eBay Partner Network, Jet, Target, Walmart, Clickbank, JVZOO, Warrior Plus, VigLink and SkimLinks are reliable affiliate marketing programs you should try. 
Amazon Associates
Amazon is the largest e-commerce website in the world. It also handles the biggest and most popular affiliate program, which is Amazon Associates. Affiliate marketers register with them because Amazon sells everything under the sun, which means it can cater to a wide set of niches. 
Based on NicheHacks, the average commission for Amazon is between 3 to 10 percent. People trust Amazon due to its high conversion rate. The conversion rate for its Prime members is also 74 percent, while those outside of Prime is around 14 percent. This means that with every 100 visitors of Amazon, there are 74 Prime members and 14 non-Prime members who will turn into a buyer. 
eBay Partner Network
eBay is also a popular e-commerce website. But, unlike Amazon, they sell items through auctions. Its affiliate program is called eBay Partner Network where affiliates earn a percentage of the transaction fee eBay charges on every product sold. The transaction fee will go higher if you sell an expensive product. 
Target
Target Affiliates is a good alternative to Amazon because they also have a big product base. You can earn 5 percent commission in their apparel and clothing niche and home and outdoor niche. Baby gear grants 3 percent commission, while health and beauty earns you 1 percent.
Walmart 
Walmart is another general store that offers a wide range of products. Affiliates can earn 1 to 4 percent in commission for all categories. If you're trying to market toys or contact lens products, then Walmart is a better option than Amazon.
Barnes and Noble
Barnes and Noble uses a third party affiliate website called CJ Affiliate. The commission rate is $2, and the minimum payment threshold is $50. It is also available in the UK. 
ClickBank
ClickBank is one of the oldest affiliate marketing platforms. If your niche is more on digital products, then you should try this out. Marketers have gained millions of dollars promoting products on this site. Although there are some crappy ones when you choose the low entry barrier, you can still get high-quality ones. The commission also depends on the product.  
Find a Commissionable Product 
Once you have chosen your affiliate marketing program, you can now choose the product you wish to promote. For example, you chose to join the Amazon affiliate program. To search for best-selling products, head over to the Amazon Best Seller, and pick your niche and product category on the left of the screen. You can go as far as the end to find the product you want to promote on your platform. 
Promote Your Affiliate Products
To promote products on your website, we'll be using the Amazon Affiliate program again as an example. The first step will be to search for the product you would like to sell. Second, is to choose how you want to display it on your website. You can choose either of three:
Text that links to the product
Image link of the product 
Text and image display box that links to the product.
Most of the time, affiliates choose text. The last step will be to copy the highlighted shortened link, and paste it on your blog post. The link has your built-in referral code in it, and when a visitor clicks the link and purchases the product, the merchant will know it was from you.
Create High-Value Content
To hook your customers in visiting your website, you have to conceptualize and create high-value content. According to Stefan of Project Life Mastery, he created 1,000 pieces of content on his YouTube channel, more than 1,500 on his blog, and over 1,000 on his podcast. Due to these, he was able to funnel sales on his products. Your content can be in the form of blog posts, YouTube videos, social media posts, or podcasts. But if you're just starting out, we recommend that you publish review articles or guides on your website. 
When creating an in-depth review article, share your personal experience using the product. Use different headlines to organize the content, and break it down to subparts. Discuss what the product is about, its claims, your experience, and your final thoughts. In the review, you can insert a call to action button, and link to the affiliate product. 
Another idea is to create a comparison between two products. Of course, you don't only have to create one content. You have to create multiple pieces because the more content you have, the more visitors and success you will make. It is best to create a schedule for each blog post. Perhaps two to three blog posts per week. 
We believe that with every seed you plant in the ground, the seed will grow and become as mighty as a tree. It is the same with your content. The more you consistently publish high-quality content, the more you can attract people and inspire them to visit the affiliate website. 
Create Value to Your Customers
Once you have promoted your products and profited from it, it's time to increase your conversions. You can do this by providing value to your audience, like offering an ebook, course, or podcast that you specialize in. It's up to you whatever freebies you want to add. 
For instance, if you are promoting a hair care product, while the merchant provides the product, you can offer a simple tutorial to your audience. This way, you did not only earn income but you also made a good impression. 
Conclusion
Retiring at a young age, and living the life you always wanted is possible. You just need to make the first step and continue forward. Hence, being an affiliate marketer is the easiest and most basic way of earning a passive income. You can start with this, and move to other opportunities. The great thing about it, too, is you are promoting products you like, and you can do it while working at your nine to five job.
Aside from this, you can earn while you sleep! You just need to be patient and hardworking to earn $3,000 a day, like the top affiliate marketers.