Regardless of your industry or niche, it's good to have an already established website where you can publish content you're passionate about. With that said, we also know how good it feels to have your own personalized domain. While new bloggers can get away with using a free address, getting yourself your own domain name helps you look more professional and trustworthy.
So yes, if you're looking for a go signal to get your own, this article is what you're looking for. Today, we're going to tell you about the advantages and disadvantages of owning your own domain. We also have tips and tricks on how to come up with one. Let's start!
How Does a Blog Domain Name Work?
A domain name is an address, which takes users to a specific set of web pages when entered in any browser. It's what users need to remember in order to access a site. Therefore, it can also be considered as a website's name or ID.
As a blog owner, you can connect your published website to a pre-purchased domain. Doing so will give you more freedom in naming your blog. It also allows you to choose the suffix you want your site to end in. This way, you can have your site's address end in ".com" or ".org" instead of the typical ".webhostingsite.com."
Having your own blog domain name provides individuality, and helps you be more easily recognized by both search engines and your readers. It helps you stand out and rank higher in searches and gives you additional benefits to boosting your site, too.
Pros and Cons of Having a Blog Domain Name
So you can weigh whether or not having a blog domain name is a good next step for you and your blog, we've listed below some of the most common advantages and disadvantages.
Pros
Full control over URL: With your own domain, you can create your website address however you want it. Using your actual blog name or relevant keywords are great for this, as long as they haven't been taken by another site on the internet.
Ease of access: Because free domains have more lengthy suffixes (e.g. yourblogname.webhostingsite.com), readers trying to access your site may fail to do so simply because they forget the last bit. With your own domain, you can customize your address, so your readers can access your site quicker and easier.
Credibility: When you have your own domain name, readers automatically view you as more trustworthy and reliable. With a personalized address, you're able to draw in more readers. This gives you a fighting chance in a sea of similar blogs.
Boosts search ranking: With a personalized domain name, you're able to attract more readers as you put out quality content. This, in turn, boosts your ranking in search pages, and helps you get found on the internet.
Cons
Paid annually: Unlike owning a free domain, the customizability comes with a price tag. Depending on your plan, you may have to pay for it every year to keep the address.
Data insecurity: When you rent your own domain, your personal information is stored in a public database. To protect your information, you have to settle for an additional service, which grants you security against thieves and scammers.
Theft: Since domains are paid for, there are also instances where hackers will try to steal them. This may come in the form of spam, phishing, identity theft, you name it. Keep this factor in mind when getting one, so you can be extra careful of those internet hijackers.
Tough decision, isn't it? Now that you've seen the pros and cons, you can see both sides of the scenario, and plan accordingly. Regardless of the downsides, we still believe that the benefits of getting your own domain name outweigh the risk. It's all about making the commitment to your blog, and investing in the right choices that can help set your blog up for success. 
Choosing Your Domain Name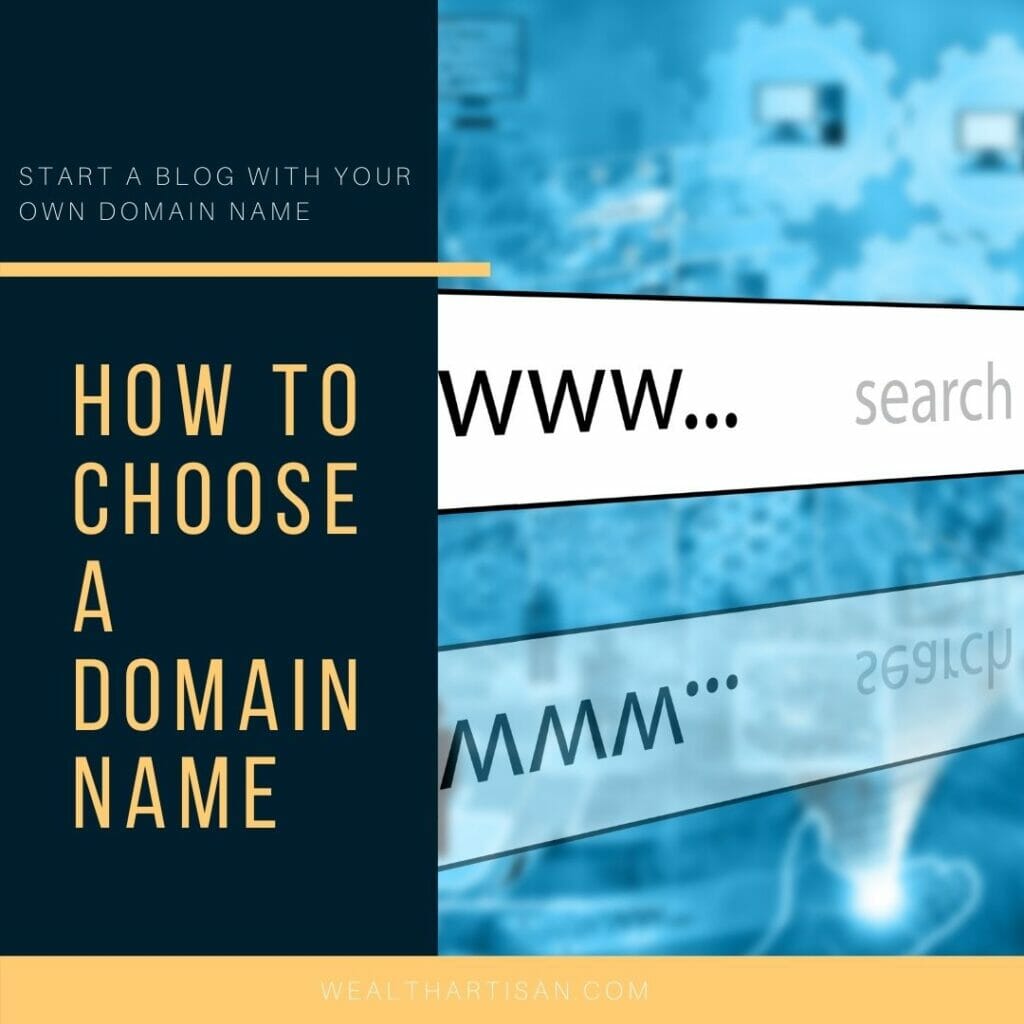 If you've chosen to proceed with creating a domain name for your blog, then congratulations! Now it's time for your next mission: coming up with a name for it. Read "How to Think of a Blog Name" for more additional tips. Similar to your blog name, it's just as important to ensure you choose one that's compatible and appropriate; it's considered as your website's ID after all. To help you out, here are some tips and factors to consider as you make your decision.
Keep it Short and Sweet
Keeping your URL short and easy to remember makes your blog accessible to readers. As much as possible, avoid long and winding phrases that might prevent them from entering it correctly. Or, worse, finding your blog altogether.
Use Relevant Keywords
If you want people to remember something, association is key. This means the use of specific keywords, which enable your readers to relate back to you or your content. 
For this one, you can use popular terms—associated with your niche—you can put your own spin on. Make sure it's something obvious, which people will be able to understand and know what to expect just from reading your domain. 
Include Your Name
If your readers can't remember your blog name, perhaps your name can help ring a bell. Using your name helps build the brand around who you are instead of the type of content you put out. This way, you are viewed as a personal blogger rather than a blogger of a certain niche. 
Doing so also helps people who already know you find your site much easier. You can also use a short play on your name and genre to make it more memorable.
Consider Your Blog Name
If you're having a hard time coming up with a domain name, why not just use your blog's title? If it's too long for a domain, try using the first couple of words. You can also remove articles, like "the" or "a", which can be a problem for people trying to visit your blog later on. 
Make sure the domain you choose does not veer too far away from your blog name either, or your readers may not be able to put two and two together.
Know Your Voice
What tone do you choose to speak in, and how do you want to be viewed by your readers? If you offer professional content, stick with a formal domain name to keep with the theme. If you're friendly with your audience, and speak to them on the same level, you can be more funny or creative if you want to. 
Remember, it's all about appropriation here. So just keep in mind that you shouldn't be breaking character when choosing a domain name for your blog.
Starting a Blog with Your Domain Name
Now that you have decided on your domain name, it's time to connect it to your website. Should you need a detailed guide on how to make your own blog, you can refer to our previous article that tackles just that. 
Right now, we're going to go over the most common steps to using a domain name for your blog.
When connecting a domain name to your blog, there are usually two ways to do it. One is to purchase from a third-party provider. The other is to avail of a plan from your web hosting site. 
Let's first talk about connecting your domain from a third-party provider.
Using an External Domain
If you've purchased a domain from a third-party provider, unrelated to your web hosting site, then connecting the domain may require you a couple of steps. Depending on the website building tool you use, you can usually find this in your settings. 
Go into the "Domain" tab of your settings, and find where your current address is listed.
Look for an option to update or input a new one, and type in your new domain.
Make sure you're able to replace your old address, and hit save.
Now it's just a matter of communicating with your provider regarding the additional steps to take, so you can make sure that you've connected your new domain successfully. This typically involves one more step, and the amount of your participation for this will rely on the company's system and how they choose to do things.
To ensure that your new domain can be used with your blog, you have to go into that domain's external registrar, and change the old IP address to that of your blog's. 
If you need help figuring this out, you can always seek your provider's assistance, so they can help you set it up. Once you've hit save and re-published your site, you can expect to use your newly connected domain after 72 hours.
Registering a Domain Name With Your Web Host
Your second option for connecting a domain to your site is by using your web-building site's very own. Because this feature is incorporated into the company's system, you can expect a more seamless experience as easy as plug and play. Here are the most common steps below:
Go into the "Domain" tab of your settings, and find where your current address is listed.
Look for a button, which says "get a new domain", or something similar, and click on it.
You will be redirected to a page with different plans and benefits you can avail of. Choose the one that best fits your blogging habits and goals, and pay or subscribe so you can be billed.
Type in your new domain, and hit save.
Since you're only using one provider for all your needs, the process of signing up for a domain goes by a lot faster. Once you've published your site, you can expect your new domain to be accessible within 24 to 48 hours.
Domain Hosting Sites and Providers
While we're still on the topic of domain names and providers, we figured it would be helpful to include some of the most reputable companies, which offer these services.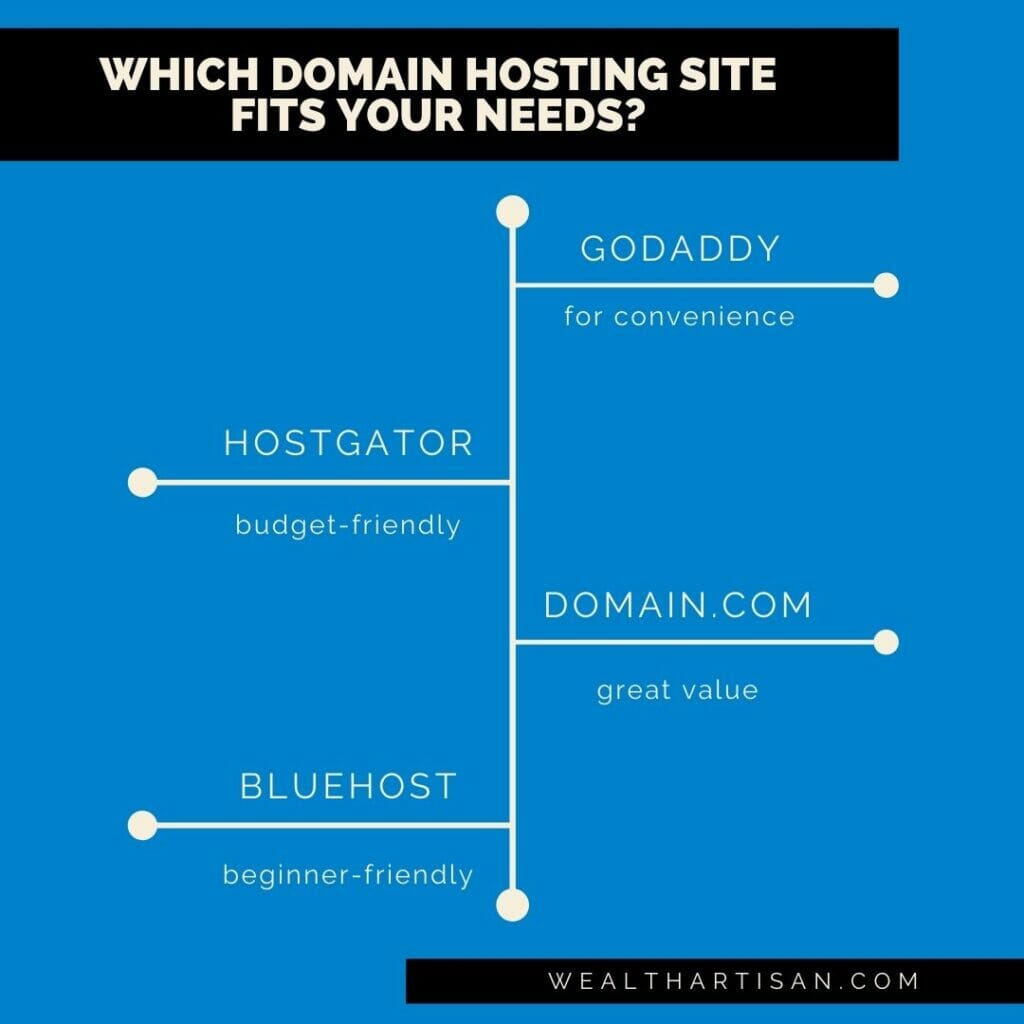 For Convenience: GoDaddy
GoDaddy is among the top on our list because it's one of those popular companies, which can provide all that you need. They're a web hosting site and domain registrar in one, so you can get your web-building, web hosting, and domain done all from one site. 
While their interface and layout can still use some improvement, they have good customer support, and have fast processing times. Overall, they're great for those who are after convenience and ease of use.
Domain
Web hosting
Website builder
Email
For Affordability: HostGator
HostGator is known for its very affordable hosting and domain bundles. You can pay for your plans on a monthly basis, so it can serve as an additional benefit to those who don't want to settle the fees annually. 
They also come with email services so you can use customized addresses for your team members, while promising a very high website up-time rating. If you're someone who's looking for a great provider that fits the budget, this is the one for you.
Value: Domain.com
Domain.com is a popular web hosting site turned into an all-in-one company, just like GoDaddy. They now offer a lot of services, which range from website building and hosting to email. What's more is that they're also known for their user-friendly interface and their large domain extension range, so you can customize your address to your liking. 
This company offers all their services for a good price, so if you're looking for a domain provider, which has great value for money, you may want to consider this one.
Domain
Web hosting
Website builder
Email
Good for Beginners: Bluehost
Bluehost is a cheap web hosting site, which offers domain registry. It's well-known for its compatibility with WordPress, and its interface is easy to navigate, which is perfect for beginners. 
It also has 24/7 customer service, 365 days a year, so you can expect to get a hold of their support team whenever you need help. If you're looking for a domain registry company, which takes pride in their user-friendly system, Bluehost is a good, highly recommended option.
Now that we've listed them out for you, feel free to go over them one by one, and see what you feel would best suit your preferences. Depending on your priorities, all of these would be a good choice otherwise, so you don't need to worry too much about regretting your decision later on.
Conclusion
There you have it!  We hope this article will help you make use of what you know now to come up with the best domain name and customized plan to fit your desired outcome. At the end of the day, it's all about making the smart investment, which fits you and your blogging lifestyle. 
Before anything else, take your time. Give yourself allowance to properly analyze your goals, so you can make the decision that will suit you and the future you're after. In any regard, as long as you do your research and think it through well enough, we're sure you'll make the right choice anyway.
Good luck!