With the rise of the Internet and social media, getting the services of professionals online has been a revolutionary idea. Professionals can now render services and business transactions online. Back then, you have to visit a bookkeeping office or a gym to get a bookkeeper or personal trainer. But, nowadays you just need to search online for these services. 
With online flexibility, businesses can now sell online, market their products or services, build a brand, and interact with their customers. Moreover, they can now reach a wider set of audience. Even individual professionals, like accountants, lawyers, and personal trainers, have gained a platform to share their services. 
Due to the rise of businesses and stringent tax laws, accountants have become even more in demand. They are always needed by businesses and individuals to manage financials, give advice on financial health, and compute for tax. Since almost everything is being done virtually, accountants can now handle bookkeeping clients from the safety of their home. 
Imagine getting clients online, and virtually conducting business with them. You can do this as a part-time or full-time job. Offering online bookkeeping services also has a number of benefits. First, you can do this as a side hustle while working at your full-time job. Second, you can reach a wider client market, which won't be limited in your area. Third, the turnaround time will be shorter since the files can be easily sent online. Lastly, you can earn a ton of income. 
If you are an accountant, and you plan on getting bookkeeping clients from home, this guide can help you get started and maintain your business. 
Before Looking for Clients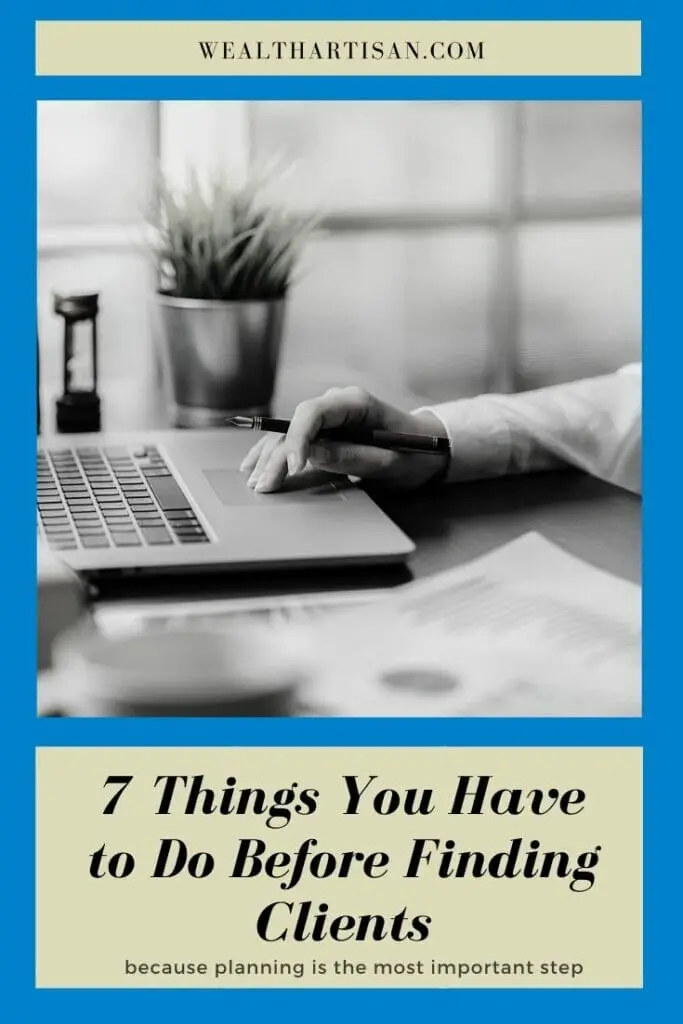 Getting clients is no easy feat, especially if you are new to the industry and don't have enough client base. You will need to arm yourself with the necessary tools and knowledge for a successful marketing campaign. Some of the ways to help you gain clients is to use different platforms to advertise your services. You can either create a website or post your services on different social media sites. You may also use referrals or paid advertisements. We'll talk more on this later.
Aside from these, you'll need to prepare your platform and funding, too. You can't just start on marketing your services without planning ahead. So, before you start looking for clients, consider these steps first.
Identify Your Target Clients
When it comes to finding customers, you have to know which kind of clients you want to cater to before you start chasing them. Failing to identify your target clients is like going in blind to a battlefield. 
As you build your reputation in the bookkeeping industry, consider working for less profitable clients first. These can be small-time entrepreneurs or freelancers. You can even classify clients on how much income they generate, so you can determine how small or large their business is. You may also choose clients based on their specialization. 
The important thing is to identify who your potential clients will be, so you can plan ahead on how you will market and maintain your relationship with them.
Understand Your Preferred Clients
Once you know who your clients are, you need to know what interests them or what their concerns are. It will also be helpful to know where and how you can reach your target client, so you can easily position yourself. For example, if you want to book dropshipping sellers as your clients, you can search what online platform most of them are using. If, for instance, they use Facebook, you can search them there and contact them through it.  
Set a Budget
Just like any other business, you will need money for capital. Where will you get the funds for your business? Will it be through self-funding or through a bank loan?
We suggest that you forgo loaning from the bank since virtual bookkeeping is a low-cost business. You're going to need the capital to purchase a business permit, laptop, website, and subscription to bookkeeping softwares, such as Quickbooks and SAP. 
On estimate, you can get started with $1,000. Don't forget to allot extra cash when you're starting out.
Create a Business plan
A business plan is a must for everyone starting a business. As a bookkeeper, you would want to have a plan on how you can gain income, how you will market your service, and how to gain customers. A business plan helps you map out all the things you need. 
It should include the following details:
Business Name and Structure
Your business name can be your own name or you can create a firm name. As for the business structure, it is usually a sole proprietorship unless you plan to work with other professionals. Make sure you don't have the same business name with anyone. 
Vision, Mission, and Core Values
Create your vision, mission, and core values to guide you in your business. Embody these values to give quality services to your customers.  
Market Research 
It is best to get to know your competitors and your clients. The information gathered will help in creating a marketing strategy. You can try creating survey forms as a way of gathering information. 
Marketing Strategy
Plan your marketing strategy. You have to know how you will approach the competitive marketplace to stand out. 
SWOT Analysis
List down your strengths, weaknesses, opportunities, and threats. It will guide you in understanding your business and industry competitors.  
Financial Projections
Plan your financial projections by putting into consideration your projected sales and expenses. 
Invest in Equipment
When it comes to equipment, you can try investing a little bit more than your usual price. The good reason for this is a reliable laptop or desktop uses cloud technology that will give you more flexibility and advantage. A bigger space and specs can also help you work faster without worrying over hanging or crashing when you are working.
As to choosing if you want Windows or Mac, that is up to you. It is also up to you if you want to use a laptop or a desktop. The only thing you have to ask is which is more convenient and practical for you. If you often travel, opt for a laptop to bring work with you. But, if you have a home office, using a desktop is much more practical.
Whatever you wish to choose really depends on you, but do take note to buy a bigger screen to reduce eye fatigue. You'll be spending most of your time in front of your laptop or computer, so it is better to invest in a wider screen than sticking to an 11 or 13-inch monitor.
Lastly, you can also invest in a good laptop stand and office desk. There are plenty of ergonomic laptop stands in the market, most of which are portable and space-savers. 
Create Your Own Website 
When your potential clients want to get to know you or validate the authenticity of your services, they would refer to your website or page. Setting up a professional website, and creating a business email is a priority. 
When creating your own website, you can use softwares, such as Wix, Squarespace, or WordPress. With these, you can create a website even without knowledge on HTML or coding. Another option for you is to hire a web developer, and work with them as to how you would want your website to look. 
When building your website, make sure to highlight your About page, the services and packages you offer, credentials, and contact information. 
You may also opt to create a Facebook Page, an Instagram account, or a Twitter account to advertise your services. Since most of the people are on social media, you can use these platforms to get a wider range of audience. It is also best that you link your social media accounts to your website. 
When it comes to creating your business email, it's best to go with your name or your business name. You can pay for a professional email, and link it to your G-suite account. G-Suite helps you keep your clients' files organized and protected than when you simply store it in your computer. It also allows you access to a ton of office tools, such as Google Docs, Google Sheets, and Slides. Investing in a good-looking and organized website will add to the credibility of your services and yourself. 
Invest in a Bookkeeping Software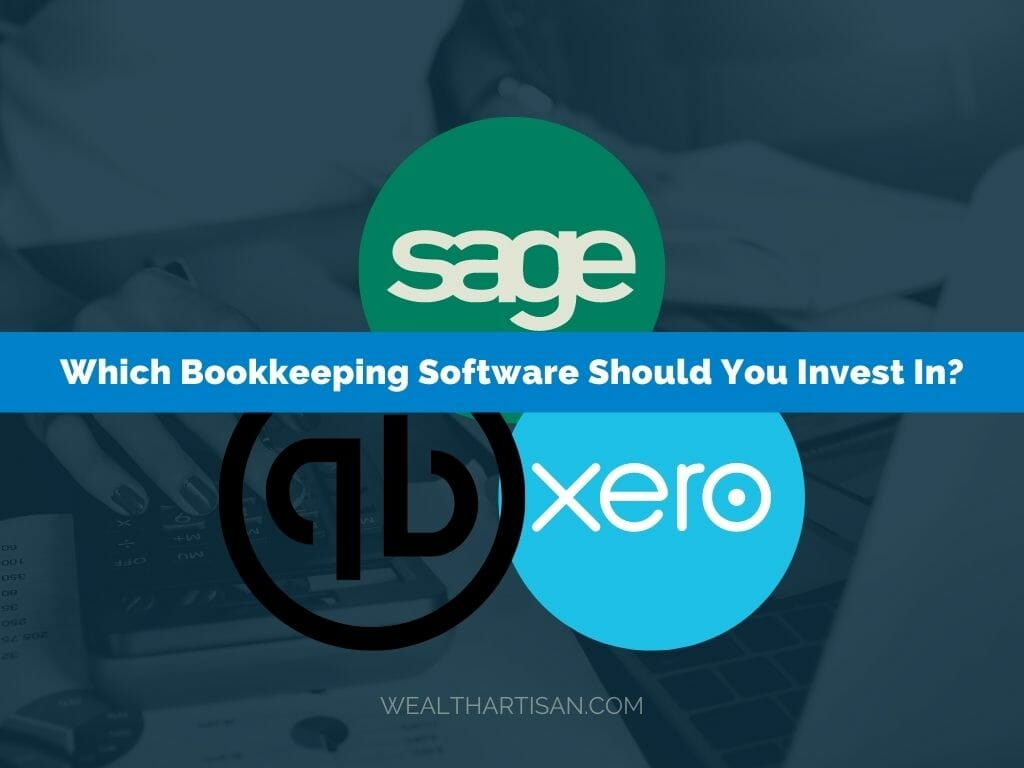 Since everything is done virtually, you can try investing in a bookkeeping software, such as Quickbooks or SAP. The old ways of manually computing for financials have been a thing of the past, and purchasing a bookkeeping software will help you easily compute your client's financials.
According to Fundera, the three best bookkeeping softwares are:
Sage One
The Sage Business Cloud Accounting has a number of features that are good for businesses. It has two subscription packages. First is the Accounting Start, which is best for businesses who want to track and manage their cash flow. It only has three features suitable for entry-level accounting, which is to create a sales invoice, track what you owe, and connect to your bank. 
The Sage Business Cloud Accounting is best for managing small businesses. Its features include all the features from Accounting Start plus real-time reports, generation of quotes or estimates, recording of purchase invoices, and inventory. You can also add multiple users to access the accounting cloud.
Xero
Xero has three plans. With Xero, you can send invoices and quotes, enter bills, reconcile bank transactions, and capture bills and receipts. Moreover, you can also use multi-currency accounting, and track project costs and time.
Quickbooks Online
You can choose four plans for Quickbooks Online. This software gives you flexibility with accounting, whether you have entry-level experience or you're a veteran pro in the industry. Moreover, it offers a wide array of features, from basic income and expenses tracking to categorizing expenses for tax season to tracking business analytics and insights.
Our verdict?
We recommend using Quickbooks because it's easier to understand, it has a nice interface, and has numerous features, which helps you do all your bookkeeping functions. 
Ways to Get Bookkeeping Clients from Home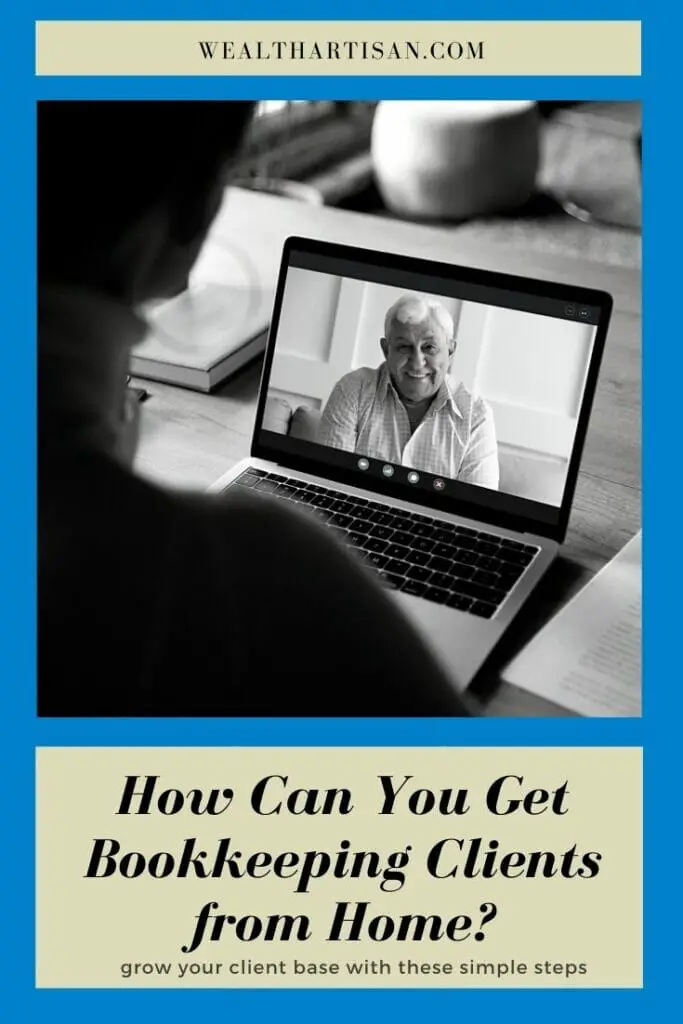 Now that we have covered the basics, we can now take steps on how to get bookkeeping clients from home. When getting clients, you may think that you have to manually call a bunch of people or businesses to offer your services. Or, perhaps you've thought of physically sending flyers or brochures. Instead of these traditional methods, you can utilize the Internet to market your bookkeeping services. 
In this section, we will be talking about the different ways you get to have clients, the tools you can use, and the strategies you need to implement. 
Utilize Your Social Media
As we have discussed earlier, knowing how you can reach your preferred clients can give you an idea where you can market your services. There's no use having a good website, service, and package when clients don't see it. Since most people are on social media, you can utilize it to promote your business.
Make sure to set up your pages in a professional manner. Upload an updated and professional photo of yourself, complete the About page, link your website, add your contact number and business email, and share insightful posts regarding your services. It will also be helpful if you can ask your former clients to give feedback on your page. If not, you can post the referrals or positive messages of your clients and colleagues. 
You can create a schedule of daily posts, and interact with your audience. You may also use advertisement or share-for-share groups. Aside from these, you can use Facebook, Instagram, and Twitter ads to advertise your bookkeeping services. 
Highlight Your Specialty
By highlighting your specialty, customers will know if the services you offer and the skills you have match their needs. It is actually great if you list your best credentials and your specialty, so they can easily know if the services you are offering are what they are looking for. 
Partner with Other Professionals
Clients love it when you are a one-stop shop. There are those who doesn't only need financial advice but also legal advice. Hence, it will be greatly beneficial if you partner with other professionals who offer legal advice, recruitment, or other online services. 
You'll not only improve your services, but you can also receive referrals from them. It may also be good to work with other firms or professionals with different specialization but in the same field. For example, you can work with a company that specializes in taxes while you work in bookkeeping. Through this, you can gain more clients as you offer a bundle to your customers where they do not only receive bookkeeping services, but also tax services.
Get Referrals 
Referrals are actually a great way to get clients. People trust their word better than paid advertising. Having a good referrer can connect you with 10 other clients. To do this, you can ask your past and existing bookkeeping clients to spread the word about your business. Do it in a manner that you are asking for referrals, but also paying them a compliment. An example would be saying, "I plan on looking for clients like you."
Although, this may be forgotten by your client, it will help if you mention it a few times. Just don't sound desperate and repeat it over and over. It will also help if you show genuine concern, such as asking how their day was, congratulating them on their success, or remembering their goals. Create a spreadsheet where you can list these information. By taking the time to reach out to your clients instead of waiting for them to refer you, you can increase your revenue and clients. 
Publish SEO Articles or Posts
Instead of chasing down clients, it's better to attract them and have them come to you. One way is to publish online articles, which are search engine optimized. Search engine optimization—or SEO—means making content appealing to Google, that it will rank high on the search engine. You can use words related to bookkeeping and business.
When your website appears on the top of the search engine results page, more visitors will visit your website, then can be converted to clients. More people will also become aware of your services. 
To rank high, you have to give valuable information. Sharing such will push visitors and clients to engage and share your content, pushing you high in the search engine results page. To create good content, these are several tips you can do:
Utilize the different headings to break down the content
Add three to five images and video
Use inbound links
Create a call-to-action button
Publish frequently
By sharing unique content, it will help you position your business and gain more clients. 
Publish Your Services on Freelance Websites
You can opt to publish your services on different freelance websites. This is a cost-free option compared to paid advertisements. Most of these platforms won't charge you for setting up your profile, but they will charge you once you are paid. 
Some of the top sites you can try to find freelance bookkeeping jobs are:
Upwork
Flexjobs
Freelancer.com
Peopleperhour
To start getting clients, simply:
Sign up for each site above.
Completely fill-out your profile
Start submitting your resume and cover letter on the job post
Get email alerts on possible clients
Become a Speaker or an Online Instructor
Another great way to gain bookkeeping clients is to become a speaker at a conference or a seminar. Whenever you attend a seminar, you always remember the speaker who gave you the most insightful lesson and most engaging talks. Chances are you'll never forget what you heard or saw. By giving a lasting impression on your audience, they will be attracted to know more about you and the services you do. You can gain clients through this avenue. 
To do so, you have to pick the right conference where you will be able to share your knowledge and expertise. Make sure your presentation is memorable, and use storytelling and presentation as an advantage when it comes to narrating your information. Make it as engaging as possible. Take note that a story well told leaves the most lasting impression. 
Another way to gain an audience is to host webinars. The best way to gain an audience is to post it on your website and social media, and feature your first two courses as free, while the other lessons are paid. You can also bundle it with your services or use it as a freebie when a client avails of a package. There are tons of platforms on the web where you can offer your webinars. The most popular ones are Udemy, Skillshare, and Coursera. 
Attend Networking Events
Aside from becoming a speaker, you can join networking events to gain clients. Nothing can beat face-to-face interaction. You can mingle, socialize, and get to know the attendees, as well as share your services by telling them they can benefit from it.
Before you go to the networking event, you have to prepare yourself. First, know what the event is about and what kind of people will be attending it. Think about what their possible concerns may be, and what you can do to help them. Also, think about what will make you valuable to these clients.
Be as kind, courteous, and respectful when you attend these events. Be as open and welcoming as possible because it will help when clients trust you. Make sure to meet key people and follow up on them after. 
Conclusion
Getting bookkeeping clients with the help of the Internet has been easier and better than before. Accountants don't need to exert a ton of physical effort to look for bookkeeping clients. They don't have to personally visit businesses or hand out brochures. 
Today, accountants can get bookkeeping clients right from home. Since everything can be done online, they can offer their bookkeeping services virtually. Some of the benefits of working from home are the following:
Flexible working hours
Comfortable office space
Higher income
You are your own boss
Can work and travel
Becoming a virtual bookkeeper is truly a dream. Although, it is a challenge when acquiring new customers, the benefits will be sweet once you have established yourself. Past and existing bookkeeping clients will refer you to their friends, while you continue to work hard in taking care of your customers and earning income.