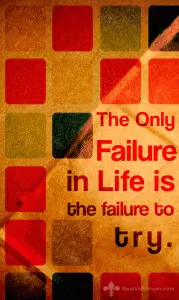 Today, I decided to do something different from an ordinary post. For the past two years, in my New Year's Resolution posts, one thing I always mention is how I want to bring new forms of media to my readers.
Over the weekend, I've been brushing up on my graphics skills to bring a motivational poster for you. While I intended for this to be motivation for entrepreneurs, the saying really can apply to anyone.
Fear is a large reason why would-be entrepreneurs don't become entrepreneurs, and I thought this was an excellent saying to address it. I've heard this my entire life growing up, so I'm not really sure who I could attribute it to.
For someone who tries to motivate people, and encourage people to have more belief in their abilities, fear of failure is one of the most frustrating things that I encounter.
On a daily basis, I work with some of the most talented people who can't take the leap because they let fear of failure paralyze them into a safe, comfy routine.
I hope you like the poster! I'm not sure it'll make a great desktop wallpaper, but I'm sure you can find a use for it. I hope you're off to a great week, and let me know what you think of the motivational poster in the comments!
For a higher resolution image, get it here (about 2.3 MB): Failure Motivational Poster – High-Res
Image released under the below license.
Failure Motivational Poster by
Wealth Artisan
is licensed under a
Creative Commons Attribution-NonCommercial-NoDerivs 3.0 Unported License
.