If there's one thing that a lot of consumers have had to learn or relearn over the last few years, it is the importance of saving money and maximizing every dollar spent when shopping. The economic downturn has changed many consumers' shopping habits and forced a lot of people to rethink the way they purchase things and plan expenditures.
Resources, tools, and helpful apps for shopping savings are relatively easy to find and figure out, if you have the patience to look at the different options and decide which ones work best for your shopping needs. Some savings strategies such as store coupons have been around for a long time, but have recently experienced a resurgence because of the rising prices of food and basic grocery items in the midst of stagnant wages and economic uncertainty. Many reality TV shows have even been produced around the "couponing" fad which has become a trend among thrifty shoppers.
Online coupons
Like their paper counterparts, online coupons allow shoppers to avail of special prices and discounts on certain items offered by retailers and manufacturers. Online coupons, however, are typically used for Web shopping; most coupons are exclusively for online offers only, although there are also printable coupons that shoppers can use in-store. The rise of online shopping can be attributed mostly to the convenience it offers as well as the amount of choices offered, but online shopping also offers plenty of savings and cost-effective purchasing selections.
Most consumers are still buying food and grocery items from their neighborhood stores, but the bulk of online shopping has been in the electronics, home accessories, and clothing categories.
Feed Hungry Children While Saving Money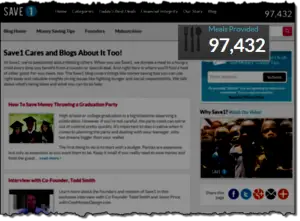 I came across an awesome couponing site that I wanted to share with you called Save1.com. They put a really neat spin on couponing, and this is how it works:
You use a coupon from Save1 to save some money.

They get a small commission for you using the coupon.
They buy a meal for a child in need through one of their partners.
As of the writing of this article, they have provided 97,432 meals to hungry children! That's pretty awesome. If you want to make someone's life better while saving money, then I think that Save1 is the best coupon site you can find at the moment.
Store sales
Waiting for store sales events can be a great way to save on your purchases, however, you need to be able to figure out which "sales events" are really just marketing techniques, and which ones are legitimate money-saving events. End-of-season sales are usually very budget-friendly, although you may have to wait until at least next year to be able to use the clothing you buy. Clearance sales and store closing sales are other great ways to get rock-bottom prices on items, especially furniture, electronics, and home décor.
If you have the patience for it, the holiday sales events after Thanksgiving and Christmas are some of the biggest shopping days especially for big-ticket purchases such as electronics and home entertainment products. You may have to stand in line (and in bitter winter cold) for a couple of hours while waiting for the store to open, but the discounts are substantial. Of course, many of these deals are also matched or almost comparable online, if you prefer to be warm and toasty while getting great shopping deals.
Shopping Apps
If you have a smartphone, you can use mobile shopping apps to help you get the best prices on items you are purchasing. RedLaser and ShopStyle are two popular apps that work on both iOS and Android phones; they both offer tools for getting the lowest available prices on the items you are purchasing in your area, listing different stores and comparing published cost.