Hello Everyone,
This is the final Wealth Artisan post for the year 2010 and I thought it would be appropriate to review the past year, and look at where we are going.  2010 has been a very interesting year for us.  Not only did the Wealth Artisan begin in August with our very first post "Free Gallon of Milk" (which wasn't the best, nor longest post), but we also had some of our most popular posts ever such as:
The Biggest Milestone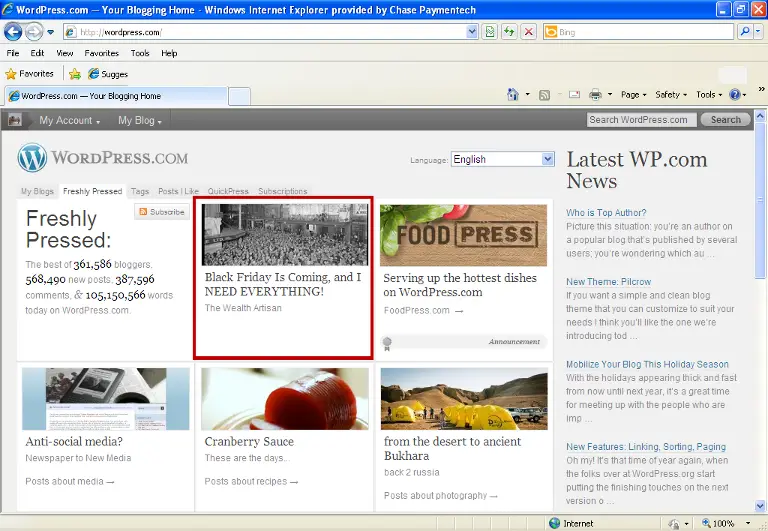 I have to say that the biggest milestone was when we were Freshly Pressed by WordPress.  This was very exciting.  Our post "Black Friday is Coming, And I Need Everything" was featured on WordPress' main page.  Check out the picture to the right if you don't believe us.
Stats, Stats, and More Stats
Unfortunately for many, stats are all we really have to go off of when it comes to determining success, and we've got a number of stats that say we're doing OK.  When we first started out, we were ranked in the top 7 million websites online, according to Alexa.  Today, we stand in about the top 240,000! That's huge progress and we look forward to making more.
What's Next For The Wealth Artisan?
We have a lot of ideas for 2011.  We can't share them all but you can look forward to some giveaways, more interaction, better content, and a bigger commitment to quality.  We are going to do everything we can to make posts more readable, engaging, and easily understandable.  We're also going to do our very best to get your opinions on what you want to see.
I know these ideas might seem slightly vague, but we have put a lot more thought into them than we're willing to let out.  You'll just have to stay tuned to see what happens.  There are a lot of great things coming down the line, and I look forward to shepherding them in.  Until then, have a very safe, and happy New Year!