Small towns have a lot to love about them such as community, character, and just enough people. The other good thing for you is that they have plenty of unfilled needs. These unfilled needs are your small business' opportunity!
We are about to answer two questions:
"What business does every small town need?"
and "What are some great business ideas for small towns?"
This article is broken up into two main sections:
Section 1: Which businesses do all small towns need?
Section 2: Great Ideas for Small Town Businesses
Don't forget to checkout our small scale business ideas and low investment business ideas too.
Below is the list of the over 50 small business ideas that will be discussed in this article:
55 Successful Small Town Business Ideas
In this article, we cover the following businesses
Accounting & Bookkeeping
Shipping services
Tax services
Bar & Venue
Family Entertainment
Ice cream parlor
Convenience store
Diner
Fast food franchise
Fine dining
Market or Farmer's market
Pizza parlor
Take-out restaurant
Daycare
Hair salon / Barber shop
Handyman service
Plumber
Dentist
Doctor's office
Eye doctor
Funeral home
Medical transport
Veterinarian
Clothing store / Thrift shop
Shoe store
Auto mechanic
Bed and Breakfast
Computer & Phone repair
Insurance
Lawyer
Coffee & Tea Store
Ethnic cuisine
Fermented foods
Food truck
Jams, Jellies & Sauces
Attractions (Rafting, zip lines, etc)
Drive-in Theater
Entertainer
Event Organizer
Factory that Sells Experiences
Paint Parties
Teaching hobbies / skills
Wine tasting parties
Club and Organization formation
Game store
Hobby as a business (Woodworker, knitter)
Paintball
Local cuisine experience
Local museum
Local souvenir shop
Local sports memorabilia
Local tour guide
Florist
Produce stand (with a fun twist)
U-Pick Farm
How to Think of a Good Business for Small Towns
When thinking of a good business idea you need to think of things your town is missing.
What services do other people complain about?
What places do your neighbors drive long distances to commonly?
Even consider searching social media (Twitter, Facebook, Instagram) to see what locals are wish they had.
Look at reviews for different businesses on Google and see what people complain about. Often, in negative reviews, people will state what they wish they could have.
Ask friend and family what they often wish was in the area.
Write these ideas down, because they are a great place to start! Of course, they're just starting ideas, you still need to make sure there is enough demand in town.
Next, think of your interests and passions. Do any of the town's needs match up with your interests? If so, awesome! If not, I've got a list of ideas here that just might be helpful.
Just don't get too hung up on passion. Mike Rowe has some advice about "following your passion."
Naming Your Business
When it comes to naming your business, there are a lot of things to consider. I think this video does a great job of summing up many of the details that need to be considered.
What business does every small town need?
Every small town needs a number of businesses to function properly, and that's great news for all of us. That gives some variety to the options that are available to you. In this first part, I really do try to limit the list to just the necessities for a small town.
Now, I do have a few less "necessary" ideas on this part of the list, but being realistic, families generally don't want to live in a town that doesn't have restaurants, or entertainment of any kind. The second part of this article covers all of the other business ideas I could think of, including the more frivolous ones that a small town can live without.
Business Services
Businesses need other businesses in order to operate. Why not leverage the business you could get from the town's existing entrepreneurs by offering the services they need?
Accounting & Bookkeeping
Businesses need accountants to help them with their books, planning, growth and taxes. If you're a CPA, then this is absolutely something you can offer. If you happen to be great with numbers, but aren't a CPA, then offer bookkeeping services and leave the heavy-duty tax planning and decision making to the CPAs. Make sure you check with local and state regulations to ensure you have the proper certifications and licenses in place. Interested in becoming a CPA? Then check out the American Institute for CPAs.
Shipping
Businesses and the locals alike need shipping services. While there will probably be a post office locally, shipping services offer packing and other business services under one roof. It is also common for shipping businesses to offer printing services as well. Starting a UPS Store is a popular way to enter this industry.
Tax Services
Perhaps bookkeeping isn't your thing, or you want more than just business clients. Tax services are a great fit as you'll be able to prepare the taxes for the small town locals as well as for smaller businesses who perhaps handle their own bookkeeping and can't afford a CPA's services. Intuit has a great article on how to start a tax business.
Entertainment
Bar & Entertainment Venue
People have been wetting their whistles in these social settings for centuries. If your small town doesn't have a place for people to congregate and sing karaoke poorly, then what are you waiting for? Ensure that you know about liquor licenses, how to get one and how much it will cost you.
In addition to operating as a bar, you can provide a stage to act as an entertainment venue. You could become the go-to place for any of your towns major events. It'll help bring a breath of new life to your small community.
Family Entertainment
I know this idea sounds a little general but I didn't want to fill the list with a bunch of similar ideas. Families need entertainment, and that's where your business idea can come in. Examples for this idea would include starting a mini golf business, a bowling alley, a movie theater, a roller rink or perhaps a driving range.
Ice Cream Parlor
While this isn't a necessity, all families like to go out for ice cream every once in a while. These sweet treats are a nice, affordable way for families to enjoy an evening out together. The National Ice Cream Retailers Association is the best place to start if this idea interests you.
Food
Convenience Store
While most small towns probably have a gas station, lucky for you, convenience stores are really the money maker. The margin on fuel is not terribly high once all of the costs are included, but that's not the case for food and sodas. With a well-positioned convenience store and possibly 24-hour service you just may find yourself with a profitable business. I think all parents have at least one story where they bought a $5 gallon of milk at a gas station in the middle of the night. The Small Business Development Center has information on starting a convenience store.
Diner
What town doesn't need a diner? Between just needing a cheap hot meal and having a place to enjoy coffee before going to work, diners play a central role to small towns. The University of Kentucky has a nice guide for planning a restaurant business.
Fast Food
After a long day of work, many parents just don't have the energy to cook a whole meal. In those instances, parents may turn to your fast food restaurant (Also known as Quick Service Restaurant or QSR for short) for a quick, easy, and fun treat for their family. Here are some of the most popular franchises to start:
Popular Fast Food and QSR Franchises:
Fine Dining
People in small towns like to go on dates and that's where a nice restaurant comes in. Figure out what kind of cuisine the locals enjoy most and find a premium, yet still affordable price point. Giving the locals a date-night destination might make you an awfully popular person in town. If you're not too keen on coming up with your own restaurant concept then consider franchise opportunities. The Melting Pot Fondue Restaurant offers franchise opportunities.
Market / Farmer's Market
People need a place to purchase the food they eat, but I didn't want to put a "grocery store" on this list for a number of reasons. First, every other list on the internet has this idea. Second, I think it's a terrible idea because grocery stores often run on thin profit margins (often 1-3%)! Third, I'm not keen to have my readers trying to battle some of the largest companies on the planet. Finally, most small towns will already have a well-established grocery store.
So… how is a market any different? The kind of market I'm talking about would specialize in an area. Perhaps your market could be for a certain ethnic group that lives in the area, or cater to a specific style of cuisine that is popular in the area. This article from The Economist highlights the success of Asian supermarkets in the Unite States. Or, you could start a farmer's market where the town can buy locally produced goods and foods. The nice part, is it will also serve as a way to bring the community closer together.
Pizza Parlor
This might be a more obvious idea, but if your town doesn't have a good pizza place then you have the moral obligation to fix this detrimental problem. No town in this country deserves to be without a great pizza place. I know this doesn't seem like a "necessity" but I can't imagine a town going long without a pizza place being opened. The food is inexpensive, delicious and easy! Learn more about starting a pizza parlor.
Take-out Restaurant
Just like the fast food restaurant idea, a takeout restaurant offers the same convenience of a fast food restaurant but with the feel of higher-quality. If you want to offer the convenience of fast food but the quality of restaurant food then you might consider starting a take-out (takeaway) restaurant. Some ideas you could use include Mexican takeout such as tacos and burritos for the more standard Chinese takeout. You don't have to stop at just those ideas though nearly any type of food can be turned into takeout. I fondly remember an Italian takeout restaurant that was near my house as a child.
Home & Personal Care
Daycare
In today's times, often both parents work. They need a place to drop off their children so that they can be taken care of while they're at work. If you have a passion for taking the best care of children possible, then learn more about starting a daycare business.
Hair Salon / Barber Shop
People need haircuts, and luckily, we're just plain awful at giving them to ourselves! A barber shop or hair salon is the perfect business to help people look their best and maybe share a bit of the small town gossip. Be the talk of your town by starting the best barbershop or hair salon!
Handyman
A general handyman will find plenty of business in a small town. Jobs will include fixing air conditioners or furnaces as well as repairing various problems around the house. Much of what a handyman does this just save people time by doing jobs that they might be able to do but just don't want to.
Plumber
Everyone needs a plumber sooner or later. New construction will absolutely require the services of a plumber as well as your typical clogged pipes. If you love getting people unstuck, then you should consider starting a plumbing business. You've never seen gratitude until you've fixed the clog of a person who has to use the restroom.
Medical
Of course, many of these will require special education, but if you already have that education, then perfect. If not, then perhaps you could go the "real estate" route, by teaming up with professionals in this profession. You give them the office space they need, and they get to worry about the patients.
Dentist
Despite the fact that everyone fears the dentist, somehow dentist still seem to make a pretty darn decent income. Starting a dental practice in a small town is a sure way to cash in on a small town's sweet tooth. The ADA has a checklist for starting your practice, but you have to be a member of the American Dental Association to view it.
Doctor's Office
Where there are people there are health problems. Many small towns have a shortage of doctors and health personnel to take care of the people. If you're a doctor who longs to start their own practice, then a small town might be the best place to start!
Eye Doctor
Just like people need their teeth they also need their eyes. In addition to fitting people for glasses and contacts, you could also do eye exams for schools. If you want to start your own optometry practice, then read this article.
Funeral Home
There are two sure things in life death and taxes. Unfortunately, the government has taxes cornered, but every small town needs a funeral home. Learn more from the National Funeral Directors Association.
Medical Transport (Non-emergency Transportation)
You may not have the resources to start a hospital but you probably have the resources to start a non-emergency transport business. Perhaps your business will focus on helping elderly people get to their doctor's appointments or transport people with non-critical medical issues to the hospital. Every small town needs some form of medical transport.
Veterinarian
Even our furry friends need medical attention sometimes. If not for the family pet, then farms require the services of veterinarians to take care of the checkups and heal up their sick and injured animals. Learn more about becoming a veterinarian.
Retail
Clothing Store / Thrift Store
While clothing stores have largely been taken over by big box stores and online retailers, many of the big box stores haven't been able to enter really small towns simply because it wouldn't make financial sense.
If you're worried about online competition, then here are some additional ideas:
You could also specialize in work and school uniforms that are specific to the businesses and schools in your town.
You could also start a thrift shop. While new clothing has intense competition online, used clothing isn't nearly as competitive because the profit margins are thinner.
Entrepreneur.com has a nice article about starting a clothing store.
Shoe Store
Just like clothing stores, shoe stores have also largely been dominated by large retail outlets. One great thing about shoes is that people still like to buy them in person rather than online because of the fit. Again, just like clothing stores, you can specialize in footwear that is needed for local industry. For example, if construction work is large in your small town then specializing in work boots would make a lot of sense. Learn more about starting a shoe store.
Other
Auto Mechanic
In small and rural towns, people typically will drive to town in order to get the things that they need. That plan works really well until your vehicle doesn't work. A local auto mechanic is very important to the functioning of a small town. You can start a mechanic shop for fixing everyday vehicles or specialize in large equipment repairs if farming is big in your community.
Bed and Breakfast
Many small towns are just too small to support a whole hotel. Having a bed-and-breakfast would allow passers-by to have a place to stay as well as give the locals a place to get away without spending a lot of money. Another nice idea, is that your bed and breakfast could be the local wedding destination.
Computer and Phone Repair
A few years ago, I might have considered this a more frivolous business, but our lives are so wrapped up in technology that it is now a necessity. Computer and phone repair businesses are here to stay. Our phone and computers contain our family photos, our business records, our banking statements and more. People often need to have their data recovered because their computer has failed. Sure, you'll have your routine virus removal jobs, but your real money maker will most likely be file recovery.
Insurance
There are many types of insurance including business insurance, car insurance, health insurance, and homeowner's insurance. No matter how rural a person tries to be, or how small the town is, people still need insurance. You could be an insurance broker, or if your pockets are a lot deeper, then start your own insurance company.
Lawyer
Lawyers often aren't thought of in the most positive light, but when you need one, you're sure glad they're around. There are numerous legal situations that arise that require the expertise of a lawyer, and you can be the person to provide those services! Learn more about starting a law practice.
Business Ideas for Small Towns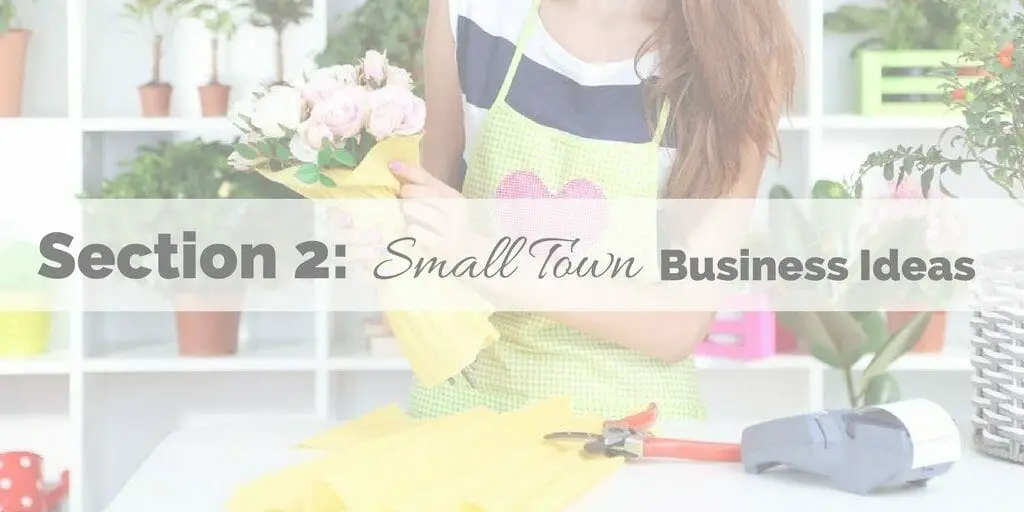 Now that we've covered the types of businesses that all small towns need, we'll now dive into the remainder of small town business ideas I have. Below you'll find ideas for numerous industries and professions.
Food Related Business Ideas
Everyone needs to eat, and food is one of the first things to come to mind when thinking of business ideas. Below are some food related business ideas for small towns that I thought would work well. I tried to be a lot more creative than saying "start a restaurant."
Coffee and Tea Store
Bring a new level of sophistication to the coffee and teas that your small town friends are drinking. Introduce them to whole leaf teas rather than the bags of saw dust everyone is currently steeping. Once they taste the difference, they'll have trouble justifying what they've been consuming. When it comes to coffee, consider roasting your own beans. The smell alone would probably have people pounding at your door.
Ethnic Cuisine
What is the most popular cuisine in Great Britain?
Any idea?
Would you guess Indian? I personally love Indian food myself and find that really cool. Do you bring any flavors to your food at home that your small town has never experienced? Don't hide it, share it! Sure, there's the risk that your small town might not be into the new flavors, but I would doubt it. I love small towns and have lived in them almost my whole life, and I know that they are starved for new, different experiences- they just might not know it yet. You can start small by having some people over to test it out, or by bringing things to a market for people to taste test for free.
Fermented Foods
People are now rediscovering the health benefits of fermented foods. This style of food is regaining its forgotten luster. It's about as close to food magic as you can get without being put on trial for wizardry. Here's a cool video of some guys making fermented sodas and loving life:
Food Truck
If you don't have the money to start a restaurant, but you have the passion for good food, then food trucks are a natural first step. Without the headaches of high rent, you can focus on creating great food and getting it to where the crowds are! Check out this great video about the food truck revolution!
Jams, Jellies and Sauces
If your small town is known for its produce, then perhaps jams, jellies and sauces are a good idea. Coming up with your own twists on flavors will help set you apart from the junk they sell in grocery stores (oh yeah! I'm taking my gloves off!). Don't be shy either, go for interesting things that might rock your town's world like pepper jellies (those are amazing!) and crazy hot sauces.
You can sell them at local farmer's markets to get started. Use ingredients that your area is famous for. For example, I went on a vacation to St. Augustine Florida once and learned that they produce the Datil pepper. There were tons of locally made "Datil" products. Very cool. Here's one happy customer proudly showing off his purchase:
Businesses that Give Experiences
Life is a collection of experiences. Why not start a business that helps people enjoy the moments of their lives? Wouldn't it be cool to know that your business is responsible for memorable moments in your customers' lives?
Attractions
If I know anything about small towns, it's that they usually don't have theme parks. That doesn't mean you can't setup your own successful attraction. Many small towns have attractions that embrace their natural surroundings like rafting, treetop zip lines and numerous other attractions that you can bring to your area.
Drive-In Theater
Nothing says "small town nostalgia" like a drive-in theater. Keep the nostalgia alive by bringing back something that most towns now miss. Drive-ins are great for couples, but they are also wonderful for families with small children. Small children in a traditional theater is a recipe for disaster, but when tucked safely inside a car, they won't bother your other patrons.
Entertainer
Every town needs entertainment for their various festivals and night time activities. If you have any talents that others enjoy seeing (or hearing), then consider entertainment as your business. I remember when I was younger there was a local band that appeared at every small and mid-size town function. They had a great following which made them all the more important to book for events because followers meant customers.
Event Organizer (Be the person who brings the excitement!)
I've lived most of my life in small towns and they all have a lot of the same issues. One common issue is that most only have 1 or 2 major events each year and everyone goes to them. They end up crowded, there's never enough parking. What if you could capitalize on that kind of excitement and turn out? By organizing your own events you can! In addition to sales of tickets and vendor slot rentals, you can raise money from businesses to help "sponsor" the event!
Factory That Sells Experiences
Producing a product is inherently interesting. If it weren't, shows like "How It's Made" wouldn't be so successful. If you live in an area that is visited by tourists at all, perhaps you could create a product and let visitors see how it's made, or build an experience around it (Hershey park anyone?). But you don't have to build a theme park! Here's a great example of how a maple syrup producer turned production into an experience that people pay for:
Paint Parties
This idea is nice because you can go into people's homes to host a relaxing social gathering. Your customer gets a group of people together, you put on the music, bring the art supplies and someone opens a bottle of wine. While everyone is having a good time, they try to follow along as you paint a picture and offer them pointers as they go. At the end of the evening, everyone gets to leave with a masterpiece.
Teaching
No, not like school! Instead, hold a class that teaches people how to do a small project. One time, I took a woodworking class where I made a pen. It was really cool, and to this day is the most expensive pen I've ever owned (the class was pretty expensive). Do you have a skill that people wish they could learn? Would you believe that there are numerous independent businesses in the country that teach blacksmithing still? Alec Steele, in the UK, charges about $1,800 dollars for a 6-day private tool forging class and about $125 for 1 day classes with a maximum of 4 students.
Wine Tasting Parties
Do you have a superb palate? Why not host wine tasting parties at peoples' houses to teach them the differences between the different types of wine, what they pair well with and how to spot a good wine versus a mediocre one.
Interest Based Ideas
We can't ignore the fact that you and other people in your small town have interests. Here are some ideas to help you think of a business that can tap into your neighbors' and your interests!
Clubs and Organizations
If there is a big enough interest in your area surrounding a cause or interest, then perhaps you can establish a club or organization to foster it in your town. You could organize a meetups and other events to help keep everyone up-to-date and spread the information about your cause. By getting enough members and sponsor organizations, you would be able to capitalize this organization and draw a salary.
Game Store
Everyone needs to have some fun time. Game stores are great for teens and adults alike. Selling their favorite card games like Magic the Gathering and miniatures games like WarHammer and providing a place for them to play sounds like a fun way to make a living.
Hobby Meets Business
Do you have a hobby that you might be able to turn into a business? One way to set yourself apart is by using locally sourced materials. For example, a woodworker might use a tree native to their area to make their creations. Not only are you selling a product, but you're selling the story and history of your area. Make your products special by telling a story.
Paintball and Paintball Accessories
If you have an open field, then you can certainly turn it into an awesome paintball course. If you have a building and an open field, then you can also sell products too. Rentals would also be big business. Sure, most hardcore paintballers have their own gear, but they have friends that they want to hurt, and those friends need your rental gear to make it look like they stand a chance. Now, here's a video of a guy pranking other people with his paintball gun, I'm kind of surprised he survived.
Businesses About the Town
Is your small town or area known for something? Vermont is known for maple syrup and cheese, Idaho has potatoes down pat and Florida has its oranges. What might your little corner of the world be known for? Is there a product you could make? If that business is already crowded in your town, is there a twist you can add to make it uniquely yours?
Local Foods
I touched on this a little bit in the food section, but all areas of the country are known for their foods. Some small towns even have their own specialty themselves. The example I used is how St. Augustine has the datil pepper and they sell many of their own "datil pepper" based sauces. Is there anything that your town, area or region is known for? If so, make it and sell it!
Museum
Does your town of an interesting or cool history? Nearly every town I've been to has some kind of interesting history, especially relating to their role in iconic wars like the Civil War. What are some of the gems of your small town's history? How did your town go from forest or open prairie to what it is today? Is your town known for a specific industry? For example, I've been to towns that have very interesting train museums.
Souvenirs
If your small town depends on tourism at all, then souvenirs might be great business for you. People want keepsakes of their adventures. Making something locally, or selling something that allows people to remember their trip to your corner of the world is great business for many people, and you might be one of them. Not loving this idea? What about manufacturing souvenirs for the other shops in the area to sell?
Sports Memorabilia
Every school has a sports team. Even middle and high schools. See if you can strike up a deal with the school to manufacture their merchandise and capitalize on the town's school spirit. Of course, it would be proper to donate to the school or pay licensing fees so you're contributing to the school as well.
Tour Guide
Offer up tours of the local area to inform your guests of the rich history in your small town. You can team up with other local businesses to create experience packages like a wine tasting or tours of other businesses. If your town is particularly small, then walking tours might be doable. If your area is really old, then perhaps ghost tours might be a fun way to bring in some extra cash.
Seasonal Business Ideas
Many small communities are built around the industry that they primarily thrive on. One of these things is very often agriculture, but perhaps it is tourism. Below are some ideas you can use to make money when your small town is in season.
Florist
While this might be one of my more normal ideas on this list, I like the idea of selling locally grown flowers. If you have farms in your area that grow flowers, then perhaps you can get a great deal by partnering up with them rather than buying from some of the regional wholesalers who buy from auction houses that sell flowers from all over the world. Ever wonder how the floral industry works? Check this out:
Produce Stand with A Twist
My sister lived in a small town that had a small building in front of a huge apple orchard. Every year, the locals and passers-by would wait for the stand to open. They served apple cider, fresh made apple juice, apple fritters, apple doughnuts and just about anything else you could make with apples. The owner of the building was not the owner of the orchard, he would buy the apples from the orchard each year. Not a bad way to make a local living.
U-Pick Farm
I love this idea because my family frequents u-pick farms throughout the year. Basically, you grow the produce and let your customers pick it for you. They pay by the pound, you get a good price (sans labor costs) and the family gets a great price on the produce while spending some quality time together. Sounds like a win to me!
Those are my small town business ideas. If you want something a bit more futuristic, then check out my article on future business ideas.