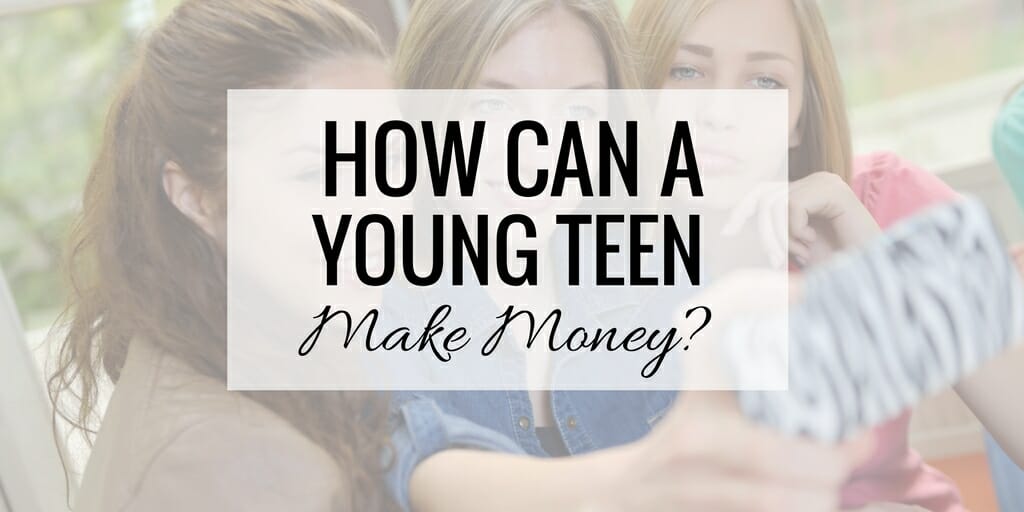 As a child and teen, I had difficulty earning money. I had to work for the money and I had to work hard! Well, work hard for my age. I could go door-to-door to my friendly neighbors and ask for work which often meant I was mowing grass. There was also a small pizza shop around the corner who paid me for the simple but tedious task of folding pizza boxes. They paid me in pizza, but what kid doesn't love pizza? Point being: I worked for the money.
Nowadays, the world is different. Many well-meaning parents prefer handing out cash, rather than letting them roam the neighborhood in pursuit of work, fearing that the worst will happen if they loosen the tether a tad. While they may think they are doing the right thing, Working is an opportunity to teach children an important and valuable lesson that most of us had growing up: The simple principle of working for money. So, how can a 13-year-old make money in this day and age?
How Can a 13-Year-Old Make Money?
I recommend that children and teens seek ways to make money for what they want and even save a few pennies. You never know where it could lead to!
Video: 10 Teens Who Are Self-made Millionaires
There are plenty of ways they can go out and earn money while being smart and safe. For those who are not yet of working age, I have a bunch of ideas for how you can make money.
Teens Can Start a Neighborhood Business
If you live in a development and get along well with your neighbors, then consider marketing yourself around as open for a business. Hang flyers on everyone's doors about your new business venture to spread the word! How can a 13-year-old make money around the neighborhood? Here are ideas:
Pet sitting
House sitting
Dog walking
Dog washing
Car washing/detailing
Bake sale
Window cleaning
Lawn care (mowing, pulling weeds, raking, etc.)
Snow shoveling
Babysit
Tutor
Pool cleaning
Garage organizing
Decorate outside for holidays
Lemonade stand
Sell Things to Make Money
Whether you have made something or have something you own, you can sell just about anything! With mom and dad's permission, you can even expand your client base by using the internet! How can a 13-year-old sell things to make money?
Online
With the help of a parent, you can turn your old toys, clothes, games and so on into cash by posting in local classifieds like Craigslist or on auction sites like eBay. You can also sell things you have made on websites such as Etsy. Tip: Be sure to factor in the cost of shipping and shipping materials into your price so you don't lose money.
Related: Making Money With Etsy & Etsy.com: Selling On Etsy
Yard sale
If you don't get a green light from your parents to do business online, perhaps they would be okay with hosting a yard sale with you! Offer to help in the work of posting signs and setting up tables.
Peers
You can sell things to your peers whether it be at school or church. A big one is selling candy. I know someone who used to buy candy in bulk from one of those wholesale clubs and sell it at school, making 200% more than she paid for the candy! Tip: Know the school rules should you decide to sell anything at school.
Do Chores at Home For Money
Talk with your parents about coming up with a chore list and getting paid an allowance. Clarify that you want to work for your money and let them know about something you're saving for or a savings goal you have. If this system already exists at your home, then ask your parents about doing more tasks for extra cash. Ideas include:
Wash windows
Dusting (blinds, fan blades, picture frames, etc.)
Organize the clutter
Deep cleaning the bathroom or kitchen
Clean the baseboards
Yard work
Don't be afraid to negotiate a price for your services as it is also a good life skill to learn from a young age. Ask your parents what they would pay for each task and go from there.
Understand the Laws for Teenagers Making Money
In the recent news, I read about a little girl's lemonade stand being closed down by the police because it is illegal—yes; you read that right, and I reiterate: A lemonade stand!
While I understand that following law is important and we should teach children to be law-abiding citizens from a young age, we should also teach and encourage children to work for their money. Often, people call the current generation the "entitled generation." That helps no one, and what message do we send when we close down kids' lemonade stands when they are trying to earn money?
Regardless, I highlighted this situation so you can better understand what issues may arise from your 13-year-old trying to earn cash. You can contact your local department of revenue to find out what you need to legally run the business..
While all of this might seem over the top, if you include your teen, it can be an incredible learning experience for them to see how much work goes into starting and running a business.
Teaching Teens the Value of a Dollar
Kids should learn the value of a dollar. Entrepreneurship teaches them that money is something you work for, not ask for. That hard-earned dollar came from many hours of preparation of lemonade, cost of supplies, time setting up shop, and marketing by way of poster boards and a little sister by the road (who in which also wants her cut of the profits).
When all's said and done, they've earned a bit of profit, but they have a great sense of accomplishment and learn what it takes to earn money in an age-appropriate sense. They will take great pride in not having to ask mom and dad for money. Parents will feel a sense of pride knowing that their children are on a good path. That is a financial win!