Building your savings is important, but building a solid foundation for your savings to rest upon is even more important. You need an emergency fund. What good is savings if it can easily wash away? In this article, we cover how to plan your finances around the unexpected, but inevitable curve balls that life throws at us.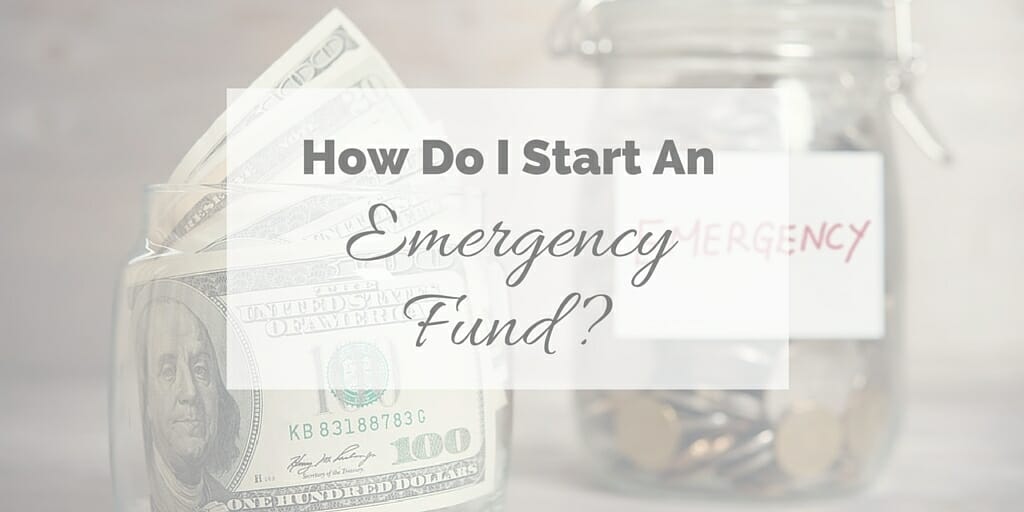 What is an Emergency Fund?
An emergency fund is a cushion of money you have set aside specifically for emergencies. The money in this account should not be used for any planned expenses or expenses that you could have planned for.
What is an Emergency?
This might seem silly, but I know a lot of people who define emergency in a very poor way. An emergency is an event that you had no ability to plan for. Examples might include:
A car accident
An injury or illness in the family
Natural disasters
Job loss
Basically, anything you couldn't have possibly planned for. With many emergencies, your insurance is typically involved which means you only need to save as much as your deductible plus any out-of-pocket expenses. We'll get into that later.
How to Start an Emergency Fund
Start a Money Market or Checking Account.
Setup a partial direct deposit from your paycheck into this account.
Let the money grow.
Don't touch the money unless you have to.
Start a money market or checking account
First, start a money market account at a bank. These earn a decent amount of interest and they allow you to write up to 6 checks against it each month.
If you can't start a money market account then you can go with a standard checking account, but make sure that the money is difficult for you to get to. Consider opening an account with a different bank other than the one you usually use. This will help you with not being tempted to spend the money.
Setup a Partial Direct Deposit
After you have set up the account, see if you can set up a partial direct deposit with your place of employment. Some employers will allow you to direct deposit money into one account, and the remainder of your check into another.
If your employer doesn't allow this, or you are self-employed, then consider setting up an automatic transfer from your checking account to your emergency fund account. Many banks allow this.
Let the Emergency Savings Grow
Over time, your emergency savings will build from a few twenty dollar bills a month, into a few hundred, then into a few thousand. It is possible that an event could occur before you have enough money, but even being able to cut it in half is worth it, and then you just continue building it. But you must act like this money does not exist!
Only Use Your Emergency Savings If You Have to
This money is not meant to pay for a new TV, or a new bed set, it is meant to help you in a real emergency! I highly suggest opening a new account with a bank other than the one you currently use that way you aren't tempted to transfer money out of your Emergency Account into your checking to use.
How Much Should I Save In My Emergency Fund?
The generally accepted rule of thumb is at least 3-6 months worth of your expenditures.
This means you should total what all of your bills are including electric, water, groceries, gas, and all of those other fluctuating bills (overestimate to be safe) and multiply that number by 3,4,5, or 6 depending on how many months you want to save for.
Generally speaking, you want the savings amount to be higher than:
3-6 months worth of living expenses
or, your highest insurance deductible plus your max out-of-pocket
Whichever of those 2 numbers is higher is the amount you should strive towards. This should protect you in the event of a job loss or a medical emergency.
I suggest planning for 6 months of expenses because it's obviously the most stable and it will give you half a year to find a new job and stop living off of the savings, but it is up to you. If that just seems too impossible right now, then start out with 3 months as your goal, and once you reach it, move on to 4 months, then 5 months, and then finally 6 months.
When Do I Use The Emergency Fund
A lot of people fail because they make their money too available and visible. Many people like to watch the money grow, and they take pride in seeing what they've accomplished. The problem with this is that you are always well aware of how much money you have in there. Out of sight is out of mind, and you must succeed in this.
This money is not meant for:
An "emergency sale" at JCPenneys.
A new bedroom set you have always wanted.
And this money should not be for fixing the car.
Wait, isn't fixing the car an emergency? No! You know your car is going to break down! You should already have a separate savings for that! Build it into your budget if you haven't already.
The emergency fund is a catch-all for the unforeseeable like:
A kid breaking an arm
A car accident.
Losing a job.
Your emergency fund isn't for an unexpectedly high electric bill, or an unexpected shopping trip with old college friends. It isn't for a really high cell phone bill because you needed to binge watch Game of Thrones on your phone between classes. Emergency funds are meant for important events that you weren't expecting. The kind of events that when they happen, you are in disbelief.
How Do I Not Spend the Money?
Is it a tease having $6,000.00 in savings for emergencies that may never arrive and all you want is that $1,500.00 TV? Absolutely, but this is part of being a responsible adult. This is why I suggest putting the money into a bank account that you don't look at commonly.
Even consider starting a bank account at a different bank specifically for setting up your emergency fund. Just don't spend the money. Unfortunately, it may just come down to raw will-power. What good will that TV do if you went into bankruptcy? Don't let your belongings control you, and prepare for disaster.
Related Links: