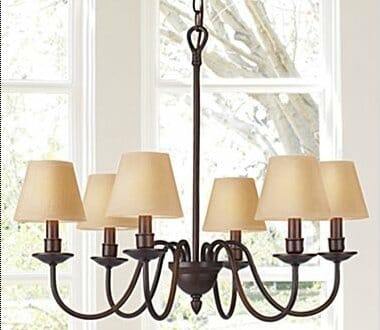 If you like what you read, then subscribe to our feed!
I'm married, and naturally, that means there will be disagreements, compromise, and surrender.  I'm also a home-owner which means there will be various household decorating ideas, and those get expensive.
My wife wanted this chandelier (pictured to the right) from JC Penney.  This Chandelier cost (at the time) $115.00 and it didn't include the shades (an additional $34.99 + $5.00 shipping).
In total, adding this lighting fixture would cost us about $165.49 (tax included).  Currently we have a perfectly fine, functional chandelier.  The only problem with it is that it isn't really aesthetically pleasing.
The Chandelier Problem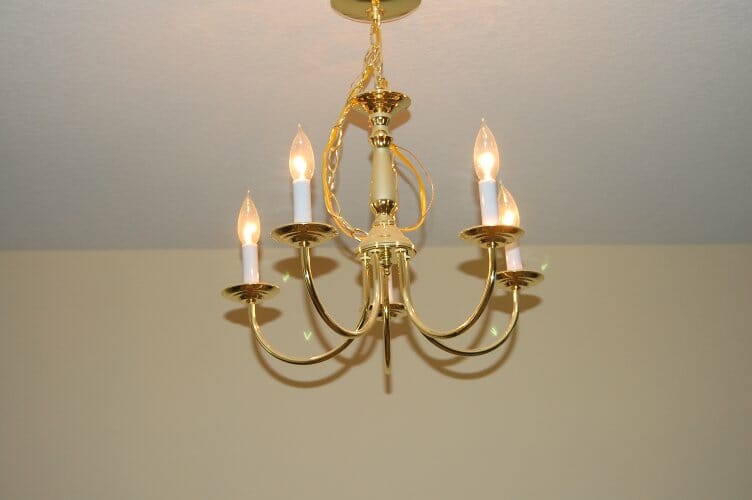 We've all seen these fixtures before, they are the bright, shiny brass fixtures without shades.  They don't look horrible, they just look stock, and kind of cheap.
I won't really call it a problem so much, but if we don't do something then my wife may have a problem with me!  Not really, but I like to make her happy.
Our problem is that we have this chandelier, pictured to the right, that my wife and I don't necessarily find appealing, and we would like to upgrade it.  My wife really likes the chandelier pictured top and to the right from JC Penney, but that would set us back $165.49!
Possible Solutions To The Chandelier Problem
We could buy the $165.49 chandelier from JC Penney.  Currently, we can get 15% off of the chandelier with a coupon which would bring the total down to $136.42.  That's still a pretty hefty price, and I definitely don't think that chandelier is worth it.  Another option is to find a different chandelier that we both like for a cheaper price, but my wife is great about shopping around and has not found another chandelier that she likes for a good price.
Additionally, dropping into a lower price range invites us to buy another chandelier that we may end up not really liking down the road.  The last option is to see what we can do with our current chandelier.  We could try re-finishing it and putting shades on, but we've never done that type of thing before, and it could end up wasting more money than just simply buying the one from JC Penney.
So these are the options we are left with:
Do nothing, but that isn't too good of an option
Buy the one my wife likes and try to get as much discounted as possible
Buy a cheaper one
Re-finish our current one
The Chosen Solution
My wife and I decided to try our hand at refinishing the old one and adding in shades.  After all, the shape isn't all that different, and if we could even do a half-decent job, then it should be good enough for the foreseeable future.  We purchased oil rubbed bronze colored spray paint, sand paper, and shades and went to town.  As you can see below, the results actually turned out quite good.  The JC Penney Chandelier is on the left, and ours is on the right (forgive my photography skills).  We are extremely happy with our "new" chandelier, and it saved us about $100.00!
Costs:
Sand paper: $2.00
Spray Paint: $6.00
Shades: $30.00
Total: $40.66 (tax included)
The Results