Why Buy New? Swap Used Books!
In our ongoing drive to help save our readers money, we are constantly trying to find new, and great ways to save money.  One way that many people save money is by visiting second-hand shops, and things of that sort.  A great second-hand book service is PaperBackSwap.  We've been using PaperBackSwap for about a year now, and it is a really wonderful system that will allow you to save money, with a little patience.
A Quick Run Down
A quick synopsis is that you share with the community and they share with you.  There are ways to buy books without sharing your collection, but we'll go into that in a bit.  For a more in-depth description read below.
The basic idea is that you list books up, and if someone wants one, they will request it.  If they request it, you must either accept or decline the request.  If you accept, you package the book appropriately and mail it via USPS media mail (yes, you pay).  Once they receive the book and look it over, they will confirm that the book was received in an acceptable condition and you will receive a book credit, which allows you to get a book.
How Do You Start With PaperBackSwap?
Initially, you are tasked with listing 10 books.  This is made easy by their intuitive ISBN system (you simply type in the codes on the back of the books).  Once you list 10 books you immediately get 2 book credits which allows you to get any two books that are already listed.
If a book you want isn't listed, you can get onto a waiting list (often you are the only person on the waiting list, unless you are trying to get bestsellers).Once the book becomes available you are alerted via email and you can login to claim the book.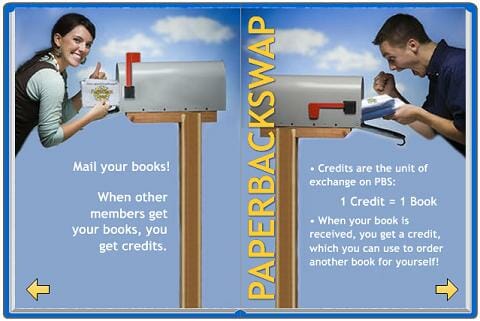 Do I Have To Give My Books Away?
No, if you don't want to list your books then you can simply purchase credits from PaperBackSwap.  This also helps to support the community, and you get to keep your books!  But remember, the community wouldn't work if people didn't put their books up, so consider very carefully if you really need to keep your book.
How Does A Typical Deal Work?
It depends if you are the one sending the book, or receiving the book, so we will cover both.
If you are sending the book:
You list a book.
Someone requests your book.
You approve.
You are provided the mailing address.
You mail the book via media mail (about $2-$3).
The person receives the book and is delighted with the condition.
The person logs into PaperBackSwap and acknowledges receipt.
You get a book credit to use.
If you are requesting a book:
You see a book you want and request it.
The owner gets an alert, and accepts your request.
You wait for the book to arrive (You pay nothing, you just use a credit).
You get the book and you are happy with it.
You log into PaperBackSwap and confirm receipt.
You enjoy and read the book.
What If The Deal Goes Bad?
So far, we have completed 19 deals in total, and not a single one has had a problem.  You can request books in only mint condition, you can request books from non-smokers, or from a household with no animals, it is up to you.  Every book that we've received has been in nearly new condition.  PaperBackSwap does have an arbitration process set in place, but we've never had to use it and haven't met anyone who has.
Is It Cheaper Than Amazon?
All around, the answer is yes.  If you participate in the intended way, which is listing your books and using the credits you earn, without question it is substantially cheaper.  If you purchase your credits, it is still cheaper than the cheapest Amazon book of 99 cents with 3.99 shipping and handling.  If we're not mistaken, you'll pay roughly $3.50 to get a book delivered with PaperBackSwap and purchasing the credits.
The main caveat is that you might not have the same selection as Amazon, because people may not want to list a $30.00 book on PaperBackSwap when they can hock it on Amazon for $15.00.  To remedy this, they have introduced the marketplace which allows you to get books directly from PaperBackSwap using a combination of your credits and credit card.  In the end, patience will win out.  Get onto the waiting lists for the books you really want and you will eventually get it.  PaperBackSwap even lets you know the last time the book was posted, how frequently it is posted, and estimates a time for you.  It is very transparent.
Summary
PaperBackSwap is a terrific idea, that has been executed in a fantastic manner.  Whether you want to purchase books outright, or swap the books, this should be the first place you look when you need a book.  Give it a shot and see how it works, you just might be delighted with the results.
If you found this article useful then you can help support the Wealth Artisan By Using This Link.
If Not, you can use this link: http://PaperBackSwap.com
This is an unsolicited article for PaperBackSwap, we have used this service and liked it so much that we wanted to tell you about it.