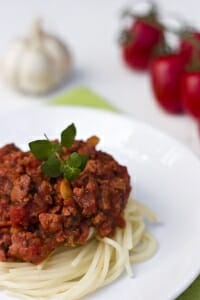 Homemakers who look for easy ways to save money can start off with their weekly food allocation in their budget.
Meals and groceries comprise a substantial chunk of the usual expenditure in households, so any effective cost-cutting measures in this area can produce substantial savings which can be allocated for other household expenses.
Save Money with Meal Planning
Don't compromise on flavor & nutrition
A lot of people think cutting back on meal expenses for the family to save money means giving up on delicious dishes, nutritious meals and tasty recipes that the household enjoys.
This does not necessarily have to be the case, however; a resourceful person who puts in some effort into meal planning and discovering various ways to cook up healthy, great-tasting recipes without breaking the bank will find plenty of resources online and elsewhere. Here are some pages that offer healthy recipes that save money:
Healthy meals that save money
Save Money: Meal Planning vs Dining Out
Read: Save money when you go out to eat
How often during the week do you resort to eating out with the family, picking up food to-go, or ordering delivery because you did not have time to cook or prepare a meal?
Any homemaker or head of the family realizes that you save money when you prepare meals at home rather than ordering from restaurants.
Restaurants routinely have markups on some pasta dishes ranging from 6 to 10 times the cost, while fountain soda can be up to 20 times the markup! [source: SFGate]
But it does take thinking ahead and strategizing how to include meal preparations into the daily schedule, as well as looking for reliable sources of quality, nutritious and delicious recipes that the whole family can enjoy.
Money Saving Meal Plan Tips
Check inventory before shopping.
It is not a good idea to go to the store without an idea of what you truly need. You will buy items you already have enough of at home, or end up neglecting something you need, then have to make another trip to the store. Wasted time and fuel means you didn't save money.
There are a number of resources to help you inventory your pantry. This might seem daunting at first, but if you keep your inventory updated, then you'll only need to do it once!
Pantry Inventory
If you want to keep better track of what is in the pantry, then you're not alone. A number of websites, apps and manual worksheets are available to you. Here are some examples:
Pantry Inventory Manual Worksheets:
Pantry Inventory Phone Apps:
Compile as many recipes as you can.
If you are serious about meal planning as a way to save money, you have to realize that simply having a week or two worth of recipes will become monotonous.
Always check meal planning websites or recipe books and magazines for ideas you can include in your meal rotation. Be particularly attentive to suggestions on ingredients or alternatives that can help you save money on meals but taste just as good as the more expensive stuff.
There is a great website which will help you manage your recipes, your pantry inventory and even suggest meals based on what you already have in your house. It is called Food On The Table.
Healthy Recipes:
Save money with inexpensive recipes:
Snacks & desserts can be planned too.
Depending on the appetite of your household members, costs for snacks can be just as substantial as meals.
A lot of the store-bought pies and cakes are quite easy to bake at home, and the best part is you can make them more delicious or to your own liking.
Make healthy snacks readily available at home as another way to save money, so the family members are not tempted to call fast food delivery or make a quick trip to the drive-thru when hungry.
Save money with snacks you make at home:
Cheaper brands are great alternatives.
Branded and unbranded products often do not differ much in quality, but the savings can be significant.
Don't be afraid to try generic, unbranded or store branded food products, but also look at the ingredients and how the product looks. You still want to purchase quality.
Sometimes, you'll only learn from experience. It's hard to visually examine the quality of generic brand products when the bags are opaque, but you'll begin to find real gems as you test things out.
Aldi, has numerous products that I've been impressed with, but I've never heard of the brand name before purchasing.
Coupons, store sales & bulk discounts are your best friends.
Since planning your meals would give you a clearer idea what items or ingredients you will need, buying in bulk can be one of the best ways to save money and keep costs down.
Just be careful, because not all bulk purchases are a great deal:
You can also watch out for storewide or seasonal sales and bargains, or keep those coupons in Sunday papers and other publications and see what you can use.
Beware of the urge to splurge or buy in excess, however; some shoppers tend to buy too much or impulsively purchase items simply because they are on sale. The goal of meal planning is to eliminate waste, so only buy what is needed.
An awesome friend and co-blogger tip has a free eBook that teaches you how to coupon! Check it out.
It's OK to dine out. Just order intelligently to save money.
Hey, just because you are keeping costs down does not mean you have to say goodbye forever to the restaurants you love.
Schedule a few days a month when you and your family can enjoy a nice meal at a restaurant of your choice. Without necessarily giving up your routines to save money, it's a great way to give yourself a break from the cooking duties, and mix up the routine once in a while for everyone.
You don't have to fret about the added cost as long as you order intelligently! Soup and salad meals, ordering a bunch of appetizers to share with your family, and choosing water over soda are great ways to save money.