Chicken wings are delicious, but their rise in popularity has lent them to becoming quite expensive. Actually, chicken wings became more expensive per pound than chicken breast for the first time in history. Not bad for a piece of chicken that was considered a throw-away piece in recent history!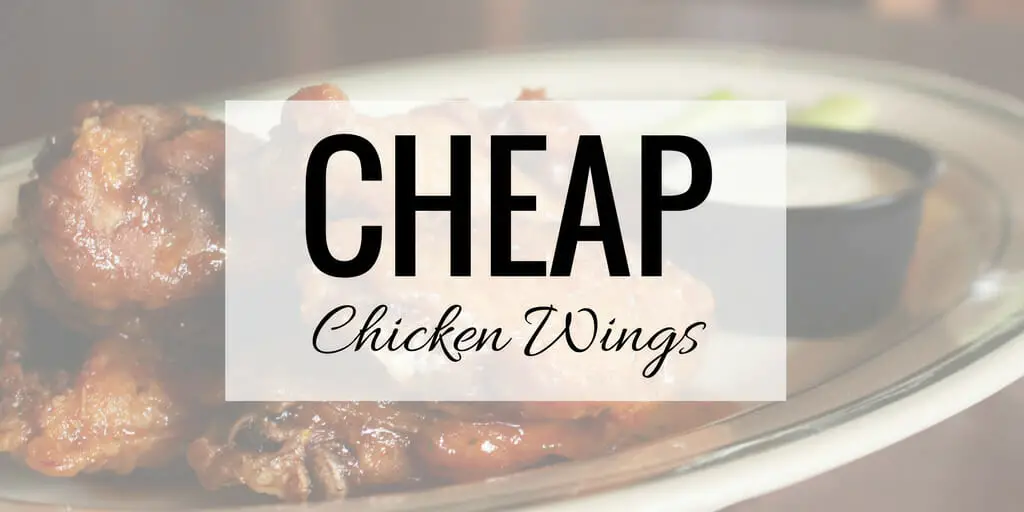 So, how can you save money and still get your chicken wing fix?
Cheap Chicken Wings at Home
The obvious first method is to simply make them yourself:
Fry Up Wings and Make Your Own Sauce or Use a Great Sauce
It isn't hard to fry the chicken and cover them in a bottled sauce (frank's wing sauce is quite good), but grocery stores still charge quite a bit for the meat. This should still get you in under the 50 cent per wing price. Making your own sauce isn't terribly difficult, but it does take extra time and cost a bit more. You'll love the flavor difference though.
Frozen Chicken Wings
Purchase frozen chicken wings that you can bake in the oven, and again cover in your favorite sauce. It's important to shop based on price per pound as it is easy to pay more for frozen chicken wings than the unfrozen in the butcher's area. The nice part about this is that the wings are lower calorie because they've been baked rather than fried. Here is a great baked chicken wings recipe.
Extremely Cheap Chicken "Wings"
Buy chicken tenders, chicken nuggets, or any other small style of breaded chicken. You can get this in any super market, and often on a buy one get one free deal. Also, get good wing sauce to put on them (I have a list of my favorites at the end of this article). Bake them in the oven and cover them in the sauce and you end up with great tasting, cheap, boneless buffalo wings. After all, boneless buffalo wings are just chicken nuggets covered in sauce.
Cheap Buffalo Wings at Restaurants
The Ol' Chicken Tenders with Buffalo Sauce Trick
This probably won't go over well at a chicken wing restaurant, but any neighborhood bar and grill this should be fine for. Order chicken tenders with buffalo sauce on the side, and notice how much more you get for the price than if you had ordered "boneless buffalo wings!"  If you're concerned about catching the server's ire, try not to worry, they won't be annoyed if you leave a good tip.
If you still feel a bit odd doing this, then here is another tip: order 3 different side sauces! Ask for barbecue, buffalo, and honey mustard- tricky, tricky. Or, if one of those doesn't suit your tastes you can ask for ranch. This will help lower you're anxiety about someone noticing that you're simply trying to get your buffalo fix at a discount. Don't  feel ashamed, you're not alone in your addiction.
Cheap Chicken Wings On The Go:
We can only vouch for Chik-Fil-A, but find fast food joints that have buffalo dipping sauce and enjoy an order of chicken nuggets. This may not be super-cheap (depending on fast-food restaurant) but you'll probably come out cheaper than a sit down wing restaurant, and it's completely on the go!
My Favorite Buffalo Wing Sauces:
Update 02/25/2013: Sweet Baby Ray's Buffalo Dipping Sauce is *AMAZING*
Texas Pete Buffalo Wing Sauce
Frank's Hot Wing Sauce
The Anchor Bar Original Buffalo Wing Sauce – Supposedly, this is the original sauce that went on the first "buffalo wings" ever served. It's a very simple flavor, but still great.
Hopefully one of these, or all of these solutions will help you enjoy our tasty friend, the buffalo wing. Yes, many of these aren't "true" buffalo wings, but they're not really different from the "boneless" buffalo wings that people order everyday. Enjoy!