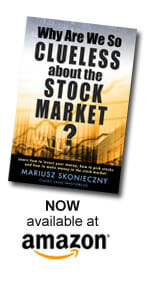 Recently, we've had the pleasure to read a great finance book titled "Why Are We So Clueless About The Stock Market?" by Mariusz Skonieczny of Classic Value Investors.  The book is a fairly short read, weighing in at only 164 pages, but don't let its length fool you.
What We Liked:
Extremely easy to read
Easy to understand
Great quotes
Excellent examples
Presented with a teacher's heart
Well laid out
"Why Are We So Clueless About The Stock Market" has many excellent qualities about it.  The book was very easy to read in many respects.  The book didn't have too many pages, which made it far less intimidating than some other books we've read.  Additionally, it is sprinkled with humor and great stories to take what could be a boring topic, and make it a page turner.
Throughout the book there are excellent sayings and great quotes that help to illustrate the topics at hand.  To really drive the point home, examples from real companies are used throughout the book which really humanizes the companies and makes you understand that even large companies make mistakes.  This entire book is presented with a teacher's heart and a sincere desire for the reader to understand what's being spoken about, and how to apply it.  All of this is wrapped into a book with a very logical flow.
What We Wanted More Of:
There were no real dislikes about "Why Are We So Clueless About The Stock Market," so if we were to critique it at all, it would be to simply ask for more of the following:
Great quotes
Real world examples
More valuation techniques
The book was so well written that we wouldn't have minded it being a bit longer.  We really enjoyed the quotes selection, and definitely wouldn't have minded more.  In addition, the real world examples made it really easy to apply the principles, and learn from mistakes.  More examples would help to further illustrate, and entertain!  The book gives an excellent primer on how to value a stock properly and we would love to see it go more in-depth.  Obviously, this would be a bit more advanced, but it would make for an excellent "Why Are We Moderately Unsure About The Stock Market" edition!
Conclusion:
"Why Are We So Clueless About The Stock Market" is a great introductory book that teaches you the basic tenets of value investing, while providing you the tools, examples, and confidence to invest intelligently.  This book is an excellent read and we would even venture to say that it should be required reading for anyone interested in value investing.