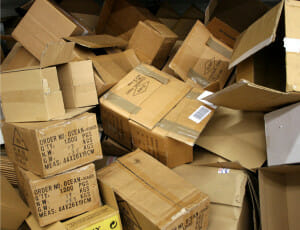 In our article about Stuff Maintenance, we talked about the cost of having a wealthier, more glamorous lifestyle.
Even if you don't have what you consider to be a glamorous lifestyle, if you live in a developed country, then you're probably doing pretty well. Ironically enough, much of our extra stuff can also act as Time Vampires, making them far more burdensome.
Today, we're going to talk about some of the burdens that come with all of this stuff, which I've cleverly nicknamed "baggage." To start this, let us consider the fun task of relocating your residence (I've cleverly nicknamed this "moving").
Moving Makes Me Mad
Sorry, I'm a sucker for alliteration. Everybody loves moving! Nothing beats packing hundreds of boxes with all the years of accumulated stuff you don't use, loading them into a truck, just to arrive at your new home to unpack it all.
What is funny with us Americans is that the world in general considers us to be extremely wasteful, which I wouldn't dare deny. What the world overlooks though, is that we have this unnecessary need to hold onto really silly things because "you never know when we might need it."
These "things" can end up being the lion's share of the baggage we move. Whether it be knickknacks, old magazines, or exercise equipment (really, we will get around to working out!).
Big Burden's Building
It wouldn't be so bad if we could stop buying stuff, but that's a huge problem for us. Instead, we buy things, allow stuff to accumulate, and if we run out of room, we move it to the garage, or get a bigger house. One thing that I find terribly interesting is when I drive through a neighborhood and see garage doors opened.
Typically, a 2 car garage will have one side filled with stuff, the other side with a car, and there will be a car parked in the drive way. I almost question the integrity of realtors when they say "two car garage" because I don't know if any two car garages exist where there are actually two cars in it!
Regardless, we have too much stuff, "not enough space", and we still have money troubles! It seems that the more stuff we buy, the more burdens we have. You buy the boat, you need the trailer, then you make a whole day out of using, then you have to come home clean it, cover it, and make sure you keep the registration up to date.
Whoever said "the person with the most stuff in the end wins" was a huge sucker. As Max Lucado puts it "you never see a Uhaul following a hearse."
Three Burdens With One Stone
Why not eliminate some of this burden? Get some of your space back, make future moves easier, and pay down some of that debt you have? How, you might ask? I've got a ground breaking idea: sell some of your stuff! I know, you might need that stuff later, but you'll make it.
Read: The 89 Square Foot Home, Uber Consumer, You Look So Wealthy, You Must Be Broke!
How can you sell your burdens?
There are a lot of outlets, but I'll list some here if you're absolutely unsure of how to start.
Online:
Free auction sites & eBay Alternatives: a lot of competition popped up against eBay, you just need to do some searching.
eBay: If none of the free options work, you can try eBay, but the fees can be a real killer (especially when you put Paypal fees on top of it).
Amazon: If you have items that fall within their product selection, then you can sell a used item. Fees are still relatively high though.
Craigslist: Free, but you typically have to meet in person.
Etsy: I believe the item must be hand-made though.
Facebook: I've seen people run their own garage sales, and auctions on their private Facebook pages!
Offline:
Flea Market: Yep, they still exist and can be a great option. Rent a table (sometimes they allow free tables in low-traffic areas). This a good option if your neighborhood doesn't allow garage sales, or if you want more traffic.
Garage Sale/Yard Sale: Great, and free if your neighborhood allows it. The biggest limitation is the traffic you get.
Pawn Shops: Only good if you need quick money, don't expect to get anywhere near retail, or the price you'd get if you sold it yourself.
Consignment shops: They might buy it off of you, but if not, you can tell them what you want to get, they'll mark it up a bit, and sell it in their shop. If it sells, you get what you wanted.
Many places that sell used items may be willing to consign something for you if the asking price is too high. This is common in music equipment stores.
Specialty stores: This is a kind of catch-all, but an example might be used book, clothing, or music stores. There are stores that specifically sell these used items, and buy them as well. This is very common for baby clothing as well. If you don't like the price an Amazon used book is selling for, check to see what you local used book store might buy it for.