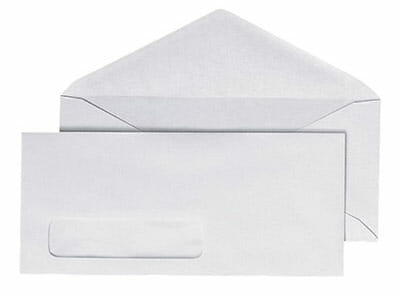 Update: Check out my latest article on envelope budgeting.
For many, saving for little things is hard to do. Maybe it's the lack of discipline or maybe it's random unexpected costs popping up, so maybe it's time for a new method to be tried. Today we are going to talk about "the envelope account." It is cleverly named "the envelope account" because you use an envelope to accomplish your ends.
So, for the sake of making this a bit more fun, we're going to take a class trip to the only place in town that you can open an envelope account: Envelope Federal Credit Union.
Welcome to the Envelope Federal Credit Union
How can we help you? I see here on your application that you're trying to save up for a microwave. It's very wise of you to open up an envelope savings account with us rather than use a credit card. While our accounts aren't interest bearing, they will save you in interest payments on those nasty credit cards.
OK, enough with the theatrics. An envelope savings account is really quite easy to use. Take an ordinary, run of the mill envelope, write down what you're saving for on it, and make your first deposit (put money in the envelope). Each time you have some extra money, be sure to stop by the envelope credit union and make a deposit. Before you know it, you'll have enough money to make your purchase!
Tip: One tip that I'd like to suggest, write down your dates and your deposits on the envelope. This will help you to track your progress, and audit it, if for any reason you seem a bit short…
The Advantages
The envelope account is a great way to save for both small and larger purchases. It ensures that you can't really spend your money (unless you have absolutely no self-control), and it helps to remind you that you're saving for something. Additionally, it prevents you from putting the purchase on that awful credit card!
Also, paying in cash leaves room for negotiating a lower price. Remember, merchants usually pay somewhere in the ball park of 1% – 3% in interchange fees when you use your credit and debit cards. So, at the very least you should be able to knock 1% or 2% off the top.
Related: Budgeting Guide: How to make a budget.
The Disadvantages
Clearly, the biggest disadvantage is the fact that you won't be earning interest on your money. This is why we don't suggest using this method for large purchases as you can lose a significant amount of money in interest.
The interest trade-off is that you're keeping the charge off of your credit card which will save you a lot more than you could have earned in an interest bearing account. If it comes down to putting a large purchase on your credit card and using this system, then absolutely use this system. Remember, you just might be able to negotiate a lower price because you're saving the merchant from paying interchange fees.
Additional Uses
Have you ever gotten a gift card to a local electronics store for $20.00? What are you going to buy? A CD maybe? What about putting it into an envelope account and accumulating them until they add up to a meaningful value? My wife and I are doing this to purchase a TV! We are able to take the gift cards, and instead of purchasing a ton of less useful things, we are combining their buying power and purchasing one big-ticket item.
Tip: Be cautious with gift cards. It is becoming less and less common, but some states still allow companies to charge inactivity fees which will slowly erode the amount on the gift cards as they sit dormant. Additionally, make sure the cards don't expire either. One other caution, if a company goes bankrupt, you're out of luck. These are things to consider when saving gift cards.