This guest post was written by Jason Bushey, a personal finance blogger for Creditnet.com.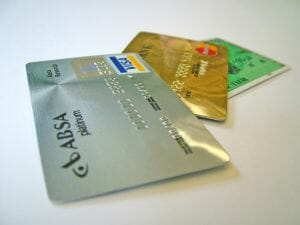 If you're scratching your head to come up with a  New Year's resolution for 2013, have you considered checking out your credit score?
If your credit score is hovering in the mid-600's, then you've got some room to improve your credit score come 2013. So why not say goodbye to bad credit in the new year?
A good credit score and solid credit history is imperative when it comes to earning low interest rates on the things you might be working towards most; perhaps a loan on your dream house or a car loan that will at least get you from Point A to Point B.
We know New Year's Resolutions can be tough to keep up with, so we'll make it simple with these three easy steps for improving your credit score in 2013.
1.) Add a new credit card to your wallet
If you're in the mid-600 credit score range, then you have what we like to call "fair credit". It's not terrible, but there's certainly some room for growth. The good news is that the credit cards for fair credit available to consumers like you are actually pretty solid, and more importantly are a great way to improve your credit score in the new year.
Some of the perks to owning a fair credit, credit card in your wallet are lower interest fees than you'd pay for on starter cards, you don't have to front a security deposit to get a line of credit going and in many cases you can skip annual fees.
Plus, the ways in which adding a new credit card to your credit profile are numerous. Having multiple credit accounts open – maybe between two and four – can have a positive effect on your score so long as you're using them responsibly and paying them back on time. (More on that later.)
A new credit card in the new year will also lower your credit utilization, which is the amount of credit you use in relation to the amount of available credit you have in your name. Simply by applying for and receiving a new credit card (and using it semi-frequently), you're adding more credit in your name and thus lowering your credit-to-debt ratio.
Ideally, you'd like your credit utilization to remain below 30% – and 10% is even better. So if you're hovering around that 30% threshold each month, definitely consider adding a credit card for fair credit to your wallet.
2.) Review your credit report
Your credit score may be "the end", but your credit report is your means to an end when it comes to determining why your credit score it the way it is.
If you've never ordered your credit report (and we're all entitled to one free report annually, by law), we can't recommend ordering your report enough. Seriously, how can you know how to improve your credit when you're not even sure what's on there in the first place?
Once you apply for and receive your yearly credit report, the very next thing you should do is comb through it for inaccuracies or old collections. If you happen to come upon something that doesn't look right, then it's to write a dispute letter.
Relax – these dispute errors don't have to read like essays. Basically, you're just telling the credit bureau that you don't believe their error to be true and would can they validate this debt.
From there, the credit bureau has (by law) 30 days to respond to your letter, either validating the debt or deleting the item completely from your credit report.
Disputing inaccurate information or old debts that are well past the statute of limits is an easy way to improve your credit score in the new year, and perhaps one of the quickest.
3.) Make on-time payments routine in 2013
Did you know that 35% of your credit score is determined by your payment history?
With in mind, the easiest and most important thing one can do to improve their credit score in 2013 is to make on-time payments and NEVER skip a payment. One default payment can be make your credit score plummet, so make credit payments a number one priority when it comes to your personal finances in the new year.
Along those same likes, make sure to keep your credit card accounts live; that is, make a few purchases each month or every other month to show credit card companies that you're an active user of credit. A dormant account won't do your credit score much good, and an account closed for inactivity can have a devastating effect on your score. So be sure to show good faith to lenders in 2013 by using your card sparingly and making on-time payments each and every month.
You never considered yourself average, right? Don't settle for a fair credit score in the new year; make 2013 the year your credit score jumps above 700 into the good-to-excellent range.