Happy New Year! 2012 has presented a ton of challenges for everyone, and probably even you. We even faced an apocalypse at the end of this year!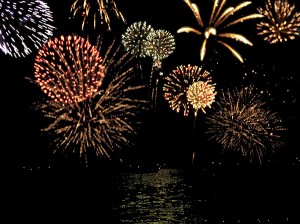 Families have faced financial challenges, as well as personal challenges. I don't know how 2012 has been for you, but I do know that I hope 2013 is so much greater.
2012 could have been your most successful year, or it could have been your worst year, but 2013 is a new year for you to start over.
Read: Start 2013 the right way!
Happy New Year, Happy New You
I urge you to think of some things that you want to accomplish in 2013, some things you want to do or see and try your best to achieve them.
I'm not talking about New Years resolutions, as most of us have trouble keeping those the first week, but true things you want.
Life is not an unending cycle of work and consumption
Most people live their lives as though it is an unending cycle of:
Get up
Shower
Go to work
Come home
Eat dinner
Pay bills
Go to bed
Repeat
To most people, myself included, that isn't a life, that is a process. Don't get stuck in processes, and don't let your life turn into an unending carousel of work and consumption.
Set Goals
Again, this isn't about new year's resolutions, this is about making life as meaningful as possible. Set some goals that you actually want to achieve. Set financial goals too, but don't get tangled in achieving them and forget everything else.
Need some help on goals? Try some of these:
Pay off student debt
Pay off credit cards
Pay down 10% on your house (This is actually pretty easy if you make a plan)
Save up $1,000 or $2,000
Try to save 6 months worth of your bills up
Eat at home more often
Use a financial tracking software
Make a budget and use it
These are all goals that I'm sure you can achieve if you make a plan for it, but don't forget to have some fun. Plan some time off, and enjoy it.
Read: Staycation Tips
Happy New Year!
Save some money, spend some money on stuff that you truly want to do, and enjoy the time you have with the people you love. With that said. I hope that you all have a very happy, and a very safe new year. Happy New Year, 2012 is gone and 2013 is here!