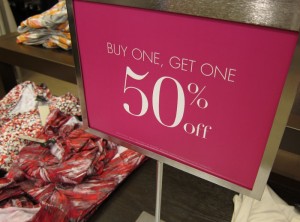 Happy Labor Day!  It doesn't matter who you are, you most likely have something to be excited about once Labor Day rolls around. Maybe you are excited for:
A day off from work.
Barbecuing.
Football season.
Autumn starting (my personal favorite).
There are many things to be excited about, and I hope you enjoy at least one of these things enough to be as enthusiastic as me! It is good to have something to look forward to especially when the economy is down like it is.
There is plenty of bad news to keep you preoccupied, so I hope you can use one of these things as a distraction from the everyday sorrows of life.
Labor Day Shopping
As I had mentioned, the economy is not exactly in its most pristine form, so stores are certainly going to do anything they can to get you in the doors, or on their websites. The chances are good that you can visit the website of just about any retailer, and you'll see mention of a labor day sale.
The purpose of these one day sales is to drive the feeling of urgency. If you don't buy now, then you'll miss this excellent deal, but don't be rushed! Take your time, shop around, and don't forget the very basics of online shopping.
I'd be willing to wager that most deals you find now will probably be about the same as the deals you would find on any other day.
Don't Forget Labor Day Shopping Basics
As I said above, don't forget the basics. What do I mean by that? When I go shopping online, I always compare (you would be lazy not to), I look for any promotions like free shipping, then I search for coupon codes.
One place I enjoy shopping is Walgreens. Walgreens is a Dividend Aristocrat, but what I love about them is they always have those strange items that seem impossible to find.
Not only that, but they tend to be conveniently located, but that convenience comes at a cost. Walgreens does not always have the lowest prices, so this is where the basics come in. I still look for deals from them, but if they aren't offering anything, the next thing I do is search for a Walgreens coupon code.
Sometimes I get lucky and find a really awesome coupon, but if I don't then I'll take what I can get.
Remember, Labor Day Sales Drive Urgency
The purpose of these sales is to create urgency, and get you to buy. If you don't buy today, then you could miss this deal, right? I highly doubt it. But if you do plan to buy, don't let the urgency rush you into the purchase without covering the basics. You have every reason to take a couple of minutes out of Labor Day, and potentially save a ton. Just don't fall for the "you deserve it" tricks.
Read: Meal Planning Tips
Whether you go shopping, grill some food, count down the days to football, or a mixture of the above, I hope you and your family have a very happy, safe, and memorable Labor Day. To all of you who will be working this Labor Day, thank you, and you are appreciated.