I've read plenty of articles today where people are saying the worst kinds of things about Christmas, and I'm tempted to comment, but I don't- because I don't know their circumstances.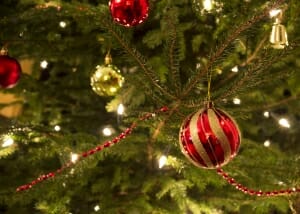 I don't know how they've been wronged, and who they've been wronged by. I don't know their loss, I don't know their pain, I can't see their scars and I can't heal them.
Christmas serves as a reminder to treat others as we would like to be treated, with:
Respect
Dignity
Honor
Understanding
Mercy
Forgiveness
and most importanly, with Grace.
On Christmas, it's hard for me to not want to be somewhat defensive, but that is because this is my faith, and I have earned it. But when there are people out there spewing hatred as Christian doctrine, when there are people casting blind judgment on anyone who will dare to listen, I can't blame people for being angry, and possibly misdirecting their anger towards me and my faith.
Grace, Respect, Honor
This is where I am called to grace, to respect, and to honor. I won't be able to change everybodys' minds when it comes to their views of Christmas, but I will certainly treat them with grace, respect and honor in hopes that through my treatment of them, the true meaning of Christmas and Jesus Christ will shine through.
This isn't with the intention that their view will be changed forever, but so that for one brief moment on Christmas day, they might be filled with joy, optimism and happiness rather than feeling wronged, judged and cast aside.
I follow the faith of Jesus Christ who said:
37 Jesus replied: "'Love the Lord your God with all your heart and with all your soul and with all your mind.' 38 This is the first and greatest commandment. 39 And the second is like it: 'Love your neighbor as yourself.' 40 All the Law and the Prophets hang on these two commandments."
Treating our detractors with love, honor and respect is not only a suggestion, it is one of the two greatest commands. In this passage, Jesus didn't say "Love those who love you", "Love those who believe as you", "Love those who celebrate like you".
We were given a broad, non-politicized command: Regardless of who lives next door, show them love.
So today, on a day that I would ordinarily wish a merry Christmas to those who believe as I do, I want to wish a merry Christmas to those who don't believe as I do. Not because I'm trying to force my beliefs on you, not because I'm trying to convert you, but because I respect you, honor you, and love you as my neighbor
I hope your family enjoys that today, and I hope you enjoy the time that you have with them. To you, I wish a very sincere Merry Christmas.