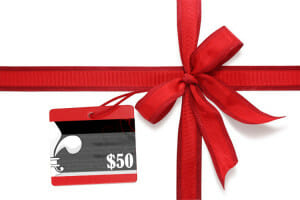 If you haven't been following, to celebrate our 2nd Blogoversary we are giving away a $50 Amazon Gift Card! Everyone likes money for free, so you better head over and enter now. The giveaway is going really well, and I'm excited that so many of you are participating!
A lot has been going on here in the last year, but I'll leave the neat recap for a different post. We are a little over the half way point with the deadline which is on April 6th. Be sure to get all the entries in that you can, and the best of luck to each and every one of you.
Earn More Entries
We currently have 2,423 entries, but don't be discouraged! You can earn new entries everyday by sharing the giveaway on your Facebook page, and by tweeting the giveaway.
I'm hosting the giveaway in a neat software called Rafflecopter which not only makes it super easy and convenient for you, but it will also randomly pick a winner for me. That makes this whole process a lot of fun, and very fair (unless you've found a way to get a software to like you more).
Amplify Your Chances
We also have a more extreme entry option of making a sign mentioning WealthArtisan.com, taking a picture of you holding it, and posting it to our Facebook page. This will earn you 25 entries, and no one has done it so far. Make sure you read the entry carefully before doing this. Talk about an awesome head start!
Winner Announcement
Rafflecopter will pick the winner some time on April 6th. Once the winner is decided, we will verify that all of their entries are valid (cheaters get the boot for life!) we will contact that person with the super awesome news, and make an announcement on here as well. I hope this has been a fun experience for all participants, and the best of luck to each and every one of you. Like the Highlander, there can be only one.
Thank Yous
I would personally like to thank each person who has provided awesome feedback on the giveaways, and especially on the improvements I can make on the site. I want to make sure I'm providing all the information you need to make the best financial decisions, and your input helps me to do that.
Why are you still reading this? I'm trying to give you free money, Enter now! 😀