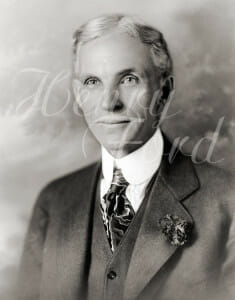 Happy Monday everyone!
Hopefully you've got a great week ahead of you, I know I do! Some fun facts, on this day in 1829 the Typographer Machine was patented which was the first typewriter. I found it appropriate to commemorate this, as without inventions like this, none of us would be gathered on this site.
Additionally, Ford sold its first car on this day in 1903. Last week, I made it known how I feel about eye contact, and I also gave some great advice on how to destroy your successful business with Commodification. With all of that said: onto the carnival!
Jon the Saver @ Free Money Wisdom writes Myths and Truths About Long Term Care – There are many myths and truths about long term care. Let's iron things out and get the truth out about long term care and what you need to know!
Amanda L Grossman @ Frugal Confessions writes Ways to Take Advantage of Back to School Sales (Even if You Don't have Kids) – I opened up my Sunday paper this past weekend and saw that back to school sales have already begun.
Don @ MoneySmartGuides writes Improve Your Credit Score – If you've embraced a new, responsible financial future, it can be troubling to find you're still not getting the credit you need, when you need it.
Ted Jenkin @ Your Smart Money Moves writes Is It Too Late To Begin Saving For Retirement? – You are 45 years old and it dawns on you that your college days are looking further and further in your review view mirror and you can see the exit sign for
Earth and Money @ Earth and Money writes Community Bonds – A Primer – Community bonds are just what they sound like – bonds issued by local, community organizations (either a non-profit or a co-operative) to local, community investors. The investment funds provide the organization with either money to pay down existing loans that they may have, or to provide start-up capital for a potential project, in exchange for a fixed rate of return.
ETZ25 @ Entertainment Timez writes Why Establish A Dividend Money Stream For Entertainment? – This article explains why a dividend money stream for entertainment is good especially for kids and young adults, and even older adults.
PB @ Economically Humble writes My Lesson Learned: Get Speaker Consulting Details (and fee) In Writing – This post discusses the lessons I learned by not requesting a formal speaker contract when working with a non-profit that I regularly contract with. I explain what I learned and provide questions every speaker should ask in addition to links to simple and detailed speaker contracts. The post will publish on Jul 21, 2012 @ 2:03AM MST.
Jen @ Master the Art of Saving writes Moving in July-Escaping the Crappy Apartment – July is turning out to be a crazy month for us. The craziness is bringing change, both good and bad—and it's really stressing me out. One of the biggest changes is that we are moving out of our apartment in July.
J.P. @ Novel Investor writes How To Avoid Securities Fraud – People fall prey to investment scams, Ponzi schemes, pyramid schemes, and IPO scams all the time. Here are the best ways to avoid it.
Aloysa @ My Broken Coin writes Why We Lie About Money – People tend to lie about money. I have yet to meet a person who would never say a lie, even a small lie. Some of us choose to conveniently omit truth. Some of us choose to tell so called "white lies." Some of us blatantly make up stories to make ourselves look good. Some of us lie to avoid trouble.
Hank @ Money Q&A writes Five Ways To Save Money At The Movie Theater This Summer – There are tons of great ways to save money at the movie theater this summer. Here are several of my favorites to save money at the movies.
Tyler @ Poor Student writes Internetoholic – First off let me say that I find it very annoying when people create words like "chocoholic" or "shopaholic". What is chocohol? Shopahol? We have people who really like chocolate or shopping but do not understand word endings.
PITR @ Passive Income To Retire writes Saving Up for a Rental Property – Find out how saving up a down payment for my first rental property will provide me extra security in quitting my day job.
Invest It Wisely @ Invest It Wisely writes Are People Shooting Themselves in the Foot With Income Reports? – I've always had fun looking at the income reports of others, as it's so interesting to learn how people are doing, how about you?
PPlan @ Provident Plan writes Is Self Employment a Viable Career Option? – Find out if self employment or running your own business is the right thing for you.
Bridget @ Money After Graduation writes I only get half my income this month – My employer is switching to twice-monthly paydays instead of our monthly pay schedule. When I first heard this, I was thrilled because I find a monthly pay schedule hard to budget with.
Echo @ Boomer & Echo writes 35 Ways To Save Money – We all know there are plenty of ways to save money, but some things are so obvious you can classify them as common sense rather than smart spending.
BARBARA FRIEDBERG @ Barbara Friedberg Personal Finance writes CHEAP SUMMER VACATION TIPS – This year's getaway is to Vegas! We are taking our daughter and mom on a four day, three night trip. The room and airfare for the four of us is $1,100.00.
A Blinkin @ Funancials writes How I Got Engaged: A Love-Love Story (Part II) – If you're already sick of reading about my blossoming love then come back tomorrow as I'll have some fresh new content focusing on how you can improve the relationship between you and your money.
Ashley @ Money Talks Coaching writes The Power of Dollar Cost Averaging – Dollar cost averaging is when you decide how much money you are going to invest each month and then chunk it into the market each and every month no matter
Shawanda @ You Have More Than You Think writes Innovative Money Saving Tips –   With the recession showing few signs of abating, more and more people are being forced to tighten their belts.
MMD @ My Money Design writes How to Read and Evaluate Basic Stock Metrics – Have you ever looked at a stock online and wondered what all the metrics represent? Which ones are good and what is their significance? This exercise walks through a stock page on CNN Money and explains the importance of each of the metrics to you.
Roger the Amateur Financier @ The Amateur Financier writes Job Hunting Success – Three Job Application Methods – Hunting for a new job! Learn these Three Job Application Methods to help you out!
Luke @ Learn Bonds writes The Total Return Approach – Are you investing in individual bonds, bond mutual funds or bond ETFs to stabilize your portfolio throughout retirement? You are not alone.
Daniel @ Sweating the Big Stuff writes How Often Should You Check Your Investment Accounts? – We like to be in control of our day-to-day finances and we want to keep tabs on our investments as well. But is checking constantly healthy?
Tushar @ Start Investing Money writes Do You Know Enough to Be a Successful Stock Market Investor? – For many people the obvious route to take when thinking about investing is to head for the stock market. But is this really the wisest route for everyone? There is certainly a lot of money to be made with stocks and shares.
Jennifer Lynn @ Broke-Ass Mommy writes A Candid Look At My Finances – Once every few months I peek at my finances to crunch some numbers and receive an overview of my financial well-being, and I'm tickled pink to share with you. Ready? Here's how my July numbers are shaking out…
Corey @ 20s Finances writes How to Get a Promotion – Managing your career in this economy can be a difficult thing. With companies going out of business and people being laid off left and right (or so it seems), thinking about advancing within your organization may seem like a stretch. I know what you're thinking: It's one thing to keep your job and quite another to get a promotion.
Kyle @ The Penny Hoarder writes 5 Ways to Earn & Save Money on College Costs – Your college tuition bill offers you four ways to earn money.
Debt Guru @ Debt Free Blog writes College Debt – Why It's a Problem – College debt is getting worse and worse over time. Find out why it's a problem and what it could prevent you from doing.
The Archivist @ The Market Archive writes Using Covered Calls to Generate Regular Returns – If you have your wealth in very safe stocks that appreciate exceptionally slowly, then writing covered calls can be a great way to skim some profit while you wait.
Suba @ Broke Professionals writes Be Prepared – Be Prepared is a post from: Broke Professionals if you enjoy it, please visit us and subscribe to the Feed. "Chance favors a prepared mind" – said Louis Pasteur, the French chemist, microbiologist and the pioneer of the germ theory of disease.
John @ Married (with Debt) writes US Bank Internet Banking – US Bank Internet Banking is a great way to save money, time, and keep your finances organized. Click through for my personal review.
Kevin @ Thousandaire writes Skills, Not Education, Make You Money – You don't need a college education to get a great job and make money. You just need valuable skills.
MR @ Money Reasons writes Progress On Financial Independence – Still Swimming to Shore – This is the third update on my progress toward financial independence. Hopefully in five years I'll break through the financial independence threshold!
Daisy @ Add Vodka writes Somebody Stole My Wallet – I was at the gym last Wednesday night when I should have been in class.
JP @ My Family Finances writes Is a Prepaid Debit Card a Good Way to Teach Your College Student about Credit Cards? – The average college student has over $3,100 in credit card debt. Is a prepaid debit card a good way to teach your child about how to manage a credit card and avoid the norm?
Jester @ The Ultimate Juggle writes Should You Finance a Business Idea? – As I have been thinking long and hard about making a living on my own, I have come a difficult decision.
Jason @ Work Save Live writes 5 Reasons to Buy a Home in This Market – Should You Buy a Home? It's argued that buying a home is one of the best investments that one can make.
Roger the Amateur Financier @ The Amateur Financier writes Job Hunting Success – Job Interview 101: Preparation – A look at the first step in the job interview process, getting ready to go to the interview, preparing your questions to dressing properly.
Paul Vachon @ The Frugal Toad writes Family Finances – Tips for Avoiding Conflict – Discussing the family finances causes more arguments between couples – 3 per month on average – than any other topic. So what causes most arguments about finances? The majority of couples state that misunderstandings between needs versus wants are at the root of most disagreements.
Corey @ Steadfast Finances writes Is a Home Warranty Worth Having? – Find out if a home warranty is worth the costs. What are the benefits of a home warranty? The downsides?
Eddie @ Finance Fox writes Escape Living Paycheck to Paycheck Rut – It took me nearly three years to get a grip on my finances. There were many tough moments of anger, disappointment, and the thoughts of wanting to give up.
Sustainable PF @ Sustainable Personal Finance writes How to Negotiate Anything – The Negotiation! You negotiate with your friends and family all of the time over countless topics, such as what movie to watch or whose turn it is to wash the dishes. When it comes to negotiating with strangers, however, you may fall apart.Negotiation is a skill anyone can learn. Like anything else, some are better at negotiating than others.
Ryan @ Early Retirement Investments writes A Few Ways to Save Money Around the House… – Read my ways to save a money around the house!
Young @ Young And Thrifty writes How To Get Your Employer to Pay For School – The decision on whether or not to go back to school to upgrade your skills (whether you are talking about a graduate degree, a diploma, or a certificate program of some kind) often hinges on the financial viability of it.
Teacher Man @ My University Money writes The GPA Crush of First Year – Most people are pretty familiar with the infamous "Freshman 15". The universal idea is that when you move away from home and/or are off of a set schedule for the first time in your life, you might make some decisions that aren't in your best long-term interests. However, while the solution to putting on some weight is pretty straightforward, other long-term problems created in your freshmen year can be much more complex and difficult to solve.
Crystal @ Budgeting in the Fun Stuff writes Is Your Television Making You Poor? – Does television lead you to make poor spending decisions?
Maria @ The Money Principle writes What you are worth and six strategies to increase your value – We are worth what people are prepared to pay for our labour. Learn how to calculate your worth and six strategies to increase it.
Wayne @ Young Family Finance writes Should You Buy a Pool? – Should you buy a pool? Make sure to consider the costs of a pool and whether it is teaching your children good spending habits.
L Bee @ L Bee and the Money Tree writes Ebay is your frenemy. – Like, no really. Ebay is the best and the worst. It is the friend in high school who held your hand when your first boyfriend dumped you, the sister in college who held your hair while you got sick at the frat house, the mid-twenties confidant who listened to your quarter-life crisis woes over too many margaritas …
SB @ One Cent at a Time writes Forex Trading Pros and Cons – Forex trading and stock trading are two different forms of financial trading. They may both represent two different ways to make money from the financial markets, but they have some subtle differences
SB @ Finance Product Reviews writes Barclays Online Saving Account Review – Barclays Saving account product targets US consumers with an instant access saving bank account and longer-term CD products. Read if it is good fit for you
YFS @ Your Finances Simplified writes Could You Survive At the Povery Line? – Sometime ago, very early in my blogging career. Ha, I'm writing this as if I didn't start blogging in October of 2011. Time sure does fly..
SFB @ Simple Finance Blog writes My Dirty Mortgage Qualification Secret – Despite the fact that I'm in the market for a new home, I've yet to secure a mortgage qualification. No, I'm not lazy – I'm just self-employed.
Passive Income Earner @ The Passive Income Earner writes When To Consider Life Insurance – When you are young and starting in the work place, life insurance is probably not something you even want to consider and you certainly don't want to add another monthly expense to your long list. However, there are certain life milestone that should make you want to review the need for life insurance as it can play an important role in family finances.
krantcents @ KrantCents writes The 3 X's of Success – The 3 X's of Success is the twenty-fourth in a series of articles to help you reach your goal.
Glen Craig @ Free From Broke writes Why You Need a Small Business Credit Card – There are many great reasons for a small business owner to have a small business credit card. See why and how it can help you run your business.